Will Cherry – Raptors Rookie PG Says Defense First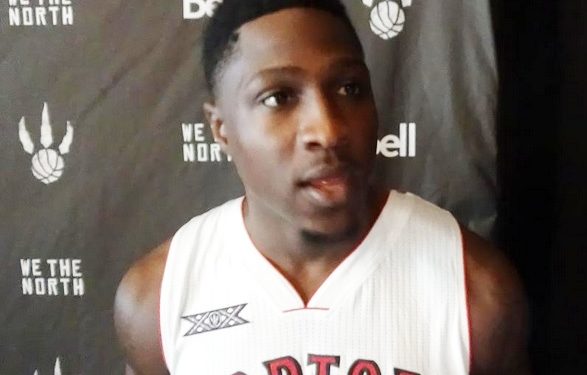 Will Cherry made it to the NBA out of University of Montana of the Big Sky conference; the relative unknown has certainly taken an unconventional path to the big leagues.
NBA All-Star Damian Lillard praised Cherry, his former Big Sky rival, this summer during one of his games by tweeting, "My brother @willcherry5 was seeeerrrrrvin today. Get that man a contract! Somebody! Anybody!"
The Toronto Raptors have done so.
At Raptors media day, while the vast majority was surrounding the big names, I took the opportunity to learn about the 6'1 rookie point guard out of West Oakland, California.
Cherry signed with the Toronto Raptors in August 2014, after going undrafted in 2013, participating in NBA Summer League with the New Orleans Pelicans and then with the Canton Charge of the NBA D-League last season.
In his two summer league experiences, Cherry went from averaging two minutes per game to 25 minutes.
"Everything slowed down for me…the knowledge that I took in during the D-League I applied it to summer league," explained Cherry.
Playing for the Cavs this past summer, Cherry rubbed shoulders with a couple of Canadian #1 draft picks.
"Playing with guys like Wiggins and Bennett definitely helped me out…Coach Blatt was putting me in positions where I was succeeding, I just took it and ran with it."
Cherry is a defensive minded point guard that will not hesitate to pick up full court.
The all-time leading steal man in Montana University history takes pride in his D.
"Most of all, I have to be a lock down defender at the point guard position," Cherry told North Pole Hoops, referring to his role with the Raptors.
"I want to be the guy that when I come in, they look at me and say, it going to be a long night."
In speaking about other distinguishing factors that will allow the rookie to excel, Cherry says, "I think the key thing for my position is not turning the ball over. If you're not turning the ball over, coaches love that, because you're not detrimental to the team."
"If you take care of the ball, you're trusted," continued Cherry.
The well spoken, personable 23-year old could be a great fit for Toronto…someone that could challenge Kyle Lowry and Louis Williams on a day-to-day basis in practice, and then do the same for the opposition throughout the season.
"At our position, they (point guards) are liable to go for 30 or 40 points on any given night."
Will Cherry will build his name in the NBA by stopping them.