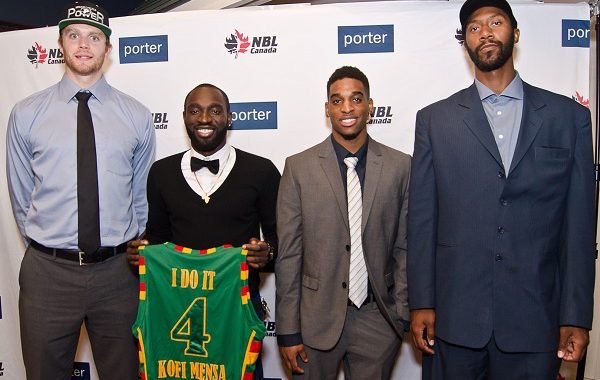 Jabs Newby, Freddy Appiah Headline Canadians Drafted to NBL
From D'Youville Secondary to Mountain State Academy to Eastern Kentucky (NCAA D1) to Gannon University (NCAA D2)…and now to the Saint John Mill Rats.
Jabs Newby (Brampton,ON) was drafted #2 in the 2014 NBL Canada Draft, after a rocky career that included the death of his best friend, injuries and a constant change of enivornment.
"I'm very happy because I've been waiting for this day to happen…my family gets to watch me play now, and I'm excited to have the opportunity to play PRO basketball," Newby told North Pole Hoops.
The 6'2 guard has never been to anywhere in Canada outside of Ontario, so you can expect a transition…maybe a culture shock.
The next step for Newby is to prove himself worthy of making the Saint John Mill Rats roster as he enters training camp next month.
"All four Canadians have a good chance of making the rosters…after speaking to a lot of teams last night, they are looking for more talented Canadians to fill the rosters," explained NPH correspondent Carlan Gay, also an NBLC broadcaster.
Newby would fit the bill in terms of talent…he impressed scouts enough at the NBLC Pre-draft combine to earn his #2 selection.
The 6'2 athletic combo guard has been playing high level basketball his entire life, having played with the likes of Anthony Bennett, Kofi Mensah, Jonathan Alexander and Martin Dixon-Green during their time at Mountain State Academy, while also playing for CIA Bounce travel team in the summer.
Newby is in constant contact with his peers—as for the passing of his best friend Kofi Mensah at a young age, "Every single day I think about him, he was like a brother to me…we lived together in the same house."
"Whenever I step on that court, it's all for him. Because if he was still here, I think he'd be in the NBA with all those guys," said Newby.
Freddy Appiah, who was drafted #11 to the Moncton Miracles, echoed the exact same sentiments, in a completely seperate interview.
"Everytime I hit the gym…it's for Kofi, I thought he could have been in the NBA," said Appiah.
The defensive-oriented guard brought a jersey with him to the Draft with the name of his fallen cousin.
Coming into this NBL Canada experience, Appiah had a unique mindset in that his expectations were relatively low.
Last year he attended the pre-draft combine, but did not get drafted.
In the meantime, he earned his teaching degree and has also been coaching Ascension, a local high school, where I have seen him in action on the sideline first hand.
During the process of teaching the game to youth, Appiah has also learned about the game and has applied thie newfound knolwedge to his own craft.
Big Men on Campus
"This is a talented, guard oriented league…but you also need a big man," explained Carlan Gay.
Jason Hannibal & Rob Dewar were the 2 Canadian bigs drafted; Hannibal to the Halifax Rainmen, and Dewar to the Mississauga Power.
Remember Hannibal? Two weeks ago, he tore off the rim at McMaster University.
Jamal McQueen (Oakville, ON) was selected at #5 to the Saint John Mill Rats, joining fellow Canadian Jabs Newby.