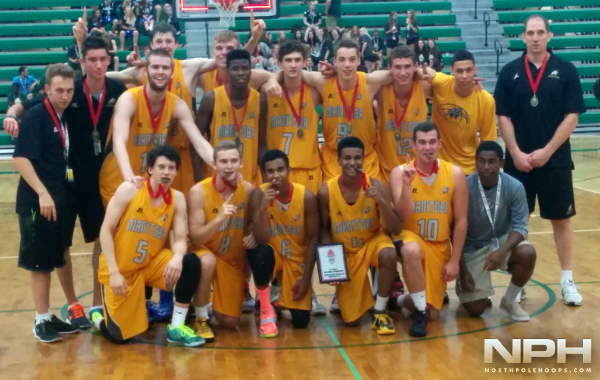 Team Manitoba Makes History, Capture 1st EVER Canadian National Title!
The best team won; a title that belonged to Team Manitoba at the U17 level–talent, hunger and execution encompassed this unit and lead them to a first EVER National title for the province.
From the start of the tournament, their goal was gold & it was evident by the way they came out gunning in the title match, defeating Ontario 79-61.
Success doesn't happen overnight….it takes consistency, something that the Basketball Manitoba organization has been over the past half decade.
In the past three years, Toba has been chipping away, including reaching the title game the last three years at the U17 level, only to be taken down by Ontario.
For the U15 program, MB has finished within the top four in the last five years—the only two teams better over this stretch on average? Ontario and Quebec.
But this year, it was different.
Starting at the top with Executive Director Adam Wedlake, his work ethic and dedication to the game trickles down to the coaching staff and players.
Head Coach Dan Becker was a former big time player at the University of Colorado, having played against several NBA players including Danny Manning, Mookie Blaylock among many others in the former "BIG 8" conference, today known as the BIG 12.
This U17 team did not just possess talent, but did so from every position while playing for each other unselfishly with their eyes on the prize.
Watching the championship game took me back to the NBA finals, where San Antonio put on a basketball clinic on both ends—Manitoba was discipline and team oriented in similar fashion.
That being said, MB does have some studs, starting with lead guards Torrez McKoy and Keiran Zziwa both with the ability to create for themselves and others.
This dynamic guard combination brings a cool confidence to the game that provided an edge for MB.
McKoy registered a triple-double of 15 points, 12 rebounds and 10 assists, while Zziwa added a double-double of 12 points and 10 assists.
William Sesay, (younger brother of UVic's Junior Sesay) is another versatile guard for Manitoba who is able to hit shots, take on ball handling responsibilities and make good decisions.
Sesay posted 11 points, 8 rebounds and 3 assists.
Down low, Coach Becker had the luxury of having two big X-factors in 6'9 William Kohler and 6'9 Roger Milne–the heart and soul of this MB squad.
Kohler, who earned Nationals MVP was simply unstoppable on both ends throughout the tourny, scoring the ball in the interior, stepping out to hit jump shots, and absolutely dominating both ends of the glass with Milne.
Not to mention the beautiful interior passing display from both bigs— a little Tim Duncan-Boris Diaw action.
Kohler posted 20 points and 7 rebounds, while Milne added a double-double of his own with 10 points and 13 rebonds.
This Manitoba squad was never really threatened throughout the tournament (including championships) due to their execution and team management.
For Ontario, they certainly grew together throughout the tournament from game one to championship day. Ignas Slyka, Muhammed Kabeya lead the way, however as a team were limited to only 33% from the field, a credit to Toba's length and lock down D.
Congratulations to Manitoba on a well played tournament and a well-deserved title.