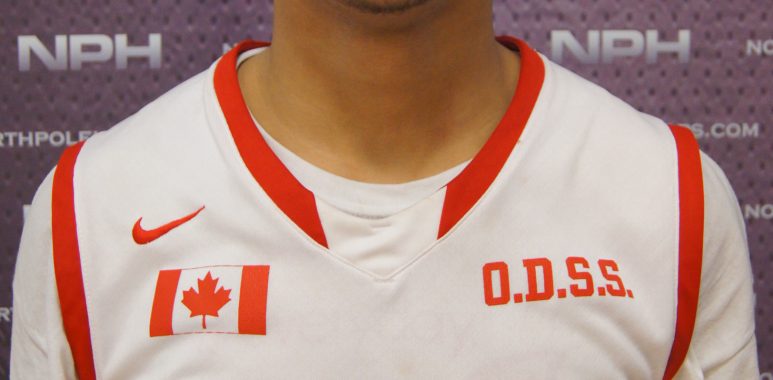 The Emergence of Another Canadian Basketball Star
Portland, Ore– The 17th Annual Nike Hoop Summit is set for Saturday April 12th at The Moda Center, and for the third time in four years the World Select Team roster will feature multiple Canadian players.
Kitchener, Ontario's Jamal Murray — who, at 17, is the second youngest player on the roster — has displayed a subtle but effective game throughout practice this week. One NBA Scout noted that Murray is "the type of player you may not always notice, but that is always involved."
As a 6'5 guard that just finished his sophomore year of high school, Murray is already showing flashes of brilliance as a lead guard, a defender and a scorer off the ball.
Although he's battled with the consistency of his jumper over the week, Murray's effort level has not wavered and it's something that everyone has noticed. Whether he's guarding SMU commit Emmanuel Mudiay on the perimeter or battling with 7′ Kentucky commit Karl Towns on the block off a switch, Murray consistently refuses to be outworked and that alone gives him a chance to be special.
World Select Team head coach Roy Rana had high praise for the young guard: "I think he's been one of the biggest surprises of the week." Said Rana. "I think we're seeing the emergence of another great star for Canada."
Rana echoed the thoughts of many others in the gym: "He is going to be very very impactful at the next level and I think he's become a legitimate NBA prospect here this week."
The other Canadian on this year's roster — 6'10 forward Trey Lyles — comes in as one of the most accomplished players on either team. The Saskatoon native was named the Gatorade National Boys' Player of the Year for 2013-14 as well as being named a McDonald's All-American and Mr Basketball in the State of Indiana, after leading Arsenal Tech to its first ever state championship.
Although Lyles has struggled a bit on the offense end, he has shown an impressive face-up game and the ability to get his shot off against longer and more physical defenders.
Lyles has impressed scouts by constantly communicating, in scrimmages and in drills, and by displaying a basketball IQ well beyond his years.
"He's done some things that are pretty special for a Canadian kid." Coach Rana said. "He just has a toughness to him and a skill set that are very unique; we're just happy he's Canadian."
As far as the game itself, Coach Rana's message has been simple and consistent: "We're just trying to really press upon them that team basketball is going to be really important here. If they can do that I think we'll have a chance to win the game."