McGill holds off Laval, go for a Second Straight RSEQ Title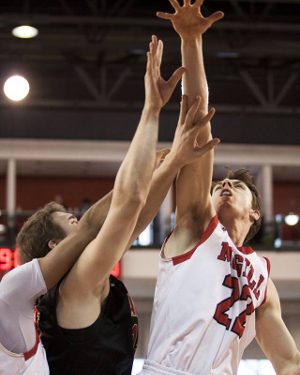 QUEBEC CITY – McGill avoided the upset despite playing Laval on their home court under the new Final 4 format. Four Redmen scored in double digits on Saturday in an 82-69 win over the Rouge et Or in the second RSEQ semi-final game.
Laval started the game at a high pace offensively nailing 7 of 9 three-pointers in the first half as the roaring crowd transported the players. Hugues Ryan and Thibaud Dezutter carried the load offensively in place of Karl Demers-Belanger and Boris Hadzimuratovic out with two fouls.
Defense was a problem however for the Rouge et Or, unable to contain McGill's ball movement. "We try to get close-out situations where we feel we have the advantage in getting to the rim", said coach Dave DeAveiro, and one who benefitted from that is Thomas Lacy. The shooting guard who had 30 the last time these two teams met scored 12 points in the first half this time, eventually finishing with 15.
The Redmen closed out the second quarter on a 7-0 run and were up 43-40 at the half.
Then Boris Hadzimuratovic came back in the game and made his presence felt. He scored 11 points in the third quarter alone, and at one point he made people forget Laval's three-point shooting had disappeared. François Bourque took on the challenge to deny Hadzimuratovic the ball on the low block, and it worked brilliantly. "I was a little concerned in the first half the way they were shooting the ball. I think the concern was they were wide-open shots. Good teams always make these. In the second half our defense got better", explained DeAveiro.
Then Simon Bibeau took control of the offense to guide his team the rest of the way. He scored 18 points, helped by 17 from Bourque and 13 from Dele Ogundokun, to make it 82-69.
"We played a good game", said Laval coach Jacques Paiement Jr. "We came out strong, which was one of our goals, but McGill is a very good team. They played a tough, physical game, and we came up empty at the end."
Redmen-Gaiters take 2
In a rematch of last year's RSEQ final, the McGill Redmen will take on the Bishop's Gaiters tomorrow.
"Their size is always a problem for us", said DeAveiro. "Their maturity and their poise is definitely a plus for them too. They were here last year. Young guys will have to come up with some new wrinkles offensively because we play each other so many times. But it's going to come down to who makes the plays at the very end of the game."
In four meetings between the two teams this year, McGill came out on top every time.
NPH TOP PERFORMERS
McGill
Simon Bibeau: 18 points, 4 rebounds, 1 assist
François Bourque: 17 points, 8 rebounds, 2 blocks
Laval
Boris Hadzimuratovic: 14 points, 3 rebounds, 1 block
Hugues Ryan: 13 points, 13 rebounds, 1 steal