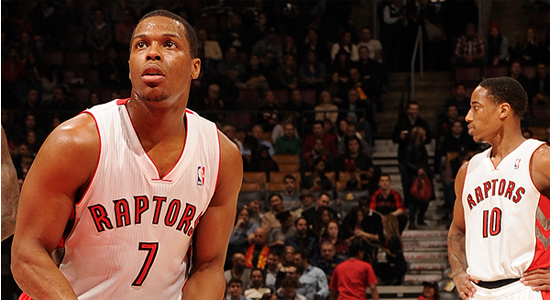 Raptors Wrap: Break Me Off A Piece
Atlanta had been Toronto's nearest Eastern Conference competitor but the Raptors (28-24) handled the Hawks 104-83 led by soon-to-be All-Star DeMar DeRozan's 31 points, sending a reeling ATL squad to their fifth straight loss.
The Raptors emerged from halftime and turned up the pressure after a grinder of a first half to close the contest with a 59-39 advantage in the second half to beat the Hawks handily, standing firmly ahead of the other would-be contenders in the East at the all-star break.
Though the Bulls have overtaken the Hawks for fourth in the conference they're allowing more points per game then they're scoring, and they've stuck deciding whether to rebuild with Derrick Rose's uncertain future in mind.
Beyond that, Washington can't win with any consistency, Brooklyn hasn't been able to put it all together, Charlotte matches up well with Toronto but remain a fringe playoff team and Detroit recently dropped head coach Mo Cheeks.
What does this all mean?
Headed into the NBA's All-Star break this weekend in New Orleans the Raptors are the "best of the rest" in the Eastern Conference. They're not going to be on the level of Indiana and Miami, but Toronto has entrenched themselves in third place in the conference.
Credit Dwane Casey for keeping the team on task. When @NorthPoleHoops asked Casey at a January Raptors game at the ACC if they've began thinking about the playoffs, coach's answer was a sly, "No. Not once."
Of course they're going to take it one game at a time, and it fits the Raptors style to consider themselves underdogs.
That chip on their shoulder and their sudden emergence that has often been contributed to post-Rudy cohesion make this Raptors squad the type that will battle every night.
But after Jonas Valanciunas rocks the rookie-sophomore game, Terrence Ross defends his dunk contest title, and DeMar DeRozan represents at All-Star weekend's main event, the Raptors will stare down the home stretch with 30 games to go.
Point guard depth won't be an issue especially if Toronto ever decides to revive Dwight Buycks; they've got plenty of wing scorers and shooters, and when Amir Johnson returns from his ankle woes the Raptors will feature a bruising frontcourt including Tyler Hansbrough, Patrick Patterson, and Chuck Hayes.
Though those post personnel will provide rebounding and toughness, they are undersized. Jonas Valanciunas is still apt to get into foul trouble and against big men like Dwight Howard, Roy Hibbert, and Joakim Noah there isn't much height behind JV off the bench.
If the Raptors are going to target any kind of roster addition, a seven-foot backup to play the "Aaron Gray" role might be the most useful. Someone like a Spencer Hawes from Philadelphia, Omer Asik from Houston, or free agent Jason Collins could fill that role.
Collins is an interesting case. Since his emergence as a spokesperson for gay rights, the veteran seven-footer has gone without an NBA contract. The 12-year centre has averaged just 3.6 points and 2.5 rebounds but can clog the paint, set effective screens, and has six fouls to use against other seven-footers still roaming the NBA landscape.
In any case, it's a small need and the Raptors seem set for the remainder of the season. Several Raptors are participating in All-Star weekend and others will get five much-needed days of rest. Trade rumblings have ceased almost entirely with the team's success as Masai Ujiri continues to let events unfold.
Raptors Results
Lost to Los Angeles Clippers Friday 118-105
Key Stat – Fast Break Points. Clippers – 28, Raptors – 8
Top performer – DeMar DeRozan 36 points (17-19 FT), 8 assists
Won vs New Orleans Pelicans Monday 108-101.
Key Stat – Raptors score 24 points off 15 Pelicans turnovers
Top performer – Patrick Patterson season-high 22 points
Won vs Atlanta Wednesday 116-103.
Key Stat – Raptors hit 11 threes after first quarter
Top Performer – DeMar DeRozan 31 points