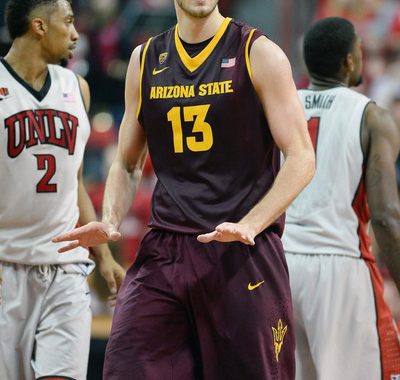 Canadians in NCAA: Jordan Bachynski Leading Nation in Blocked Shots
Sunday's NCAA basketball action was an ideal way to end off the weekend. With a hectic Saturday schedule, as per usual in the NCAA, Sunday still had high quality teams and players, including several Canadians competing in high major conferences.
@NorthPoleHoops continues to provide coverage on Canadians in the NCAA. Here are the standouts from Jan. 5, 2014.
–
Jordan Bachynski (Calgary, AB) is a game changer on the defensive end, and has all the stats to show it. Bachynski had 6 points (1-4 FG, 4-4 FT) 6 rebounds and 5 blocks as Arizona State beat Washington State 66-47. The 7 foot 2 pivot is now the Pac 12's third all-time shot blocker moving past the Chicago Bulls power forward Taj Gibson with 255 total blocks. Next on the list is Channing Frye (258) and 23 blocks shy of the ALL-TIME RECORD! Bachynski is currently the leading shot blocker in the NCAA averaging 4.9 swats per game.
PAC-12 CAREER BLOCKED SHOTS
1. 278 – Anthony Cook (Arizona), '85-89
2. 258 – Channing Frye (Arizona), '01-05
3. 255 – Jordan Bachynski (Arizona State), '10-present
Nik Stauskas (Mississauga, ON) – the versatility was on display once again. Stauskas scored 18 points (5-10 FG, 2-5 3PT, 6-8 FT) grabbed 4 rebounds and dished out 4 assists as Michigan blew out Northwestern 74-51. Stauskas looked unstoppable in the pick and roll as he used crafty hesitation dribbles along with quick pull up jumpers to keep his defenders guessing all game long.
Andrew Wiggins (Vaughan, ON) and the Kansas Jayhawks are yet to find their groove. The freshmen sensation scored 14 points (4-14 FG, 0-4 3PT, 6-7 FT) added 5 rebounds one assist, steal and block in a 57-61 loss to San Diego State. Wiggins blew a few chippys at the rim, but played well defensively using his length and size to disrupt the Aztec wing players. Kansas has struggled to find consistency at the point guard position and this has stymied the teams' play so far.
Dylan Ennis (Brampton, ON) was due for a big game Sunday. The sophomore guard scored a season-high 17 points (6-9 FG, 4-5 3PT, 1-2 FT) and added one rebound as Villanova dismantled providence 91-61. Ennis started off his season strong with three of his first four games in double figure scoring. Since then, he has managed to contribute in different categories including a season-high 7 assists in mid-December, however has been quiet offensively. Ennis has been the sixth man off the bench for the #11-ranked Wildcats, providing the spark and energy needed off the bench.
Chadrack Lufile (Burlington, ON) has been a solid contributor for the 15-0, #8-ranked Wichita State Shockers. Lufile scored 8 points (3-5 FG, 2-2 FT) grabbed 4 rebounds and tied a season-high 3 blocked shots as Wichita State remained undefeated with a 67-53 win over Northern Iowa. Lufile has looked confident and is poised to have a steady year for a Shocker team, that has hopes of duplicating last year's NCAA run.