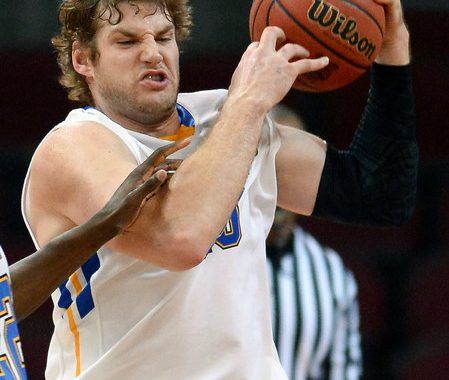 Canadians in NCAA: Chad Posthumus Gunning for Top Rebounder in America
Saturday saw three main points of emphasis for Canadians in the NCAA.
First, two Canadian-lead NCAA squads took the court in conference play looking to stay undefeated (Iowa St, Syracuse).
In the Ohio Valley conference, there was a big man from Manitoba, attempting to become the leading rebounder in the NCAA.
Finally, two players from Ontario continued to shine for their respective programs after having the torch passed to them by their Canadian successors.
@NorthPoleHoops continues to track Canadians in the NCAA, and here is the action from January 4, 2014.
–
Chad Posthumus (Winnipeg, MB) had another monster game as Morehead State won 85-77 over Eastern Illinois. The energetic big man came off the bench, scored a team high 19 points (8-11 FG, 3-5 FT) and also grabbed a team high 14 rebounds to go along with two steals and two blocks. Posthumus (currently number two in the NCAA in rebounding) is gunning for that number one spot as he only trails UNLV's Roscoe Smith by .3 rebounds a game. The pride of Manitoba is averaging 11.1 points and 12.4 rebounds…to re-iterate, the 6'11 active body is doing all of this off the bench!
Syracuse was challenged in its first ever ACC game but managed to hold on to its undefeated record beating Miami 49-44. With his team down 39-40, Tyler Ennis (Brampton, ON) came up big late as he scored 6 of his 11points (4-7 FG, 0-1 3PT, 2-2 FT) in the final 3:24 of the game. Ennis scored a driving layup, an inside basket and iced the game with two free throws. He also dished out 7 assists and added 3 steals.
Melvin Ejim (Brampton, ON) and Iowa State also kept their undefeated record alive with a 73-62 win over Texas Tech. Ejim scored 16 points (4-10 FG, 2-6 3PT, 6-6 FT) and snatched 3 rebounds, and although Naz Long (Mississauga, ON) only had 2 points (1-4 FG, 0-3 3PT) he did grab 5 rebounds and had a steal. Dejan Kravic (London, ON) of Texas Tech was quiet scoring 2 points and grabbing one rebound. Iowa State's winning streak is now at 13 games.
Kevin Pangos (Landing, ON) was at it again. He scored 16 points (5-7 FG, 3-4 3PT, 3-4 FT) collecting 5 rebounds, 2 assists, and 2 steals in Gonzaga's 86-64 win over Pacific. Pangos has been very consistent scoring the ball this season enjoying a breakout season with the Zags. The depature of Kelly Olynyk has left a hole in Gonzaga's offence that Pangos has been filling. The sharp shooting junior is averaging a career best 17 points per game, only failing to hit double digits in the points category in one of his teams first sixteen games.
Mathew Wright (Toronto, ON) is also filling in nicely after the depature of Andrew Nicholoson. Wright continued his strong play as St. Bonaventure pushed passed Cornell 81-57. Wright scored 16 points (4-10 FG, 4-8 3PT, 4-4 FT) adding 6 rebounds and 6 assists. He is also averaging a career high 16 points per game. In the process, Wright is leading the Bonnies to a respectable 10-4 start to the season, heading into Atlantic 10 conference play.
Dyshawn Pierre (Whitby ON) and the Dayton flyers scrapped their way to a 83-80 win over the Ole Miss Rebels. Pierre scored 7 of his 11 points (3-7 FG, 1-3 3PT, 4-8 FT) in the final five minutes plus overtime of a game that was eventually decided on a Devin Oliver banked 3-point shot from about 25 feet with only 0.3 seconds left in overtime. Pierre also added 7 rebounds and 2 assists.
Jahenns Manigat (Ottawa, ON) extended his double-digit scoring streak to three games as Creighton beat Seton Hall 79-66. The senior point guard scored 14 points (5-11 FG, 4-8 3PT) adding 4 rebounds and 4 assists with one steal. Manigat has been a major contributor in Creighton's last three games averaging 15 points (55 FG%) 4.5 rebounds and 4 assists.
With Sim Bhullar (Toronto, ON) being rested (bone bruise in foot), fellow Canadians Renaldo Dixon (Toronto, ON) and Daniel Mullings (Toronto, ON) picked up the slack for New Mexico State in a 84-62 win over Grand Canyon. Mullings scored 15 points (5-9 FG, 0-1 3PT, 5-8 FT) had 4 rebounds 2 assists, 2 steals and a block while Dixon added 8 points (4-8 FG), 6 rebounds and 2 blocks. The Aggies opened their first WAC (Western Athletic Conference) game with an easy win, and are heavily favoured to be the best team in the conference.
Olivier Hanlan's (Gatineau, QC) The Boston College Eagles continued to struggle dropping to 0-2 in the ACC with a tough 62-60 loss to Clemson. Hanlan did his part as usual, scoring 27 points (7-16 FG, 4-7 3PT, 9-12 FT) while grabbing 5 rebounds, but ultimately missed the first of two free throws that could have tied the game with one-second left. Boston College has now lost 4 games in a row.
Emerson Murray (Vancouver, BC) is starting to find his groove. After being out due to injury in Seattle team's first 8 of 9 games, Murray is gradually starting to shake off the rust. In twenty-one minutes of action of the bench Murray stuffed the stat sheet scoring 10 points (3-9 FG, 0-3 3PT, 4-5 FT) adding 10 rebounds, six assists and one block. Despite Murray's effort the Seattle Redhawks came up short losing 84-95 to UMKC.
Brandon Bos (Markham, ON) and South Dakota made it two wins in a row as they beat Iowa Wesleyan 86-52 Saturday. Bos scored 12 points (4-8 FG, 1-3 3PT, 3-3 FT), grabbed 4 rebounds and dished out 7 assists with no turnovers.
Joe De Ciman (Regina, SK) put forth a solid effort Saturday despite an 80-73 loss to New Mexico. The Colorado State Guard scored 13 points (4-12 FG, 2-8 3PT, 3-4 FT) and grabbed 7 rebounds before eventually fouling out in 35 minutes of play.