Canadian High School Programs in America – Christmas Break Results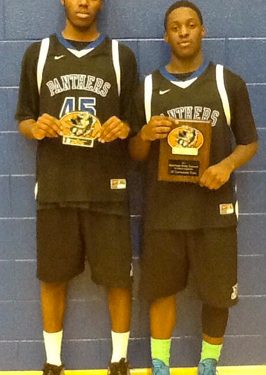 Over the Christmas break, some of the top high school programs in Canada travelled across the border to compete in tournaments against American competition, in Binghamton (NY), Detroit and Grand Rapids (Michigan), and Myrtle Beach (South Carolina).
–
D'Youville (Brampton, ON) @ Catholic Central Holiday Classic (Grand Rapids, Michigan)
The Panthers took both JR and SR teams to Grand Rapids, Michigan for the Catholic Central tournament. The junior team went 1-1, with a 59-45 victory over Allendale (Michigan) lead by Jordan Lyons, Kevin Ofori and Gareth Baugh. Their loss came in the finals against a strong Catholic Central Prep team 57-56.
The D'Youville seniors won the championship, going 2-0, with Ovie Eyamaro capturing MVP and Keshon Montague being named tournament all-star. The Panthers defeated Allendale (Mich) 70-45, followed by a thriller of Ostego 52-49 on an Ovi Eyamaro buzzer beater!
St Mikes (Toronto, ON) @ Stop-DWI tournament (Binghamton, NY)
Despite losing a 70-68 heart breaker to Christ the King [#5-ranked team in New York] to start off the tournament, St Mike's bounced back. The Blue Raiders defeated New Rochelle (New York) 75-61, followed by a win over Covington Holmes (Kentucky) 68-63, who featured high major recruit James Bolden. St Mike's Nelson Kaputo was selected to the National division all-star game. SMC went 2-1 in Binghamton and earned a lot of respect from American observers, evidenced by invitations that the program received for various tournaments next year.
Eastern Commerce (Toronto, ON) @ Motor City Round Ball Classic (Detroit, MICH) & Detroit Public League Holiday Showcase 
The Saints were a part of two showcase events where they went 1-1. Eastern opened their Michigan trip against Cass Tech, a top-3 ranked team in Detoit, and Top 10 in the state of Michigan. They played in the Detroit core which featured a hostile crowd, with intense fans, cheerleaders, that EC Head Coach Kevin Jeffers admits, may have naturally effected the players. Cass Tech defeated Eastern 73-57. However, the Toronto program followed up with a 20-point win over Dearborn Divine Child, where Tevin Bailey shined and was named MVP of the game, posting 13 points, 14 rebounds putting down monster dunks, and blocking shots. In the process, Bailey improved his recruitment over the weekend.
"We usually use these Christmas tournaments, along with the our Eastern tournament as launching pad, a litmus test to see where we're at. The main thing is to remain focused." – Kevin Jeffers, Eastern Commerce Head Coach
Father Henry Carr (Toronto, ON) @ Beach Ball Classic (Myrtle Beach, South Carolina)
Henry Carr opened the tournament against a strong Moeller team from Ohio, with great size and discipline. Moeller defeated Carr 49-34, a good defensive sign for Coach Melnik, holding them to 49, but it was difficult for the Crusaders to produce on the offensive end. "We couldn't get out for easy buckets and couldn't penetrate." Carr bounced back with a 67-41 victory over Socastee (South Carolina) where Girece Kazumba, Anthony McNish and Ty Stewart-Nelson lead the way. FHC ended the tournament with a 49-40 loss to Norcross, one of the top programs in Georgia. The Crusaders finished with a 1-2 record at the Beach Ball Classic.
For any Canadian programs that made a trip to the U.S during the Christmas break, but not included in this post, please email Info@northpolehoops.com with results.
Follow @NorthPoleHoops for updates on Canadian basketball from coast-to-coast!