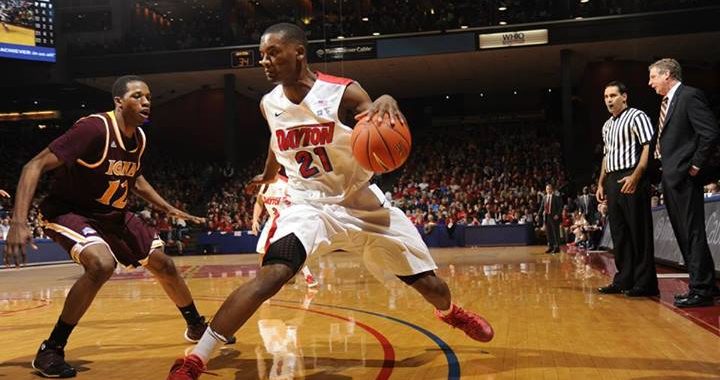 Dyshawn Pierre Career Night for Dayton, Chad Posthumus Racking Up Double-Doubles
With a third of the NCAA season in the books, the star players are starting to find there swagger. One guy was able to rise above everyone and put in an outstanding performance. However, Thursday did also see its fair share of blowouts. In these games, a few Canadians were able to step up and deliver good performances. Although the games were out of hand, this is a step in the right direction for these young guns trying to compete for playing time.
Dyshawn Pierre (Whitby, ON) is on a roll. The sophomore wing has finally started to produce at a level that we here at North Pole Hoops believe he can duplicate every night. Pierre had his second double double of the season recording 22 points (8-14 FG, 1-3 3PT, 5-7 FT) and grabbing 14 rebounds. He also had 4 assists and 1 steal. His Dayton Flyers went on to beat the Iona Gaels 96-84. Pierre made four of his first five baskets as Dayton never trailed in the game. The Flyers are now a perfect 5-0 when Pierre scores in double figures. So I think its safe to say that Dayton will only go as far as the young talented Canadian can take them. NPH has been high on Pierre since high school, as the #4-ranked Canadian prospect in the class of 2012.
Chad Posthumus (Winnipeg, MB) had a good bounce back game Thursday while his Canadian counterpart Brandon Bos (Markham, ON) struggled. Morehead state routed South Dakota 120-83. Posthumus had a solid double double scoring 14 points (5-9 FG, 4-8 FT) and collecting 10 rebounds. The Winnipeg product is averaging 11 points and 12.4 rebounds. Bos on the other hand scored 11 points on a measly 1-10 (0-4 3PT) from the floor (although he did get to the line nine times converting on all his attempts). South Dakota has now lost 5 in a row.
Ammanuel Diressa (Toronto, ON) was back in the starting line up as Tennessee Tech whooped Hillsdale 112-56. Diressa scored 9 points (3-6 FG, 1-3 3PT, 2-2FT) had 4 rebounds 1 asisst and 1 steal. His Canadian teammate Josiah Moore (Oakville, ON) also had a strong outing. The second year guard scored 13 points (5-7FG, 2-3 3PT, 3-6 FT) adding 2 rebounds 2 assists and 2 blocks.
Kevin Blake (Toronto, ON) scored 13 points (4-6 FG, 0-1 3PT, 5-7 FT) in 15 minutes of the bench as Elon crushed Central Pennsylvania College 126-78. Blake reached double digit scoring for the second time this season.