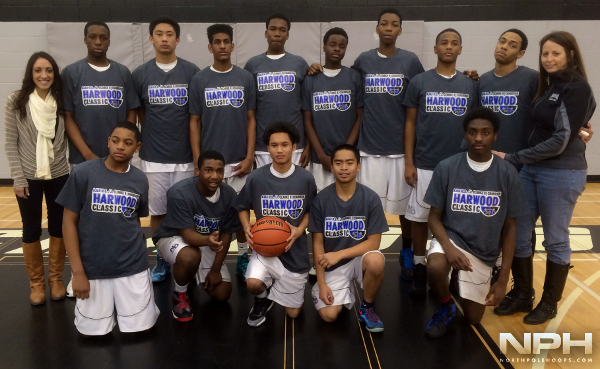 Notre Dame Jr's Serve Notice in Durham Region, Capture Inaugural Harwood Classic
AJAX, ON- In the inaugural Harwood Classic junior tournament, Co-Hosted by Ajax High School and J. Clarke Richardson, it was JCR's neighbours Notre Dame who stole the show.
Norte Dame defeated WL Mackenzie in the final Saturday afternoon with an impressive 60-35 win, serving the Durham region notice, that they are the team to beat in LOSSA this year.
After letting a 20-point lead slip away in the semi-finals to Ajax High, and having to go to overtime to defeat them, Notre Dame made sure to play a full four-quarter game in the finals.
"I think it was a good wake up call," Head Coach Rose Booker told NPH after the championship game. "Our goal after the Ajax game was to play four quarters of basketball, and we did play three really solid quarters against Ajax. I think the best thing that happened to us, was that Ajax game."
Notre Dame came out with a purpose in the championship match-up leading from wire to wire. The level of energy was sustained for the full four quarters as they dove for loose balls, continuously got hands in the passing lanes and dominated the glass.
"Our two bigs Gab Osabuohien and Matthew Davies are wonderful. Then you have our bench with Eghosa Odiase coming in. (Eghosa) is in grade nine and he's strong on the boards. I like our bigs and I think that's what helps us out-class some other teams. I haven't seen a team that has stronger bigs then we have yet."
Gabriel Osabuohien and Eghosa Odiase could not be kept off the glass in the finals; getting second chance after second chance for ND. Both finished as tournament all-stars.
ND now looks forward to going through the rest of their league schedule before hosting a tournament at the end of January. Despite their 6-0 record in league play thus far, Coach Booker knows they have a lot of tough battles ahead.
"I think it's great, every game at the Junior Boys LOSSA is a battle. We're undefeated so far, but we've had to really work for that record. There are a tonne of great players, and I think it looks great for basketball in Durham Region."
Harwood Classic All-Tournament Team
James Canlas – WL Mackenzie
Ordeen Jenneto – J. Clarke Richardson
Gabriel Osabuohien – Notre Dame
Eghosa Odiase – Notre Dame
Tiron James – Ajax High School