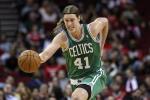 Canadians in NBA: Kelly Olynyk Returns, Andrew Nicholson Ejected, Records Double-Double
Several Canadians were in action on Friday, Dec. 13, and it was a productive night for some of them. On the injury front, rookie big man Kelly Olynyk made his return to the court, after missing 10 games with a sprained right ankle.
Meanwhile, Steve Nash remains out with nerve root irritation in his lower back. @NorthPoleHoops continues its coverage of Canadians in the NBA.
There were three Canadians playing in one Friday night game. Tristan Thompson, Anthony Bennett and Andrew Nicholson all contributed to their respective teams in the Cleveland Cavaliers 109-100 win over the Orlando Magic.
Despite getting ejected for shoving Anderson Varerjao (a story on it's own), Nicholson still picked up his third double-double of the season for Orlando.  Here all the lines for Thompson, Bennett and Nicholson:
Tristan Thompson
27:57, 6 points, 7 rebounds, 2 turnovers, 3-7FG
Anthony Bennett
8:36, 6 points, 2 rebounds, 2 PF's, 3-5FG
Andrew Nicholson
25:12, 12 points, 10 rebounds, 1 assist, 5 PF's, 4-12FG, 2-5 3PT, 2-2FT
Kelly Olynyk
It's been a frustrating month or so for Kamloops, B.C. native Kelly Olynyk who has missed time due to a nagging ankle injury. The Celtics rookie finally made his return to the bench in Boston's 90-86 win over the New York Knicks.  Understandably, Olynyk's minutes were limited Friday night. Here is his line:
14:20, 4 points, 4 rebounds, 1 blocked shot, 2 personal fouls, 3 turnovers, 1-1FG, 2-2FT
Robert Sacre
After sitting out Tuesday night's game against the Suns, Robert Sacre came off the bench for coach Mike D'Antoni as the Los Angeles fell 122-97 to the Oklahoma City Thunder.  Here is Sacre's line from Friday night:
16:53, 2 points, 8 rebounds, 2 assists, 1 blocked shot, 1 personal foul, 1 turnover, 1-3FG
Cory Joseph
Cory Joseph saw a few minutes of action in the San Antonio Spurs 117-110 win over the Minnesota Timberwolves.  Here was his line:
5:28, 2 points, 1 assist, 1 personal foul, 1-2FG
Looking ahead
The Los Angeles Lakers, Cleveland Cavaliers and Miami Heat are all playing Saturday night, which means we could see any of Robert Sacre, Tristan Thompson, Anthony Bennett or Joel Anthony for their respective teams.