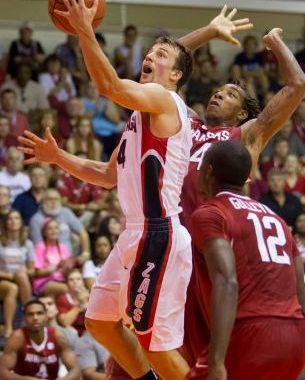 Canadians in NCAA: Kevin Pangos Career-High 34, Sim Bhullar Near Triple-Double
It's no secret.
There are impact Canadians all across America putting up major figures, seemingly on a nightly basis. You can rarely listen to an NCAA game broadcast without hearing the mention of the players from north of the border.
Last night, Kevin Pangos stole the show in Maui registering a career-high 34 points against Arkansas. To those that have been following his career, this outburst is not a major surprise.
@NorthPoleHoops continues tracking Canadians in the NCAA.
Kevin Pangos (Newmarket, ON) – Career-high 34 points [10/15 FG, 7/8 3P] , 3 rebounds, 4 assists, 1 turnover. While we talk about Nik Stauskas and Brady Heslip when it comes to elite level shooting, Pangos is sometimes missed. The lead guard from Newmarket has gorgeous shooting mechanics from bottom to top and is always in great position to shoot off the catch. Pangos also has the smarts & uses his shooting abilities as a weapon to get to the hole, forcing defences out of position with pump fakes. It was a career-high of 34 points in the 91-81 victory for #11-ranked Gonzaga over Arkansas.
Tyler Ennis (Brampton, ON) – 11 points, 9 assists, 4 steals, ZERO turnovers for #8-ranked Syracuse in the victory over #18-ranked Baylor. Ennis drew praise from ESPN analyst Jay Bilas throughout the broadcast due to his well-noted poise — a characteristic that I would describe as his gift, a part of his character– a trait that he's had his entire career. I have yet to come across a basketball person that does not hold an appreciation for Ennis' cerebral, smooth game.
Kenny Chery (Montreal, Quebec) – 12 pts [5/9 FG], 8 ast 2 rbs, 1 stl, 3 TO's in the loss to Syracuse. Chery is a crafty lead guard, shifty, and able to get to wherever he wants on the floor, has great use of pump fakes both on the perimeter and in the paint. The Montreal product was impressive, making Jay Bilas' All-Tournament team alongside fellow Canadian Brady Heslip, who added 12 points of his own against Syracuse, all on threes [4/7 3P].
Sim Bhullar (Toronto, ON) – 11 pts, 8 rbs, 10 blks, 3 ast for NMSU in 91-60 Win over Prairie View A&M. At 7'5, Bhullar is a problem for the opposition on both ends of the floor, and has been a large part of the Aggies success thus far. NMSU is currently 7-1 on the season with a couple of tests ahead in December. #11-ranked Gonzaga and #4-ranked Arizona are on the schedule.
Daniel Mullings (Scarborough, ON) – 17 pts, 9 rbs, 2 ast, 3 stls. On a well-balanced team, Mullings is the scoring leader for the Aggies on most nights, and was so against Prairie View A&M. A cool 17 points in 27 minutes on 6 of 8 from the field. Fellow Canadian Renaldo Dixon added 8 pts, 7 rbs.
Matthew Wright (Toronto, ON) – 20 points [6/18 FG] 3 rebounds. The senior guard from Toronto is in a position to get his shots up on a nightly basis, and usually does. Wright is averaging career-highs in every major statistical category. Through four games, averaging 18,9 PPG, 4.9 RPG, 3.7 APG in 34 minutes per game.
Maurice Walker (Scarborough, ON) – 10 points, 7 rebounds, 1 steal, 2 blocks [4/5 FG] in 16 minutes. It has been well documented that "Big Mo" has lost 60 pounds. In this second game of the season against Chaminade, after coming off of suspension, Walker is showing signs of quality production. The 6'10 centre posted career-highs in both points and rebounds. We will continue to track the Scarborough, Ontario product throughout the season, as he works his way into becoming a key piece for the Golden Gophers.