Canadians in NBA: Samuel Dalembert Puts up Double-Double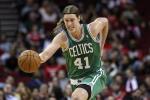 Three Canadians were in action in the NBA on Friday, Nov. 22.  Celtics rookie Kelly Olynyk sprained his right ankle late in the second quarter and did not return in Boston's 97-82 loss to the Indiana Pacers.  Meanwhile, Haitian-Canadian Samuel Dalembert put up his more impressive numbers of the 2013-14 season.  Northpole Hoops continues its coverage of Canadians in the NBA.
Kelly Olnyk
Boston Celtics head coach Brad Stevens gave Kelly Olynyk the start at centre over Vitor Faverani for the second straight game.  While the Celtics fell to the Indiana Pacers 97-82, an ankle sprain forced Olynyk out of the game in the second quarter. He did not return.  In 12:14, Olynyk scored two points on 1-3 shooting while grabbing two rebounds.  After the game, the Gonzaga product told reporters that he was unsure if he would be in the lineup Saturday against the Atlanta Hawks.
Tristan Thompson
Tristan Thompson had a solid, yet unspectacular game in the Cleveland Cavaliers 104-100 loss to the New Orleans Pelicans.  The Cavs early season woes continue as they fell to 4-9 on the season.  Thompson scored 12 points, eight rebounds, while picking up a steal and an assist. The Brampton, Ont. native shot 6-10 in almost 23 minutes on the court.
Anthony Bennett received the "DNP-Coach's Decision" in Friday night's game.
Samuel Dalembert
While considered more of a defensive player, Samuel Dalembert shined on the offensive end in the Dallas Mavericks 103-93 win over the Utah Jazz.   Dalembert played 28 minutes, finishing with a double-double consisting of 18 points and 12 rebounds.  He also contributed two blocked shots, while shooting a perfect 8-8 from the field in the Mavericks' winning cause.
Looking ahead
It is unclear if Kelly Olynyk will play in Saturday Nov. 23's  tilt between the Boston Celtics and Atlanta Hawks.  After leaving Friday's game, Olynyks' status remains doubtful.  Meanwhile, Andrew Nicholson and the Orlando Magic tip-off against Lebron James, Montreal native Joel Anthony, and the Miami Heat.  Samuel Dalembert looks to continue his strong play as the Dallas Mavericks play the Denver Nuggets.  Finally, Tristan Thompson, Anthony Bennett and the struggling Cleveland Cavaliers look to turn around their fortunes against the 11-1 San Antonio Spurs.