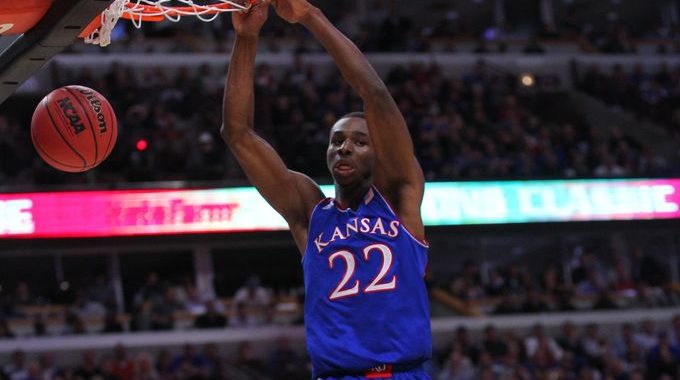 Andrew Wiggins Seals Deal in Clutch + Nik Stauskas, Tyler Ennis, Jordan Bachynski Produce
On November 12, 2013, a mountain of NCAA games took place in the tip-off marathon that featured several Canadians registering major contributions for their teams, spearheaded by the #1 NBA prospect in the world, Andrew Wiggins.
Andrew Wiggins – It was the biggest game of his life to date, and he stepped up when it mattered, racking up a double-double of  22 points, 10 rebounds, 2 assist, 1 block on 9-15 from the field in 25 minutes. Despite being held back with foul trouble, the Vaughan, Ontario product sealed the 94-83 Kansas victory over Duke with a smooth step-back jumper, followed by the nail in the coffin that came in the form of a two-hand jam on his rival Jabari Parker. Number one until proven otherwise.
Nik Stauskas – In 28 minutes, the Mississauga, Ontario native posted 23 points, 6 rebounds, 5 assists [6-7 FG, 5-6 3P] in the 93-59 Michigan over South Carolina St. Stauskas' development has been documented, as he has improved his versatility, evidenced by his statistical input.
Tyler Ennis – The best pure Canadian PG in the NCAA put in 16 points, 4 rebounds, 5 assists, 4 steals [4/8 FG] for #9-ranked Syracuse, as the Orange defeated Fordham 89-74.
Jordan Bachynski – The Canadian 'dark horse' continues to produce at a high level, increasing his scoring input from last season, while maintaining superb shot-blocking statistics. The Alberta product posted 16 points, 10 rebounds, 4 blocks in 23 mins [8-10 FG] as his Arizona State squad defeated Miami (OH) 90-54.
Grant Mullins [Burlington, ON] continues to display the smooth stroke in his sophomore season. Mullins had a team-high 23 points, 3 steals [6-9 FG, 3-6 3P, 8-8 FT] in 25 mins, for Columbia in the 71-70 loss to Manhattan.
Brady Heslip – Another Burlington, Ontaio product, Heslip picks up where he left off this summer with Team Canada, registering team-high 18 points [5-12 FG, 5-10 3P] in #23-ranked Baylor victory over South Carolina 66-64. Fellow Canadian Kenny Chery [Montreal, QC] added 9 points, 3 assists on 3-5 FG in 25 minutes.
Troy Joseph [Pickering, ON] – Poured in a team-high 16 points, 6 rebounds [5-9 FG, 4-7 3P] off the bench for Long Island University in 25 minutes. LIU was edged out by Indiana 73-72. Joseph is a junior wing who enters 2013-2014 recovering from last season's knee injury. Cousin to Devoe & Cory Joseph.