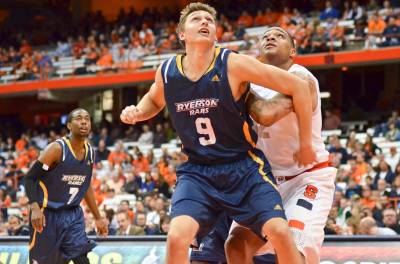 Ryerson Defeats Waterloo…Want to "Beat Carleton"
TORONTO—It's a new season at the Mattamy Athletic Centre, and it could be the dawn of a new day too.
In their home opener, the Ryerson Rams defeated handily the Waterloo Warriors by the final score of 75-47. But it's not that the Rams won—after all, they were a 15-5 team a year ago while Waterloo only finished 6-15.
Rather, it's how Ryerson won—with depth and a balanced scoring effort.
In years past, the Rams faithful have been accustomed to watching the likes of Jahmal Jones, Aaron Best, Bjorn Michaelsen and Jordon Gauthier logging anywhere between 32 and 40 minutes each.
It wasn't the case against Waterloo, not the way that Ryerson dominated. By the end of the game, rookies Jean-Victor Mukama and Adam Voll, newcomer Adika Peter-McNeilly and sophomore Juwon Grannum all had played at least 10 minutes coming off the bench.
Ryerson started the game by hitting three shots from downtown in building a 9-3 lead against a Waterloo squad that was playing zone defense. The Warriors went on a 5-0 run to cut the deficit to 9-8, but that's as close as they would get. The Rams led throughout the contest, and newcomer Kadeem Green got things started early on with a strong block at the rim on a Wayne Bridge drive. "We emphasized getting the ball inside more," he said.
The forward is in his third year of eligibility, but is starting his CIS career after playing with the NCAA's Missouri Tigers and Ohio Bobcats for two seasons. "The CIS has a lot more shooters, and it's a lot more physical because the referees let you play a lot more in the CIS than they do in the NCAA," Green said before explaining his role at Ryerson. "I bring size. I bring toughness, and I bring an inside presence."
In the second half, the poor shooting continued for Waterloo. The lead grew from 32-18 at the half, to 56-32 after three quarters and then to the final margin, and the Warriors could only shoot 17 for 57 (29.8%). But Warriors head coach Greg Francis saw some positives in the play of young rookie Myles Charvis. "He works hard every day, he's got great energy," said Francis.
Charvis figures prominently in Francis's plans for the Warriors going forward. "I'm really optimistic," the coach said, "because he's getting better every day and that means our team is getting better every day."
The young man explains that his decision to attend Waterloo was based on two things—"playing time mainly, and the camaraderie I saw," he said. "I did pretty good, but I still have a lot to learn…Bigger players, smarter players, this is a big step up."
Make no mistake, the Rams will only go as far as their key cogs take them—their starting backcourt is a force against just about any team in the country. But having real depth is a good problem to have for head coach Roy Rana. And that's why Gauthier, who didn't play against Waterloo, can take his time before returning to action.
Offensively, Bridge led Waterloo with 12 points, and fifth-year Mike Helsby also chipped in 10 points. Only four other Warriors scored, however, including Charvis' seven points. "We played some good defense in the first half," Charvis said. "The fact that we weren't making shots didn't help our situation at all."
Meanwhile, rookie Jean-Victor Mukama impressed in scoring a team-high 12 points. Fourth-year forward Bjorn Michaelsen (11), Green (10), Best (10), and Jones (11) also scored in double figures in this home opener.
But this was just one game. The Rams will need to prove that such team balance is indeed the new normal and not just a one-game aberration, because their aim this season is clearly defined.
"Beat Carleton, man," Green said. "That's what it is, take down Carleton and try to get that number one spot."
First, they will need to beat the Wilfrid Laurier Golden Hawks. That game is set for 8 p.m. on Nov. 9.
NPH TOP PERFORMERS
Waterloo
Wayne Bridge: 12 points, 6 rebounds, 3 assists
Mike Helsby: 10 points, 2 rebounds, 4 assists, 2 steals
Ryerson
Jean-Victor Mukama: 12 points, 4 rebounds, 1 assist, 1 steal, 1 block
Kadeem Green: 10 points, 8 rebounds, 1 assist, 1 block
Follow Charles Blouin-Gascon on Twitter @RealCBG & NPH @Northpolehoops