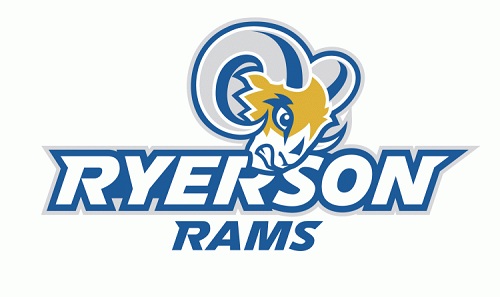 NPH CIS Team Preview: Ryerson Rams
Last season
| | | | | | | | |
| --- | --- | --- | --- | --- | --- | --- | --- |
| Overall | Pct. | Conf. | Pct. | Streak | Home | Away | Neutral |
| 15-5 | .750 | 15-5 | .750 | Won 1 | 9-1 | 6-4 | 0-0 |
Head coach: Roy Rana
Assistant coaches: Jermaine Small, Patrick Tatham
2012-2013 record: 15-5 (OUA)
Key players: Jahmal Jones, Aaron Best, Jordon Gauthier, Bjorn Michaelsen
Incoming players:
Adam Voll
Jean-Victor Mukama
Adika Peter-McNeilly
Kadeem Green
Nabil Ibrahim
Departures: Gavin Berry, Nem Stankovic, Afeworki Gebrekerestos, Greg Osawe
TORONTO—If four years is any indication, head coach Roy Rana aced his first test of building a good team.
When he arrived at Ryerson University, the Rams had completed a 12-10 season and had been stuck in a bad run of average results. "You have a vision and you hope that you can turn the program around and point it in the right direction," Rana says. "We went from being a program trying to make a mark to all of a sudden a program that people expect things from. It's happened quickly (but) I wouldn't say that it's happened quicker than I thought it would be."
Rana has increased the team's win total every year over his first four seasons, and it peaked with a 15-5 record a year ago in the always-difficult OUA East division. That season, however, wasn't crowned with a trip to the Wilson Cup that was played in their Mattamy Athletic Centre. "It was a phenomenal season for us," he says. "We won a lot of games, we were ranked in the top 10 nationally, but we also had a lot of quality teams in our conference."
He's turned around the Ryerson program and now comes the task of building one that will be sustainable in the long run. This season, he'll rely on the backcourt of Jahmal Jones and Aaron Best, possibly the best combination of speed, athleticism and production in the country.
Kadeem Green (Ohio transfer) has recently been ruled eligible for the season, and will have a major impact on the team at 6'8, possessing a 7'1 wing span.
Team strengths will be athleticism and shooting—though that second one will be challenged with the knee injury of sharpshooter Ostap Choliy, who will miss the season. Fourth-year forward and notable dead-eye shooter Jordon Gauthier will help overcome that loss. "We're coming into our own," Rana says. "We're well-balanced, we're pretty fast and athletic."
Still, one of the team's weaknesses will be depth. While there are numerous contributors on the roster, Ryerson tends to go only as far as its stars will take it. Above anything else, that's probably the difference with this team and one like the Carleton Ravens (though to be fair to the Rams, that's the difference with any CIS team compared to Carleton). "Games came down to the last possession (last season)," Rana says. "That's the beautiful thing about basketball. Sometimes you're going to win those games and sometimes you're going to lose them."
Helping the Rams to win such games are five new players. "I think we've added some depth," Rana says. "I think Adika Peter-McNeilly is more ready to step in and make contributions."
Under Rana's watch, Ryerson games have had a way of turning into community events at the beautiful Mattamy facility. "We're helping raise the profile of the sport in Toronto and we're helping raise the CIS brand in Toronto," he says. "We have a responsibility to our team, to our league and to Canadian basketball."
And because he hopes to build a successful and sustainable program, Rana also preaches the little steps of the process toward excellence. "Is this year the one? That's something that I can't control. But every year for us, it's about being the best possible team we can," he says. "All we can do is focus on the process, practice hard every day and do all that extra work that goes into creating special seasons."
And the outcome of that process may be a spot in the CIS Final 8.
"As long as we're in the hunt and as long as we're one of those teams that has a chance, then hopefully every year will be the year."
Follow Charles Blouin-Gascon on Twitter @RealCBG & NPH @Northpolehoops