Tyler Ennis & Syracuse Survive Carleton in Nation's Capital, Ravens Earn Respect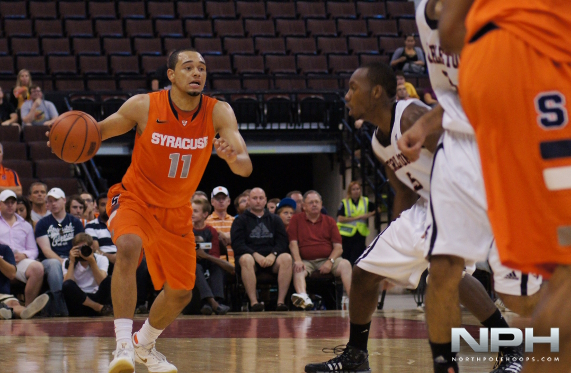 NPH Top Performers
Syracuse
Jerami Grant – 18 points, 9 rebounds, 2 assits
Tyler Ennis – 15 points, 2 rebounds, 4 assists, 5 steals
C. J Fair – 11 points, 8 rebounds
Carleton
Tyson Hinz – 16 points, 13 rebounds
Phil Scrubb- 14 points, 6 assists
OTTAWA,ON–It was the most anticipated game of the pre-season, and it did not disappoint. The Carleton Ravens took on the Syracuse Orange. In other words, the best university basketball team in Canada went head-to-head with one of the best programs in America.
It took overtime to decide on a winner between the defending CIS champs, and the new ACC member. The largest lead of the game belonged to the Ravens as they controlled the first half and were up by 15 points; however, a spark from Tyler Ennis would bring the Orange back and close in on Carleton to take the win 69-64. This loss for Carleton would put them at a 3-1 record against NCAA programs in pre-season.
Major contributions from Ennis and Jerami Grant is what essentially put the Orange in position to win; that and a three ball from Trevor Cooney that extended his team's lead to five with minutes to play and was then followed by free throws from Grant.
Both teams did not shoot the ball at a high percentage, Syracuse at 34% and Carleton 31%, but this was not attributed to simply a bad shooting night; looking back, both teams played solid defense forcing one another to put up tough shots. Rakeem Christmas forced Carleton to switch their offensive approach on some possessions, registering six blocks and altering many others.
In the second half, the CUSE did a particularly good job using the zone to set traps on the wings. As a result, Ennis finished the game with five steals, to go with his 15 points, 2 rebounds and 4 assists.
The question surrounding Ennis as a "one and done" is gradually gaining weight as he continues to add to his game. He is now quicker than ever and keeps his hands active. The defensive side of his game has been an underrated element for some time. Instincts, defensive rotation, length…he's got it all.
Ennis' quick first step enables him to beat defenders and get in the paint for either a finish or a scoop pass.
"I think it's going to help me a lot (in the ACC), teams are going to want to put pressure on me full court. I want to continue to be in the gym getting stronger and quicker and getting ready for the season."
Carleton's star point guard Philip Scrubb didn't have as good of a game as he had previously against Wisconsin but still managed to piece together a solid stat line of 14 points, 3 rebounds and 6 assists.
For the large amount of time that the ball is in the hands of Ennis and Scrubb, both only had one turn over in the game. This is an impressively low number considering the defensive pressure that was put on from both teams.
As the CIS season approaches, teams in the OUA need to recognize that this is a deep Ravens flock that has gained noticeable size in terms of mass and strength and are playing tougher than last year. Their toughness starts with senior forward Tyson Hinz, whose selflessness has been displayed over and over by taking charges or switching off quickly for help defense.
While Scrubb usually takes over the headlines, lets not forget that Hinz is one of the top CIS players in the nation, who consistently gets it done. Hinz averaged 22.3 points and 8.5 rebounds over four games against NCAA competition this month.
Although the Ravens took a loss last night, they further earned respect among American basketball circles, and have cemented themselves as not just Canada's powerhouse, but  a program to keep tabs on south of the border.
Is it too early to say Carleton will add another championship to the dynasty in 2013-2014?
It might be, but there are a lot of people thinking it…and they have every right to.