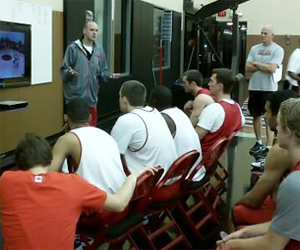 Canadian University National Team (FISU) Announced: Kevin Pangos, Kyle Wiltjer, Melvin Ejim + more!
Toronto, ON– Canada Basketball recently announced the university national team roster composed of the top post-secondary players (CIS & NCAA).
This team, referred to as the Development Mens National Team (DMNT) recently took part in the Four Nations' International Invitational Tournament in China, where the team went a perfect 9-0 against select teams from around the world.
"Our student team has done well in their preparations thus far under the leadership of Jay Triano and his staff. We look forward to our team being very competitive and representing Canada with great pride on the international stage," said Rowan Barrett, assistant general manager and executive vice-president of the Senior Men's Program.
The team will now compete in Russia at the FISU games, also known as the World University Games, where they will kick off competition on July 7 against Sweden.
The Summer Universiade – the largest sporting event outside of the Olympic Games – will see the best student-athlete teams across the world compete in a variety of sports. The men's quarter-finals begin on Sunday, July 14 with the semifinal match-ups slated for the following day, before the finale tips-off on Tuesday evening.
Canada is the reigning silver medalist from the 2011 Universiade in China, but have bolstered up their roster with NCAA talent and will look to capture gold–which would be only the second time in the games`history (FISU title 1983 in Edmonton).
Below is the 2013 FISU roster:

2013 Development Men's National Team
| | | | | |
| --- | --- | --- | --- | --- |
| No. | Name | Position | Height | Hometown |
| 4 | Kevin Pangos | Guard | 6-1 | Holland Landing, Ont. |
| 5 | Brady Heslip | Guard | 6-2 | Burlington, Ont. |
| 6 | Kyle Wiltjer | Forward | 6-9 | Portland, Ore. |
| 7 | Melvin Ejim | Guard | 6-6 | Toronto, Ont. |
| 8 | Thomas Scrubb | Forward | 6-5 | Montreal, Que. |
| 9 | Mangisto Arop | Guard | 6-6 | Edmonton, Alta. |
| 10 | Daniel Mullings | Forward | 6-2 | Toronto, Ont. |
| 11 | Philip Scrubb | Guard | 6-3 | Richmond, B.C. |
| 12 | Dwight Powell | Forward | 6-9 | Toronto, Ont. |
| 13 | Jordan Bachynski | Centre | 7-2 | Calgary, Alta. |
| 14 | Murphy Burnatowski | Forward | 6-7 | Waterloo, Ont. |
| 15 | Owen Klassen | Forward | 6-10 | Kingston, Ont. |
2013 FISU Summer Universiade – Preliminary Round Schedule
| | | |
| --- | --- | --- |
| Date | Opponent | Time (ET) |
| Sunday, July 7 | Sweden | 12:30 p.m. |
| Monday, July 8 | United Arab Emirates | 2:00 a.m. |
| Wednesday, July 10 | Australia | 5:00 a.m. |
| Thursday, July 11 | Czech Republic | 12:30 p.m. |
| Friday, July 12 | United States | 5:00 a.m. |
2013 Development Men's National Team – Staff
| | |
| --- | --- |
| Name | Position |
| Jay Triano | Head Coach |
| Greg Francis | Assistant Coach |
| John Campbell | Assistant Coach |
| Shawn Swords | Assistant Coach |
| Sam Gibbs | Athletic Therapist |
| Kade Beard | Video Co-ordinator |
| Patrick Tatham | Team Manager |
| Scottie Stats | Team Statistician |