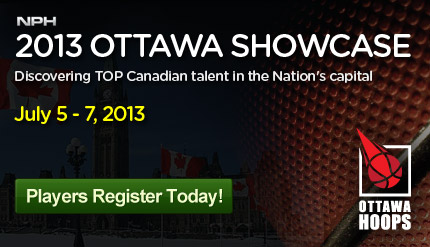 NPH Ottawa Showcase: Discovering TOP Canadian Talent in Nation's Capital
Ottawa, Ontario's time has come.
The NPH Ottawa Showcase in conjunction with Ottawa Hoops has been set for July 5-7 at Carleton University, where we will discover new talent in the nation's capital.
This event is open to all players in the region from Grade 8-12 looking for competition and national exposure.
The region has produced countless players including Olivier Hanlan (Boston College/ NCAA) Osvaldo Geanty (Carleton/ CIS), Greg Carter (Lakehead/ CIS), Garry Gallimore ( STFX/ CIS) Jahenns Manigat (Creighton/ NCAA) Eric Kibi (Arkansas Little Rock/ NCAA) and current rising high school prospects such as Marial Shayok, Cory Johnson, Eddie Ekiyor and Jacques Lukusa to name a few.
Event Director, Dion Williams, an Ottawa product who played at perennial powerhouse St. Patrick's believes the region does not get the recognition it deserves.
"I think we kind of get a bad rep because we are isolated from the major cities like Toronto and Montreal…we have talented players, it's just that they haven't had the opportunity to gain exposure that others get in major markets."
Williams went on to capture a CIS national championship with St. Francis Xavier and was named team MVP in his final two years.
"When you look back at your career and look at the opportunities that were given, you realize that to become successful it isn't just yourself; family, friends, peers, mentors all play a part," explained Williams.
"I'm trying to give back and give the opportunity that I would get by leaving the city and playing on different teams. Instead, let's bring it to them."
Throughout the weekend, players will soak in knowledge on a plethora of areas including development, recruitment, social media and player presentation.
Don't miss out on the first ever NPH Ottawa Showcase!
Players Register Today
Cost: $130.00
[contact-form-7 id="10467″ title="Contact form 1″]
NPH Ottawa Showcase Schedule
July 5: 5PM-9PM
July 6: 9AM-5PM
July 7: 9AM- 12PM