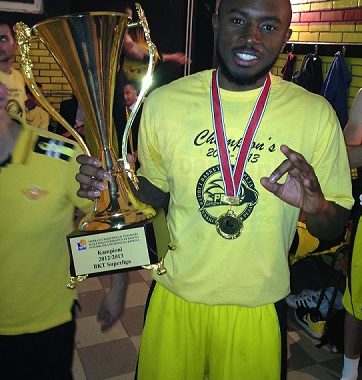 Harouna Mutombo: Pickering, Ontario. Western Carolina. Kosovo. What's Next?
Pickering, Ontario. Western Carolina. Kosovo.
Harouna Mutombo is chasing the dream to play at the highest level, that is the NBA, and the journey will take you around the world. Mutombo is fresh off his first year in the professional ranks where he was able to help capture the BKT Superleague championship in Southeastern Europe, playing for KB Peja.
However, prior to flying overseas, the 6'4 guard starred at Western Carolina where he became the eighth player in school history to score over 1,500 points with more than 650 rebounds. As his tenure at WCU came to a close, the question was "Where does my career go from here? I had to make a choice," Mutombo told NPH.
"I played with some NBA guys over the summer and worked out with the Raptors, Knicks, Rockets…that summer was pretty intense as far as trying to get in the league."
He then entered the NBA D-league draft, and was selected to the Golden State Warriors affiliate, Santa Cruz where eight other players competed for four available roster spots; six international pros and two players from the previous Santa Cruz team.
Mutombo was cut.
So he packs his bags for the next destination…Europe.
The Pickering, Ontario native explains coming into a tough situation battling for minutes with Poland's national team starting shooting guard, and ultimately earning his stripes, while transitioning into the lead guard position.
"I was pretty productive with the minutes I got and I earned these guys respect and that's the main thing. I was coming in guarding the opposing team's best player."
Mutombo's responsibilities were running the offence and stifling the opposing guards with his 6'11 wingspan. In 18 minutes per game this past season, he averaged nine points, five assists and four rebounds for the BKT Superleague champions, KB Peja.
"The overall experience here has been tremendous, learning how to be a true leader. I come in here as the youngest player on the team, and these are men that I'm playing with," stated Mutombo.
"The fans have been great…they are a little bit tough on you when the team is losing," he laughed. "But we won the championship, sweeping them [the opposition] 3-0."
Mutombo's first year overseas has helped him develop on and off the floor, as he's been exposed to scenarios that have moulded a new lifestyle.
"You have to understand that you are a professional now. Fans come to watch you play, you can't have bad games; I just learned how to be a PRO from going out, to how I eat."
Although Mutombo is working on the opposite side of the Atlantic Ocean, he continues tracking his former Pickering teammate Cory Joseph of the San Antonio Spurs, with his play serving as inspiration.
"I've known Cory since he was 13; he used to be around us all the time and the relationship is there. Seeing him play where I want to be is huge, I'm so happy for him, it's almost surreal. This is Cory, someone I watched grow up, now playing in the NBA finals, that's crazy."
When Joseph was drafted in 2011 to San Antonio, it seemed like the perfect fit with his winning pedigree to match that of the franchise.
"The Spurs are an organization that did their research," explained Mutombo.
For future teams tracking HM, he wants them to know, "You're going to get a winner, somebody that is going to do whatever it takes to win. Being aggressive, pushing the ball up, defending full court and being a pest on the floor, making it hell for the opposing guard."
This summer, Mutombo will be attending Mini camps for the Cleveland Cavaliers, Houston Rockets and Washington Wizards, in hopes of locking down a spot on a NBA summer league team.
At this point in his career, he has competed with and against NBA level players, and understands that in order to distinguish himself in any high level camp, his mental approach must be sharp.
"The confidence has to stay up there. A lot of times when I go to these camps and these workouts…I have to kick it up a notch as far as aggressiveness. I have to show that I'm here to show what I got," said Mutombo.
"Ninety per cent of the game is mental and I think confidence is what will take me over the hurdle. Confidence is going to take you from being average to being a super star; you have to believe in yourself."
Former NBA star Dikembe Mutombo, [Harouna's uncle] never lacked confidence, particularly on the defensive end, and has been part of Harouna's support system on his journey to the league.
"We're in contact pretty frequently…he congratulated me on my championship. He's definitely opened his arms to me."
The younger Mutombo understands the pressure that comes with a family name as large as his, but tries not to put too much thought into it, as it ultimately won't play to his advantage.
"People are going to look at it like if I make it, then I'm supposed to because I'm Mutombo's nephew, and if I don't then the question is why didn't he?"
"I just have to keep climbing the ladder."