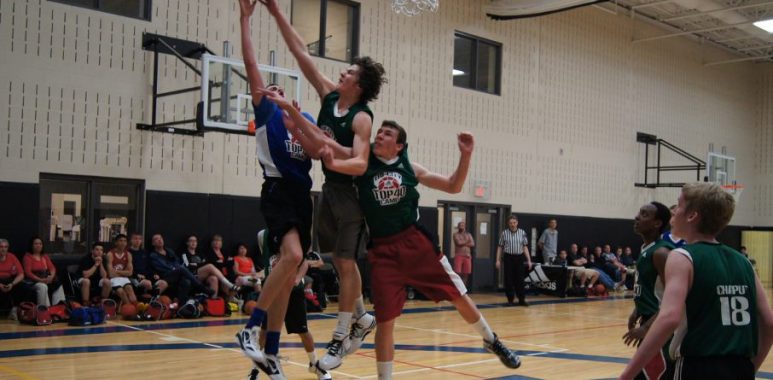 Nedim Hodzic Breaks Out…Sasha Simic and Co. Take the Victory
It's a special moment every time a young athlete reaches his moment of clarity and realizes his potential; for Nedim Hodzic that point in time came on day two of the Adidas Tri-City Top 40 Camp, where the 6'3 wing took matters into his own hands.
Previously, Hodzic had shown glimpses of his ability on day one, which lead me to believe he was arguably the most interesting prospect in the gym. If day one manufactured these thoughts, then day two cemented them.
The difference between the Sir John A. McDonald product in the past 24 hours was this moment of clarity. Hodzic's demeanour and confidence level were evident as he demanded the ball and made confident moves all game. At this point, he knew what he was capable of, and he applied it.
Hodzic filled the stat sheet, particularly in the rebounding department, where he outworked everyone on both sides of the floor.
It was a ten point game for "Team Duke" with about two minutes left, and Hodzic's "Team Notre Dame" was trailing. From that point on, he was unstoppable as he attacked the cup, shot with consistency and was all over the offensive glass to nearly complete the unlikely comeback.
"My dad taught me how to rebound; he told me it's the most important part of the game; I like to take pride in that area of my game," said Hodzic.
Team Duke would survive with a one-point victory.
In the loss, teammate Jake Chaput of Bishop Mac was rock solid by maximizing possessions, limiting turnovers, nailing jumpers and putting teammates in scoring positions.
Sasha Simic of Cameron Heights matched up with Hodzic late in the game, as both players lead their teams down the stretch while answering each other's challenge. Much like Hodzic, Simic shook off the rust off day one, and has elevated his production.
[youtube HU9312Ybw0U]
Notable Day Two Performers
Shamae Decoteau (Waterloo Collegiate)
Adham Eleeda (St Mary's)
Ayana Kawa (Eastwood)
Chris Poloniato (Bishop MacDonnell)