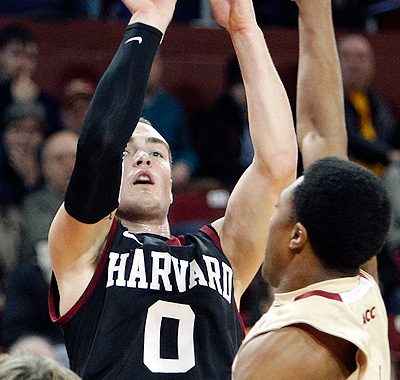 Laurent Rivard Looks to Stay Hot, Nik Stauskas Due for Break out Game
Had enough madness yet? Thought so, neither have we here at NPH.
Here is your Canadian schedule for Saturday's round of 32.
#5 VCU vs. #4 Michigan 12:15 p.m.
CanCon: Nik Stauskas 11.4 pts 3.2 rebs 1.3
1st round stats: 8 pts 2 rebs 2 asts 1 stl
Trey Burke had a slow but uncharacteristic shooting night so the rest of the squad had to step up. If the Wolverines are going to continue their march to Atlanta they could use a break out game from Stauskas.
#8 Colorado St vs. #1 Louisville 5:15 p.m.
CanCon: Joe De Ciman 1.0 pts 0.4 rebs 0.2 ast
1st round stats: DNP
De Ciman's Rams eliminated fellow Canadians Negus Webster-Chan and Stefan Jankovic's Missouri Tigers on Thursday night. The eight seeded Rams will be looking to buster brackets that are somehow still intact with a win on Saturday afternoon.
#14 Harvard vs. #6 Arizona 6:10 p.m.
CanCon: Laurent Rivard 10.6 pts 3.8 rebs
1st round stats: 17 pts 5 rebs 2 stls
Agunwa Okolie 1.7 pts 1.1 rebs
1st round stats: DNP
Patrick Steeves: N/A
1st round stats: N/A
The Crimson shocked the world on Thursday night, upsetting what many believe was a very good New Mexico team, for their first ever victory in the NCAA tournament. Harvard will now look to become the nation's favourite underdog by taking out the Arizona Wildcats. If they get another performance from Laurent Rivard like they did in their previous game, they could do just that.
#12 Oregon vs. #4 Saint Louis 7:10 p.m.
CanCon: Grandy Glaze 3.1 pts 2.7 rebs
1st round stats: 2pts 3 rebs 1 stl
The Billikens cruised to a 64-44 victory in their second round matchup with New Mexico State. Saint Louis held the Aggies to just 27.9% shooting from the field. If Grandy Glaze and his bunch can duplicate that performance, they'll be heading to the sweet sixteen.
#6 Butler vs. #3 Marquette 7:45 p.m.
CanCon: Junior Cadougan 8.8 pts 2.9 rebs 4.0 ast
1st round stats: 4 pts 5 rebs 2 stalls
Cadougan didn't play his best game on Thursday afternoon, and neither did the Golden Eagles. They just barely escaped a surging Davidson Wildcat team to win 59-58. Look for Marquette, and Cadougan who had not a single assist in the round two game, to have a much better outing.
#9 Wichita State vs. #1 Gonzaga 8:40 p.m.
CanCon: Chadrack Lufile 1.8 pts 1.9 rebs
1st round stats: 2 pts 1 stl
Nick Wiggins: 5.1 pts 1.8 rebs
1st round stats: 1 reb
Kevin Pangos: 11.6 pts 2.7 rebs 3.3 asts
1st round stats: 16 pts 5 asts 3 rebs 2 stls
Kelly Olynyk: 17.6 pts 7.3 rebs 1.7 ast
1st round stats: 21 pts 10 rebs 1 stl
The Zags were tested in the second round, and almost were on the wrong end of the history books, but a win is a win. The matchup is a lot more favourable against the Shockers, but that doesn't mean Wichita State won't throw everything but the kitchen sink at the number one seed in the West Region. Should be a good matchup, and there's a lot of Canadian content here which we love.
#12 California vs. #4 Syracuse 9:40 p.m.
CanCon: Noel Jones 0.3 pts 1.0 reb
1st round stats: DNP
The Orangemen may have lost to Louisville in the Big East tournament, but they're playing their best basketball of the year at the perfect time. With California up next the matchups are in their favour, but as we know in March nothing is guaranteed.