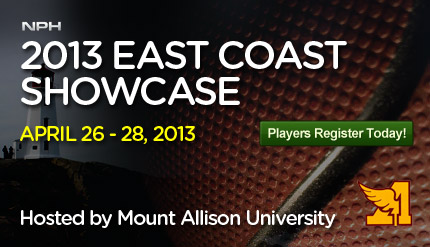 NPH East Coast Showcase April 26-28 Hosted by Mount Allison!
SACKVILLE, NB–NPH is delighted to be heading back to the East Coast April 26-28, where we will continue with our mission to provide exposure and guidance for Canada's basketball talent. This event is open to ALL grade 8-12 boys looking for an opportunity to learn, grow and gain national exposure.
Every year, participants that attend NPH Showcases quickly see the value when they begin receiving calls from coaches at various post-secondary levels. If you feel under recruited and believe that you have what it takes to play at the next level, then we want to see you train and compete.
The NPH Showcase is also a great environment for those who want to test their skills and match up against the province's best. Moreover, participants will learn about areas of their game that need improvement. NPH East Coast showcase alumni that went on to play at the next level include the student-athletes listed below.
| | |
| --- | --- |
| Name | School |
| Lorenzo Parker | UPEI |
| AJ Simmonds | Acadia |
| Alex Chisolm | UNB |
| Davonte Provo | St. FX |
| Dave Benoit | St. FX |
| Erik Nissen | Uncommited |
| Mike Armstrong | Uncommited |
| Travis Adams | SMU |
| Jayden Nordin | SMU |
| Rene Amit | King's |
| Jaylnn Skeir | CBU – Women |
| Maurice Colley | Uncommited |
| Emad Khalek | MSVU |
| JJ Wilson | King's |
| Byrson MacDonald | MSVU |
Day two is used for in-game evaluation. Players will play four showcase games throughout the day, and will be competing for spots in the top prospect games which take place on Sunday. Although the offense in these games is liberal and allows for freedom, we are not looking to find the player who can put in 30 points a game by keeping the ball in their hands.The East Coast showcase is a three day event, which runs Friday, Saturday and Sunday. The first day is used to evaluate prospects in a drill and workout like setting. This gives our evaluators an indication of each player's mechanics, fundamental skills and mental approach to training.
This year's exposure camp is conveniently located at a central location at Mount Allison University, to ensure inclusiveness to student-athletes from surrounding provinces.
In the showcase games we are seeking players who have shown strong individual skills, as well as intangible qualities, such as; getting along with all teammates, getting others involved, being a strong communicator and being able to adjust to difficult situations.
Sunday will feature the top prospects which will be chosen on Saturday evening. Top prospects are those who have stood out in both the training and game portions of the event.
Head Coach of the Boys 15U Nova Scotia team, Deon Wilson will be lead trainer for the event. He is a very qualified Kinesiologist, speed and agility trainer and NCCP level 3 coaching certification.
"I have seen a great number of games from NS and NB and really intrigued about seeing the top players compete in a free flow environment and to see how PEI`s players measure up, pure game no structure, who is the best on the East Coast."
Coach Wilson continues, "We've identified who the top guys in each Maritime province are, but now its time to see them all together going at each other."
NPH East Coast Showcase Schedule
April 26: 5-9 PM
April 27: 12- 8PM
April 28: 12-4 PM
Cost: $130.00 (+ tax)
Hotel Information
Tantramar Motel 1(506) 536-1327
Sackville, NB
72.00/night
Coastal Inn 1(506) 536-1327
Sackville, NB
$99.00/night includes breakfast
http://coastalinns.com/sackville_gallery.php
REFERENCE: Nortpolehoops event
Comfort Inn 1(902) 667-0404
Amherst, NS
$91.00/night includes breakfast
http://www.comfortinn.com/hotel-amherst-canada-CN247
REFERENCE: Nortpolehoops event
Players Register Today!