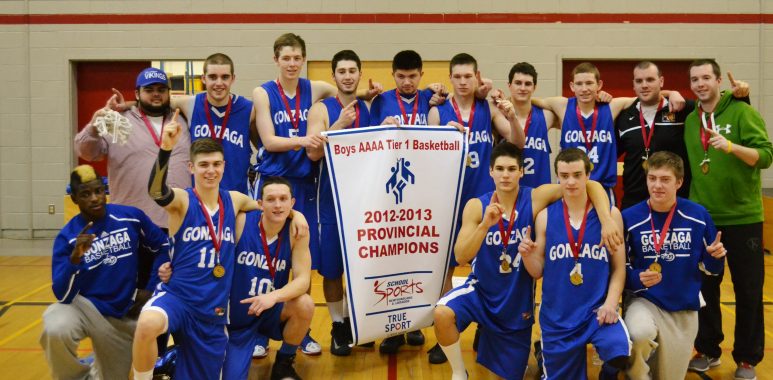 Gonzaga Vikings Capture Newfoundland Provincial Crown in Dominating Fashion
St John's, NL–Cornerbrook and Gonzaga connected in the Newfoundland provincial championship at Memorial University, in front of a packed house of over 1000 fans on championship Sunday.
Curtis Mullowney lead Gonzaga off to a quick start, scoring 10 points and corralling five rebounds in the first six minutes of the game before leaving with a sprained ankle; he would return later in the second half.
Christian Greenland provided a huge spark in Mullowney's absence scoring 15 first half points, including four threes. Gonzaga controlled this game throughout, leading 29-16 after one quarter, and 49 – 26 at halftime. They continued their hot shooting in the second half with senior guards Andrew Wood and Sam Prowse leading the surge.
Gonzaga maintained their commanding lead throughout and won the 4A Boys Provincial Championship game by a final score of 95-59. The Vikings had a balanced attack, as all 12 players registered on the scoresheet. Christian Greenland once again lead the way with 18 points, Curtis Mullowney and Sam Prowse each contributed 15, shooting guard Andrew Murray 13 points, and point guard Andrew Wood added 10 points and 7 asissts.
Daniel Foo lead Cornerbrook with a game-high 24 points as he has been doing all season. The Cornerbrook team was undefeated entering this game, and will graduate Foo to Memorial University.
The Gonzaga squad closed out in peak form, with their closest game during the provincial championship tournament being a 20 point win. The team gained valuable experience during a February trip to Ontario, where they played against some top AA and AAA programs in Eastern Ontario, including LaSalle High School out of Kingston, as well as St. Pat's Irish from Ottawa, who won the silver medal at AAA Ontario provincials.
This brings to an end what has been a very successful and competitive season of high school basketball in Newfoundland, featuring an exceptional graduating class. Mitchell Hearn (PG, 5'11, St. Catherine's Academy) will join the Lakehead program, while Daniel Foo (PG, 6'0″, Corner Brook) will join the MUN program. In addition, several CIS and CCAA programs are actively recruiting Andrew Wood (PG, 6'0″, Gonzaga), Sam Prowse (SG, 6'0″, Gonzaga), Ryan Harnett (SG, 6'1″, Corner Brook), and Evan Smith (SF, 6'5″, Booth). All of these players will likely end up playing CIS or CCAA ball in September.
–
Semi-Final Results
The semis were played Saturday night at the host gymnasium of Gonzaga High School, with the Gonzaga Vikings taking on the St.Catherine's Eagles in the 1st game. St. Catherine's rolled out to an 11 -2 lead before Gonzaga took control of the game from the inside and outside, racing to a 45-31 halftime lead. Gonzaga's depth proved too much as they rolled all 12 players in a great defensive effort in the second half, finishing up with an 81 – 50 victory. The Vikings were lead by 6'5″ Small Forward Christian Greenland (Class of 2014) who will represent the province this summer with the Canada Games program. Greenland finished with 19 points, while Shooting Guards Sam Prowse and Brandon Reid contributed 16 and 15 points respectively. Mitchell Hearn, a 5'11" PG who recently committed to Lakehead University, lead St. Catherine's with 22 points.
In the second semifinal, the undefeated Corner Brook Titans faced off against Booth Memorial Braves from St. John's. Booth came out on fire, racing to an early lead before Corner Brook took control, 49-41 at halftime. The second half saw the Braves come back to life as 6'5″ Small forward Evan Smith and 5'10" PG Brett Warren  put on an offensive clinic, leading to an 85-85 deadlock at the end of regulation. In overtime, things looked very bleak for Corner Brook as they trailed 96-90 with a little over 1 minute to play. Then 6'0″ PG Daniel Foo (MUN Committ) went to work, scoring three 3-pointers in the final 40 seconds to lead Corner Brook to an improbable 100-99 victory over Booth, and secure their place in the final. Daniel Foo lead Corner Brook with 36 points, while Evan Smith scored 35 for Booth.