Red River College Wins their Fifth Straight MCAC Championship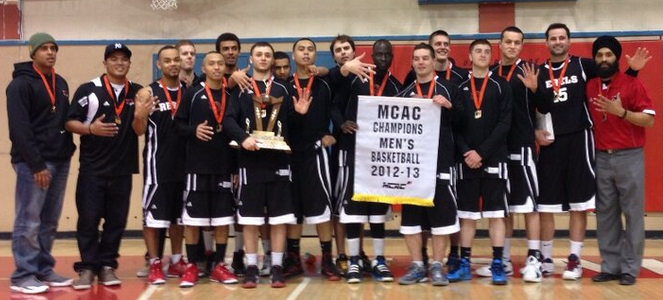 The Manitoba Colleges Athletic Conference has been dominated by one team over the last five years. It came as no surprise to those that follow the MCAC; the Red River College Rebels lifted the trophy for a fifth straight time defeating the University of Winnipeg College on their home court in the championship game.
Red River College went a perfect 14-0 in MCAC conference play and 18-1 overall en route to their fifth straight championship led by head coach Sukhvir Singh. This year's Rebels scored an average of 96 points per game while surrendering an average of 69 points per game.
Sukhvir Singh played CIS ball at the University of Winnipeg. After five years playing at the UofW, Singh earned CanadaWest first team all-stars in his fourth and fifth years, also winning UofW male athlete of the year in those years. Following his days at UofW he took the coaching job at Red River and in five years has taken the program to new heights posting an overall record of 96-20 with five straight championships since his initial season in 2008/2009.
While the MCAC is seen as small college ball there have been a number of players from the MCAC, including Red River to make the jump to the CIS level and have success. Red River alumni who have made the jump include Kurtis Sansregret (UofM), Craig Sharpe (UofW) and Josh Stolar (UofW).  Canadian Mennonite's Wyatt Anders made the jump this past season to the University of Manitoba. Jonar Huertas who transferred from Red River to UofM a few seasons ago was the Bisons second leading scorer this season as a fifth year senior posting 16.7 points, 2.9 rebounds, 1.6 assists per game as they entered the Canadawest playoffs.
The 2012/2013 Rebels included Mike Hebert who won the MCAC MVP and is now currently receiving interest from both UofW and UofM. Daman Morissette and Kyle Queijo also earned all-conference selections for their hard work throughout the season.
Head Coach Singh spoke about his team and the season "This season was quite the ride for us. I knew we were going to be good because it was the first year we had our recruits committed and a team basically selected going into tryouts and training camp. I didn't expect us to be as good as we were," he explained.
"The guys committed to playing defense and being the hardest working team on the court. For me as a coach I just needed to keep the mental focus on point and the rest would take care of itself."
The Red River College Rebels had a great season…be on the look out for them to be just as strong for 2013-2014 as they look to hoist their sixth straight MCAC championship.