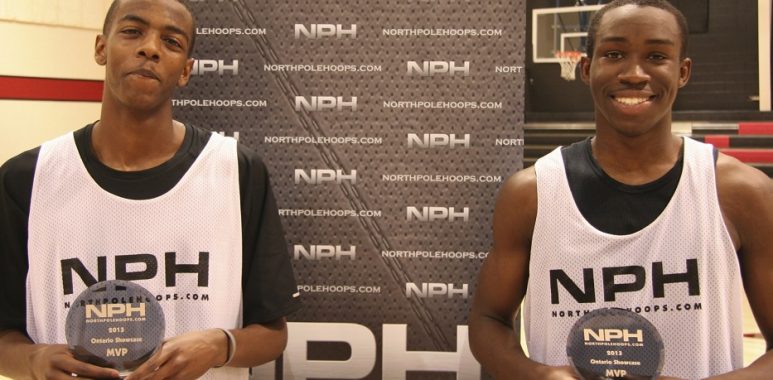 High school
NPH Showcase Circuit
Raheem Williams, DamiAnn Prehay Grab NPH Showcase MVP…Kingston's Nathan Culbreath Shines
With half of the lights already off at the ACTS facility on following the NPH Ontario Showcase, DamiAnn Prehay went one-on-one with a few youngsters keen to get in on the action.
For Prehay, a 6'4″ wing in the class of 2015, toying with the elementary kids was just his way of cooling down after winning underclassman MVP following the final Showcase game.
With 14 points and six rebounds Prehay helped his white select squad over the black select squad in a game too hard-fought to really be called an all-star game, yet half an hour later he was still laced up in the gym and reflecting on where he spent his weekend.
"Even though I was getting tired, I stayed determined on defence," said Prehay. "I just tried making myself a better player for all my teammates instead of only worrying about scoring. I tried to do more."
Prehay was just one of many athletes who showed up at the showcase to build his resume and enjoy much-needed exposure against top-level competition, especially with the void of high school basketball in Ontario this year in the public system.
Players from across the province made the trek to ACTS in Orangeville to showcase their skills , and to socialize with other ballplayers who are in similar situations. Players from a combined 20+ cities were in attendance.
"I really like the showcase because it helps me to improve my difficulties and show my strengths," said Prehay. "In terms of the whole showcase I came and saw a lot of new people I haven't played with yet, but I fit well with them and we just played as a team and got it done."
Raheem Williams, a 6'4″ wing in his final year of high school took home the upperclassmen MVP award after recording 15 points, six rebounds, two assists, two blocks, and two steals in the final game. He is currently being recruited by Western Kentucky, Florida Gulf Coast and Wyoming.
Williams said it probably didn't hurt his performance that he regularly plays in the ACTS facility for AIA (Athlete Institute Academy)   – "five hundred shots a day," according to him – and was excited to display his game to all those who made the trek out to Orangeville from across Ontario.
"It's a good showcase, I really liked it," said Williams. "At first I wasn't even going to be in it, but I registered last minute and glad I did, I  got a good vibe out of it."
The good vibes were flowing out after another successful NPH Showcase, and the players moved on each having learned something new and unique.
And in a few years, just maybe, those young ballers hustling for a loose ball on the sidelines will realize they too learned something for all their hours spent patiently in the gym watching the big kids play.
Nathan Culbreath
The 6'5 small forward out of Kingston, Ontario (Bayridge Secondary) made a great impression all weekend as he worked hard on both ends of the floor, displayed versatility and registered a game-high 29 points for his team in the Top Prospects Game. Culbreath is namely being recruited by Ryerson and Victoria, which included a visit out to British Columbia recently. Expect this list to grow following an impressive event.