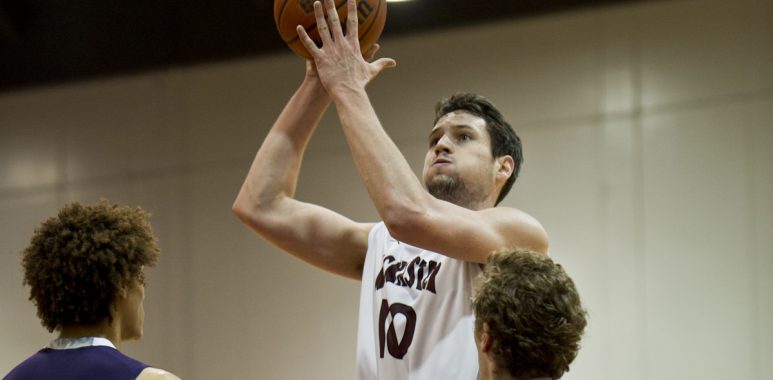 Taylor Black Lifts McMaster Marauders in Bounce Back Win Over Waterloo
Waterloo, ON – With a tough loss against Windsor in the back of their minds, the McMaster Marauders were able to bounce back with a 81-70 win over the Waterloo Warriors. MAC came out the same way they finished the game versus the Lancers, very slow and with no purpose. After a quick timeout, they would get to doing what they do best, punching it inside and looking for the open man.
As both teams would exchange baskets throughout the second quarter, it was the hot shooting from Waterloo's Kryie Coleman (13 pts 6 rbs) who went 3/3 from long range, along with Brendan Smith (8 pts) on the inside that helped lead the Warriors to a tie game at the half 38-38.
The second half started out much like the first half ended, and the Marauders were trying to put the pressure on the Warriors. MAC continued to go inside to Taylor Black (21 pts 9 rbs) as he was solid inside and outside shooting.
It wasn't until the fourth that McMaster was able to build up a double digit lead, off of the hot shooting by Black, as he knocked in 13 of his final 21 points in the second half. Freshman Rohan Boney (13 pts) did his part to help out Black, as he netted seven of his 13 in the second half.
"Taylor seemed relatively casual to start the game – sloppy fouls and bad turnovers. His wake up came through when he made sound decisions based on what the defense was giving him. He varied his offensive skills so if he keeps it simple he can be very effective." said McMaster Head Coach Amos Connolly.
Although Waterloo had four players in double figures, it just wasn't enough down the stretch to come away with the win as turnovers and being out rebounded became a problem for the Warriors.
MAC got a balanced attack in both the first and second half from different players, as five players finished in double figures. The Marauders shot over 50 percent from the field and 74 percent from the foul line for the game.
The Marauders will be back in action Wednesday January 23, as they go on the road to have a rematch with the Windsor Lancers.
NPH Top Performers
McMaster
Taylor Black 21 pts 9 rbs
Rohan Boney 13 pts
Nathan McCarthy 13 pts
Scott Laws 10 pts
Aaron Redpath 10 pts
Waterloo
Kryie Coleman 13 pts 6 rbs
Jaspreet Gill 11 pts
Zach Angelini 10 pts
Wells Davis 10 pts