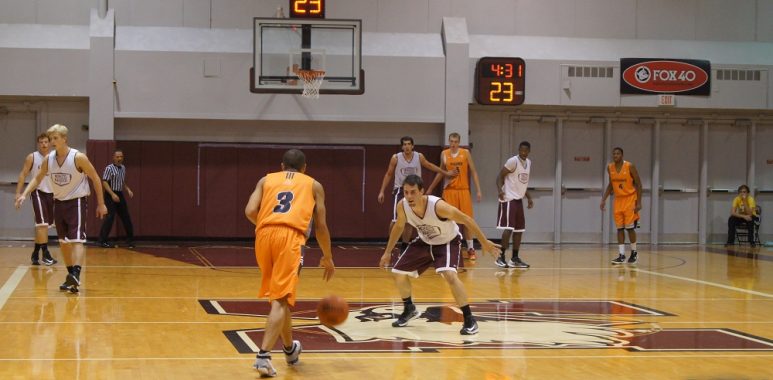 Locked In. McMaster Defeats CCAA National Champion Mohawk on the Defensive End
NPH Top Performers
McMaster
Adam Presutti- 20 pts, 5 rbs, 9ast, 2stl
Aaron Redpath- 13pts, 6rbs, 5stl
Nathan Pelech 11pts, 3rbs, 1ast, 1stl
Joe Rocca- 10 pts, 4rbs
Nathan McCarthy- 7pts, 9rbs
Mohawk
HAMILTON,ON–It was the second time in six days that I had the opportunity to catch the McMaster Marauders in pre-season action.
Against A-Game Hoops, they were impressive. Last night against the defending CCAA National champion Mohawk College, they were successful, based off the final box score, with a 87-51 victory in favour of McMaster.
But if you ask the player of the game, Adam Presutti who registered 20 points, nine assists and four rebounds, he will tell you otherwise.
"Our defense is just not where it needs to be. The fact that we were double teaming on the inbounds and I single handedly let Manny Campbell blow by me in transition is unacceptable," Pressuti explained in frustration.
"That's 100% on me and it lead to easy scores," he continued while taking the blame.
It was a 12-point lead for McMaster entering halftime, and Manny Campbell (arguably the top PG in the CCAA) was playing with comfort and creating many scoring chances for his team. To his credit, he displayed great ball speed and passing ability that you don't see every day.
However, the second half was different for Campbell as he was contained, with Presutti and the Marauders stepping it up in a big way defensively.
"We shouldn't have to be challenged by coach at halftime. We should play that hard right from the start," said Presutti.
McMaster had four players in double figures as Aaron Redpath posted 13 points, six rebounds and five steals. Nathan Pelech and Joe Rocca added 11 and 10 respectively.
For Mohawk, Campbell lead the way with 11 points, two rebounds, three assists and three steals.
McMaster moves to 2-0 in the pre-season and will take on AUS power St Francis Xavier on Friday at Burridge.