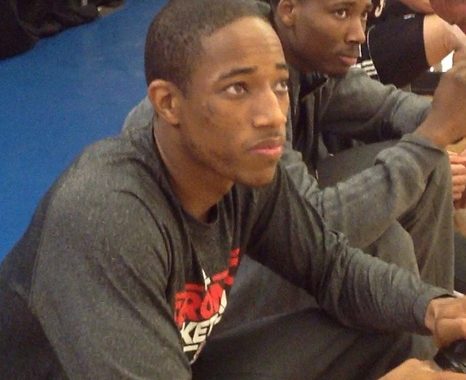 Toronto Raptors Complete Nova Scotia Training Camp
Halifax, NS – When it was announced that the Toronto Raptors would be holding their training camp in Halifax, residents of the Halifax Regional Municipality (HRM) went into a frenzy of excitement. They would use the Canada Games Centre in the city to practice, which was referred to by multiple people within the Raptors organization as "an exceptional facility".  To wrap up their stay in Halifax they would host an inter-squad game at the Metro Centre open for the public at an affordable rate of a $10 donation for a ticket.
NPH had the an opportunity to take in a couple of the practices and catch the inter-squad game while grabbing some great interviews with rookies and veterans on the team.
The pre-season is yet to start however players seem to be optimistic for their new campaign,"the professionalism there is a lot more, you see a lot more guys hungry and our athleticism has definitely improved," Canadian Raptor Jamaal Magloire explained.
With major additions to the 2012/13 Raptors team–Landry Fields, Kyle Lowry, Jonas Valanciunas, Terrence Ross and Quincy Acy through offseason acquisitions, trades and the draft they have addressed needs and have upgraded at positions throughout the roster.
Over the week the team took a sail in the harbour, went whale watching, tasted the local cuisine and experienced what Atlantic Canada has to offer.
DeMar DeRozan spoke about having training camp in Halifax.  "It's been good to get out of Toronto and work out, it's been good to see some more fans and give them a new experience, we've also got to try some new food and see another part of the country."
After going through "two a day" training, the team competed in an inter-squad game where they split up the roster and went to work.
In a relatively low scoring game, team white came out on top 67-62.
DeMar DeRozan led the way for team black as he finished with 22 points and exploded in the third quarter with a steal and breakaway dunk which had the crowd on their feet. Not to be out done, University of North Carolina product Ed Davis had a solid game for team white recording a double-double with 14 points and 12 rebounds. New addition Landry Fields contributed 10 points and 7 rebounds but went 0/6 from the free throw line.
Rookies Terrence Ross and Quincy Acy had solid performances showing the faithful that they can compete at the NBA level. Ross finished with six points on 3/6 shooting and the birthday boy Acy chipped in four points and five rebounds.
Kyle Lowry and Jonas Valanciunas did not take part in the game due to minor injuries.
While the training camp is finished here for the Raptors, the city of Halifax has enjoyed their stay and look forward to seeing the Raptors make a playoff push in the upcoming NBA season!