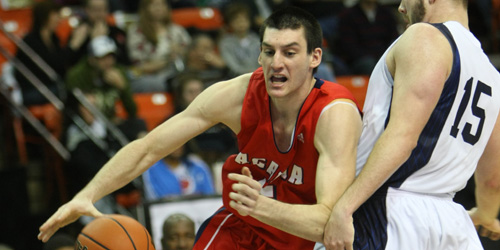 NPH CIS Preview – Acadia Axemen
Last Season:
| | | | | | | | |
| --- | --- | --- | --- | --- | --- | --- | --- |
| Overall | Pct. | Conf. | Pct. | Streak | Home | Away | Neutral |
| 19-11 | .633 | 16-4 | .700 | Won 7 | 10-2 | 9-9 | 0-0 |
Team: Acadia Axemen
Head Coach: Steve Baur
Assistant Coaches: Kevin Duffie, Nick Jordan
2011-12 record: 14-6 (2012 AUS Champions)
Key Players: Owen Klassen, Anthony Sears, Anthony Ashe,
Incoming Recruits: AJ Simmonds (Auburn High), Kyle Arseneault (Fredericton High)
Departures: Dustin Poirier
Coach Baur is in the perfect situation, as his defending AUS champion team returns all key players to their lineup for the 2012/13 season.  The very talented Axemen are returning with what we believe to be a chip on their shoulders after what most thought was an unfair seeding for Nationals. The AUS Champions were given the number eight seed and were the only team to give CIS champion Carleton a solid fight at the Halifax Metro Centre in 2012.
In the regular season last year, the Axemen looked out of sorts at times as they tried to establish their identity, after missing 6-10 Owen Klassen who was playing in The University Games, Anthony Sears (ankle injury) and rookie guard Sean Stoqua (playing football) for the preseason. Stoqua will again be absent for football this season but Coach Baur is excited by the fact that his team will get a full preseason together and then venture into tough Conference play.
Owen Klassen who was an All Canadian and Defensive Player of the Year in the AUS will truly determine the Axemen's fortunes as he is a matchup nightmare who is an excellent shooter from anywhere on the floor complimented with a solid post up game. Not to mention that he is an outstanding athlete who jumps out of the gym. If Klassen's maturity and toughness developed at a steady pace this past year, look for him to make a run at AUS MVP and National Player of the Year.
Anthony Sears who was a 2012 second team AUS All Star, can light it up at the drop of a hat. Coming off a tough year in which he dealt with injuries, Sears still managed to shine when it mattered most, by playing exceptionally in the AUS Championship leading the Axemen averaging 22.5 ppg on 53.6% shooting and being named MVP.  Sears' talents and past performances put him in the running as Player of The Year candidate as well. His ability to defend at the point makes him a solid two way player who can lead this team to the promise land.
Klassen and Sears are great talents but if you consider Acadia as a two headed monster you would be sadly mistaken. The Axemen are loaded with talent. Anthony Ashe is an excllent player who has an oustanding ability to make big shots when needed, Sean Stoqua is another great shooter and a rock with the basketball who plays with a Steve Nash style efficiency, and just gets it done.
Jonathon Tull is an explosive guard who can take over a game in stints and get guards and big men in foul trouble as he attacks the rim. Tyler Scott who got bit by illness late in the season last year is a natural scorer who can fill it up, and then theres super athletic Brad States who keeps you on the edge of your seats for that WOW moment.
A big key for the Axemen over all fortunes may be forward Rhys Larry as he is the third big on the roster and needs to be effective when Klassen and States go to the bench.
The 2012/13 season is looking very promising for the Axemen as they look to defend their AUS title and take a step further than their fifth place Nationals Finish.  The success of the Axemen will be determined by their ability to share the ball offensively as well as the maturity with which they play.
If the team relies on consistent defence to win, instead of shot making they may have a shot at cutting down the nets in Ottawa in March.