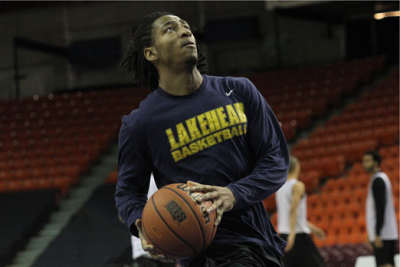 NPH CIS Preview: Lakehead Thunderwolves
Last Season:
| | | | | | | | |
| --- | --- | --- | --- | --- | --- | --- | --- |
| Overall | Pct. | Conf. | Pct. | Streak | Home | Away | Neutral |
| 20-2 | .909 | 20-2 | .909 | Won 10 | 11-1 | 9-1 | 0-0 |
Head Coach: Scott Morrison
Assistant Coaches: Matthew Erdman, Pat Charlebois, Mark English, Nathan Johnson, Andrew Quirion
2011-12 Record: 19-1 (OUA)
Key Players: Yoosrie Salhia, Greg Carter, Ben Johnson, Matthew Schmidt, Brendan King, Joseph Jones, Ryan Thompson
Incoming recruits:
Joe Hart
Dwayne Harvey
Alexandre Robichaud (Red-shirted last season)
Michael Thorne-Finch (Red-shirted last season)
Brandon Myketa (Red-shirted last season)
Departures: Venzal Russell
The saying 'the third time is the charm' hasn't worked out for the Lakehead Thunderwolves. In the last three years, the Thunderwolves have made it to the CIS Final 8, and in all three times have come just short of making it past the first round.
Head coach, Scott Morrison describes it as being 'bitter-sweet'.  "It's sweet that we have had three straight opportunities at Nationals but also bitter that we have not got it done in that first round game yet."
Injuries were a large part of the problem last year as their all-around and three point man, Ryan Thompson, who went down, and was unable to play in the Final 8 tournament.
"Injuries which were a major factor in our loss last season, we adjusted our off-season training in an effort to build a better base for injury prevention this year but always need some luck in that area."
Despite being so close in years past, the Thunderwolves are not discouraged and with almost all their core group of veteran guys coming back, they have plenty of OUA final four and CIS Final experience to go along with them.
Adding to the veteran core group of players are some transfers, and players who red-shirted last year who are ready to step into a role position. Coach Morrison feels that these new players will make a positive impact to the team.
"Joe Hart from the UK should provide a consistent outside shooting threat for us this year on the wing. Dwayne Harvey will bring us a playmaker that can attack off the ball-screen and make great reads while playing strong defense. Mike Thorne-Finch and Alex Robichaud, both red-shirts last season should also contribute defensively and on the glass while gaining valuable experience against tough opponents.
Look out for the Thunderwolves this year as they try to make it four straight trips to nationals. With a large contingent coming back from previous CIS Final 8 appearances, it would be ill advised to bet against them making a trip back to nationals.