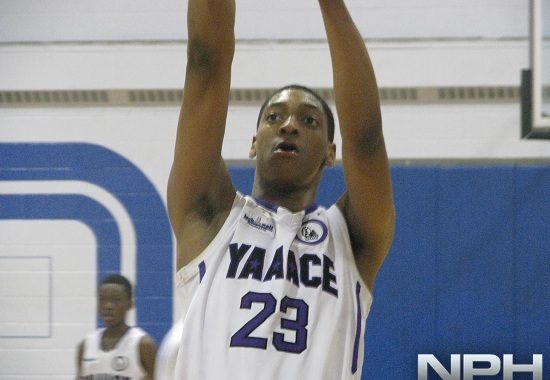 NPH Vegas Watch: Canadian Players to Keep An Eye on in Las Vegas
LAS VEGAS, NV–It's showtime! In the final LIVE period for NCAA coaches to catch recruits, a plethora of Canadian team will make the trip. Teams will be spread out through the Adidas Super 64 & the FAB 48 where there will catch prospects that we have followed throughout the high school season, while also getting the opportunity to discover new Canadian talent.
The following are players to keep an eye on (In no particular order)
Keep in mind that there is a TONNE of talent in Vegas (over 100 Canadian players) and this is in no way an exclusive list of all the top players. The talent will be overflowing and names will be made based on each player's performance. YOU control your destiny!
GAME TIME!
Justin Jackson | 2016 | 6'6 | G | YAAACE  Elite 14U
Jackson is the best Canadian long term prospect (regardless of class) that is not named Andrew Wiggins. While coaches cannot yet watch this young age group, they will undoubtedly hear about his performances. We will be following Jackson and YAAACE closely on this recruiting trip as they are among the top 14U AAU teams in North America.
Donnovan Hastings | 2013 | 6'6 | SG | Northern Kings 17U
Hastings has been a riser this summer. At 6'6 with a solid shooting stroke and great athleticism, the NCAA offers have come rolling in including New Mexico State & St Bonaventure. Hastings has the tools to end up at a mid-major + however this will be the first time witnessing him in an AAU environment. We will certainly walk away with more insight on his game by the end of the week.
Drew Urquhart | 2014 | 6'6 | SF | All Ball 16U
Here is an intriguing prospect. We have heard much about Drew but this will be the first time seeing him in action. We were scheduled to see him at the NPH BC Showcase, however he was injured at the time (Elbow). He has now recovered and from what we've gathered, he is a 6'8 skilled small forward who is already being recruited at the NCAA level.
Mikyle McIntosh | 2013 | 6'7 | F | Grassroots Canada
We are hearing good things about Big Mac. For one, he is healthy and has been a heavy producer for Grassroots Canada this AAU season. We saw a glimpse of him in Georgia last week at the Elite Youth invitational in a blowout victory. However, we look forward to see more of him in Vegas.
Jamal Reynolds | 2013 | 6'4 | G | Grassroots Canada
Reynolds has had a busy summer which included his trip overseas with the Canadian junior national team. He has come a long way…going from not being selected to the provincial team, to representing his country on an international level. Currently being has the attention of schools such as Baylor, Xavier, Maine, Detroit, & Iowa to name a few.
are a couple of Northern Kings bigs to keep on your radar. Atewe, a junior national team member is a high level defensive presence, while Craig is similar. We have not seen Craig in some time, and are excited to see his development.
James Sylvester | 2013 | 6'1 | G | Northern Kings
Has proven himself as one of the top combo guards in the nation, producing at a high level for the powerhouse Eastern Commerce Saints during high school season. We have not seen Sylvester since OFSAA and look forward to witness his progress.
Team Orange – Toronto
This is a team we are not familiar with but have heard good things about. We are excited to watch them for the first time,  and discover the new young talent on this team.