Canada Moves to 1-1 at World Championships With Loss to Croatia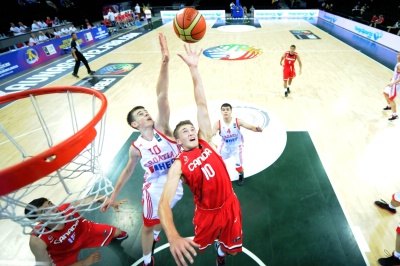 NPH TOP PERFORMERS
Patrick Steeves- 10 pts, 9 rbs, 2 ast
Marial Shayok- 10 pts, 6rbs, 3 astl
Malcolm Duvivier- 9  pts, 2 rbs, 2 stl
KAUNAS, LITHUANIA – In the second game of the tournament, Canada was unable to dig themselves out of an early hole, as they lost to Croatia 66-53. Canada's record in the FIBA U17 World Championship is currently 1-1.
Canada had a balanced attack in their second game of the tournament. Patrick Steeves (Montreal, QC) scored ten points and nine rebounds, while Marial Shayok (Ottawa, ON) had ten points and seven rebounds.
Canada didn't get the start they were looking for in the opening quarter. Canada was unable to take care of the ball, as they turned the ball over six times in the frame. This helped Croatia go on a 16-4 run and to finish the quarter with a 20-9 lead.
In the second quarter, Canada's defense stepped up and was able to limit Croatia to only eight points in the quarter. Croatia led as much as 13 points in the frame, but a late run by Canada cut the deficit to six points to end the half, 28-22.
Canada continued to cut the deficit in the third quarter. Canada was able to take better care of the basketball and by doing so, Canada was able to make it a three point game heading into the final quarter, 41-38.
In the fourth quarter, it looked as Canada could make a comeback as they did in the opening game versus Lithuania. With 7:22 left in the quarter, Anthony Pate (Oakville, ON) hit a shot to tie the game at 43. This was as close as Canada would get, as Croatia went on to win 66-53.
For box score, click here.
Canada will play against Argentina on Sunday, July 1, at 1:25 p.m. (EDT). The game will be available to follow on FIBA Live-Stats.