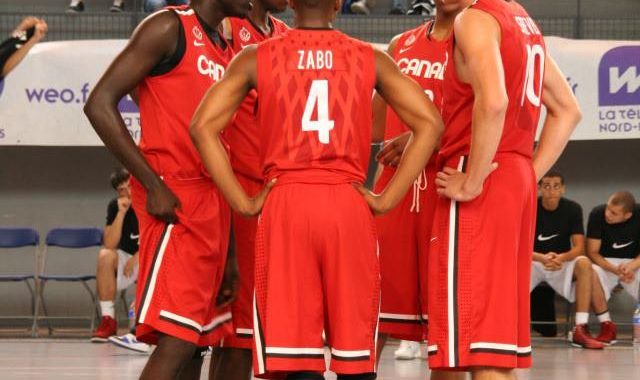 Cadet Team Canada
Team Canada
Canada Opens World Championships Displaying Poise in OT, Marial Shayok Comes Clutch.
NPH TOP PERFORMERS
KAUNAS, LITHUANIA – In the opening game of the FIBA U17 World Championship, Canada was able to come-back late in the fourth quarter to tie the game and force overtime. In the extra period, Canada was able to carry their momentum from the fourth quarter to beat the host nation, Lithuania, 69-63.
Marial Shayok (Ottawa, ON) and Kevin Zabo (Gatineau, QC )led the way for Canada, as they both had a game-high 16 points in the game, while Chris Egi (Markham, ON) grabbed a team-high seven rebounds in the victory.
In the first quarter, it was easy to tell that both teams were nervous in the opening game of the FIBA U17 World Championship. With Canada playing the hosts, Lithuania, the arena was packed with supporters and it led to a total of 15 turnovers in the opening frame. Lithuania took the four point advantage to the second quarter, 17-13.
In the second quarter the teams continued to turn the ball over a lot. Canada was down by as many as 13 points late in the quarter, but Marial Shayok hit a jumper  late in the frame to cut the lead to eight, at the half.
Into the third quarter, Canada opened on a 12-2 run to take their first lead since the opening quarter, 42-40. From that point on, it became a seesaw battle as no team was able to extend the lead larger than two points. Tyrell Bellot-Green (Toronto, ON) hit a shot in tight with under a minute to go in the quarter to tie the game at 47-47.
In the final frame, Lithuania was able to create separation as they went on a  7-0 run to gain the 54-47 lead. With 1:41 left in the game, Lithuania nailed a three-pointer to take a 61-56 lead. With 1:17 left in the quarter, Chris Egi was able to steal a pass and dunk it to cut the lead to three points. Marial Shayok with 10 seconds left took a three-pointer that banked in and sent the game to overtime.
In overtime, Canada continued to add to their run. Canada was able to end the game on a 13-2 run to win the game 69-63.