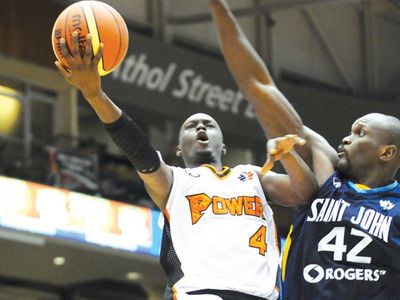 Tut Ruach Former York Star Signs with Nässjö Basket In Sweden!
TORONTO, ON– On  Monday, Slan Sports Management announced the signing of Tut Ruach to a one-year contract with Nässjö Basket in Sweden's Basketligan.
Ruach, a 6'2" point guard, from Mississauga is the second leading scorer in York University's history.
This will be Ruach's third professional contract after playing one year in Germany and spending this past season with the Oshawa Power in the National Basketball League of Canada.
Ruach suited up for the Power in all 36 games, averaging 12 points, 3.8 rebounds and the league's third best assists average at 5.4. Ruach looks to bring his leadership and playmaking abilities to Nässjö next season.
"I think I have a lot to offer my new club at both the offensive and defensive ends," said Ruach. "My goal is to help the team get wins and I will do whatever is necessary to accomplish that".
After a 20-2 record in Sweden's second division last season, Nässjö Basket was promoted to Sweden's Basketligan this year, where they see Ruach taking on a leadership role.
"In Tut we expect to get a versatile player who can play both ends of the floor and a really good teammate who will fit perfectly in the mix of players we already have," said Head Coach of Nässjö Basket, Stefan Timbus. "He is athletic and handles the ball well which will hopefully make him a favorite with the Nässjö crowd".
For more information and individual box scores for Tut throughout the season, visit http://slansportsmanagement.com/tut-ruach.