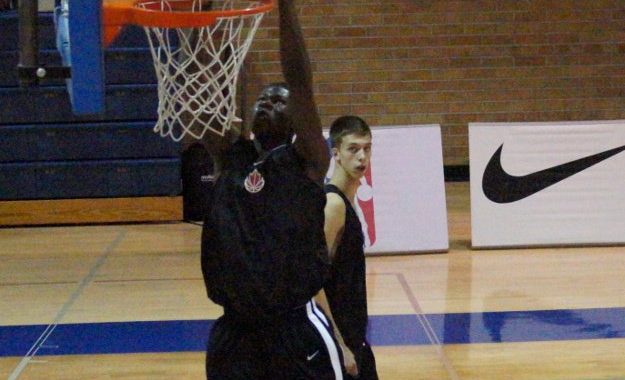 Cadet Men's National Team Training Camp Roster Announced!
Toronto, ON – Canada Basketball announced the 18 athletes who have been invited to the cadet men's national team training camp. From this camp, the final team of twelve athletes will be selected to represent Canada in the 2012 FIBA World U17 Championship for Men, in Lithuania from June – July 8. The training camp will take place at Humber College, North Campus from June 13 – 18.
"We are excited about the start of camp, our opening camp was extremely deep and competitive," said head coach, David DeAveiro. "We expect more of the same as we have the difficult task of selecting 12 players to represent Canada at the World Championships. Our athletes are looking forward to taking on the world."
For the 2012 FIBA U17 World Championship for Men, Canada has been placed into Group B with; Argentina, Croatia, Korea, Lithuania and Spain. In the first-ever FIBA U17 World Championship, Canada beat Lithuania 83-81, to win the bronze medal. Below is Canada's preliminary schedule.
                        2012 CADET MEN'S NATIONAL TEAM – TRAINING CAMP ROSTER
| | | | | |
| --- | --- | --- | --- | --- |
| Name | Position | Height | Hometown | School (2011-12) |
| Jake Babic | Guard | 6-3 | Oakville, ON | St. Ignatius of Loyola (HS) |
| Tyrell Bellot-Green | Forward | 6-6 | Toronto, ON | Oakwood Collegiate (HS) |
| Tanveer Bhullar | Centre | 7-2 | North York, ON | Huntington Prep (HS) |
| Devonte Campbell | Forward | 6-5 | Maple, ON | Villanova College (HS) |
| Brody Clarke | Guard | 6-6 | Toronto, ON | Oakwood Collegiate (HS) |
| Malcolm Duvivier | Guard | 6-1 | Toronto, ON | St. Michael's College (HS) |
| Chris Egi | Forward | 6-6 | Markham, ON | St. Andrew's College (HS) |
| Jamar Ergas | Guard | 6-3 | Toronto, ON | Christian Faith Center Academy (HS) |
| Connor Gilmore | Forward | 6-7 | Toronto, ON | Martingrove Collegiate(HS) |
| Justin Jackson | Forward | 6-6 | Scarborough, ON | Charles Gordon Public School (HS) |
| Miroslav Jaksic | Forward | 6-9 | Windsor, ON | W.F. Herman Secondary School (HS) |
| Narcisse Kalamba | Forward | 6-6 | Longueuil, QC | St-Jean Baptiste (HS) |
| Chris McComber | Forward | 6-6 | Nepean, ON | John McCrae (HS) |
| Anthony Pate | Guard | 6-3 | Oakville, ON | St. Patrick's (HS) |
| Jordan Robinson | Forward | 6-9 | Toronto, ON | Quality Education Academy (HS) |
| Marial Shayok | Guard | 6-5 | Ottawa, ON | St. Patrick's (HS) |
| Patrick Steeves | Guard | 6-7 | Montreal, QC | Hotchkiss Prep (HS) |
| Kevin Zabo | Guard | 6-1 | Gatineau, QC | Montrose Christian (HS) |
| | | |
| --- | --- | --- |
| Date | Opponent | Time (EDT) |
| Friday, June 29 | Lithuania | 11:35 a.m. |
| Saturday, June 30 | Croatia | 8:45 a.m. |
| Sunday, July 1 | Argentina | 1:25 p.m. |
| Tuesday, July 3 | Spain | 2:00 a.m. |
| Wednesday, July 4 | Korea | 2:00 a.m. |