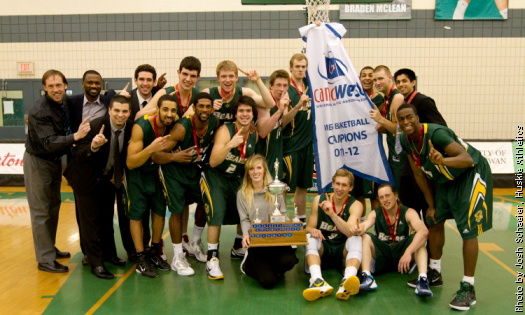 Alberta Golden Bears Capture Canada West Championship, Powered By Daniel Ferguson-Jordan Baker Duo!
NPH TOP PERFORMERS
ALBERTA
Daniel Ferguson- 25 pts, 4rbs, 2 ast
Jordan Baker- 21pts, 6rbs, 2ast
Fraser Valley
Kyle Grewal- 13pts, 10rbs, 4ast
Michael James- 14pts, 6rbs
SASKATOON,SK–The fourth seeded Alberta Golden Bears nipped the third seed, the Fraser Valley Cascades 72-71 on the backs of their two Canada West all-stars, Daniel Ferguson and Jordan Baker.
Overtaking the Cascades in the third quarter, the Bears had a slim 54-52 edge going into the fourth, and after UFV had seized a 67-61 lead with 2:25 left, it was Ferguson who hit a pair of treys, the last with 41 seconds remaining as the Prairie squad won a tense battle down the stretch.
Ferguson was 6/11 from outside the arc and totalled 25 for the game, while Baker scored 21 and collected six rebounds. Todd Bergen-Henengouwen chipped in with nine boards.
Fraser Valley lost their shooting guard, Sam Freeman, with a leg injury late in the 1st half, but they hung tough with a balanced scoring effort from forwards Kyle Grewal, who posted a double-double of 13 pts/10 boards, Mike james, the fifth year transfer post, who came off the bench for 14 and six, and jasper Moedt, with 12 points and eight rebounds.
UFV was 41.5% from the floor, and Alberta was 40%. The Bears edge was the 10/25 shooting from outside, with Ferguson a threat for the whole contest.
Fraser Valley guard Sam Freeman was injured, and missed the second half on Saturday.
Neither team was necessarily expected to win Friday against the #1 Pacific team, Victoria, or the Prairie #1, Saskatchewan, but a desperate last two minutes for UFV against the Vikes preserved a one point win, and the Bears defense clogged up the works for the Huskies to give us this unlikely final.
Where it looked like it was going to be three Canada West teams in the Final 8 before Friday games, it is now the Cascades, in just their sixth season in Canada West, and the under-rated Bears, going in as Canada West champs, who will carry the torch for the League.
These two squads will now await the word of the CIS seeding committee and the draw for the CIS Final 8 Championship to be played in Halifax starting next Friday, March 9, with the championship match on Sunday, the 11th.
Stay tuned on NPH for extensive coverage on the CIS National Championship in Halifax, Nova Scotia!