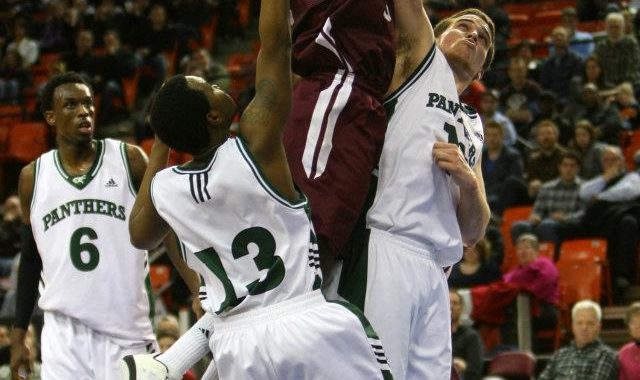 Saint Mary's Huskies Upset UPEI Behind Game-High 25 points from Jerome Smith!
NPH Top Performers
SMU
Jerome Smith – 25 points (5/7 3pt, 10/10 FT), 6 rebounds, 6 assists, 37 minutes
Tory Fassett – 17 points, 8 rebounds, 36 minutes
Harry Ezenibe – 16 points, 14 rebounds, 28 minutes
UPEI
Jonathon Cooper – 16 points, 10 rebounds, 3 assists, 40 minutes
Donathan Moss – 15 points, 19 minutes
Jermaine Duke – 9 points, 13 rebounds, 36 minutes
HALIFAX,NS–In the later game, the sixth seeded Saint Mary's Huskies upset the third seeded UPEI Panthers 89-77.  This was potentially Ross Quackenbush's last game coaching the Huskies as he is set to retire after the season is finished.
At the start of this game, both sides left it all on the court.  UPEI started off with a bang and looked to take the control of the pace of the game and  Donathan Moss of looked to be on the verge of a dominating game with back to back three's and a two handed slam.
However, Moss picked up his second foul in the first quarter, forcing him to sit.
Also in foul trouble was AUS first team all-star Manock Lual, who started off with a quick four points. Lual played only 10 minutes in the entire game.
Saint Mary's had a slow start offensively, with only 29 points in the first half.  Three of those 29 points where thanks to Tory Fasset who had the ball in the final seconds of the half, and was checking the jumbotron for the time, shot it up and connected from way beyond the three point line.
Following the halftime break, the Huskies came out firing on all cylinders and looked like a totally different team.  Head coach Ross Quackenbush talked about what was different in the second half for Huskies.
"Momentum is a funny thing, it wasn't going our way in the first half and we talked today a little about resiliency and persistence and not getting down on each other and to keep on playing. Augy invoked them to man up, hit some shots, play some ball, screw the jumping around before the game and get out on the floor and perform and I think they responded to that."
The halftime speech definitely worked as Jerome Smith in particular responded well. Smith was on fire in the third quarter, connecting on five three pointers, and every time he connected the Saint Mary's faithful got a little bit louder. Strong play from Harry Ezenibe on the rebounding front made it a little easier for the Huskies and limited the panthers from second chance options.
First team All-Star Tory Fassett was also a large part in the victory as he provided quality minutes throughout the game.
Jerome Smith spoke to NPH about his second half performance.
"We played together as a team; I didn't want it to be my last game or my coach's' last game so we just came through and pulled it out," explained Smith.
"We just had that focus at halftime to keep it moving…coach gave us a good speech and I just had that mentality that I can't make it my last game, I had my prayer going and then we were ready".
Foul trouble continued to hurt UPEI down the stretch and SMU's hot shooting was able to help them earn the victory.
Coach Quackenbush and fifth year senior Jerome Smith will get to play another game, as they will take on Acadia in the next round.  UPEI's seniors Manock Lual and Jonathon Cooper played their final game as UPEI Panthers.