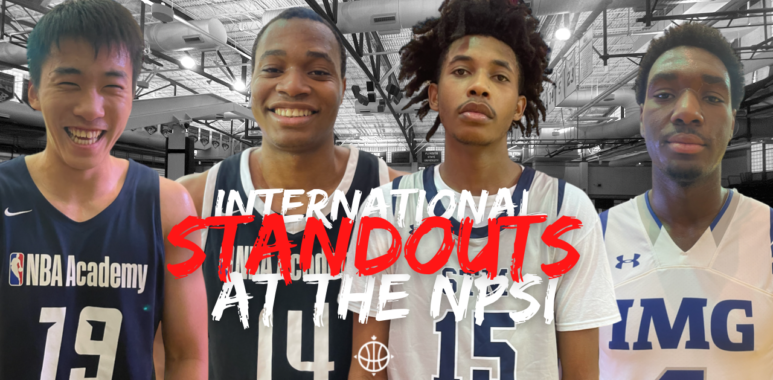 National Prep School Invitational Standout Prospects; Eric Dailey Jr., Matai Baptiste & more
It's 7:45 am in Rhode Island. I arrived at Rhode Island College for the NPSI. I am the first one in the gym and let me tell you, I have yet to find a more peaceful place aside from an empty gym. Something about walking into a gym with the lights off and the gentle hum of the generator running, the first step on a freshly cleaned hardwood floor just hits so incredibly different. It wasn't long before the Prep schools started to roll in for the National Prep School Invitational in Providence, Rhode Island. Not too long after the teams started warming up on the RIC court, the NCAA coaches from all levels began to pile into the gymnasium. This environment is a prospect's dream, if you play well enough there could be an offer with your name on it after the weekend. But in Matai Baptiste's case it didn't take the entire weekend, the very first game of the tournament, an early 9 am start and Matai looked like he'd been up for a while. He came in ready to go and erupted for 26 points in the win vs. RIG Academy out of Sweden. No more than 2 hours later I refreshed my Twitter feed and saw the Boston U offer on my homepage. Later that evening the Bryant University offer came in as well. Two offers in one day, must it really be a reassuring sign for any prospect.
Matai Baptiste | 6'9 | Orangeville Prep | 2023
Matai Baptiste
Matai was a hot topic in the coaches section of the NPSI showing off his smooth shooting stroke, rebounding & versatility.
In my entire playing, coaching and scouting career I have only ever seen one gym with more coaches in it than RIC for the NPSI and that was for the Canadian National Invitational tournament in its prime when UPLAY had half of the Team Canada National team on its roster. Aside from that this has to be one of the best atmosphere's going in terms of prep basketball exposure.
Since I have covered the Canadian programs as they headed into the National Prep School Invitational, I'd like to use this article to cover some of most impressive international (outside of Canada) standouts that I saw at the NPSI over my two days in Rhode Island. With teams flooding in from Africa, Sweden, Czech Republic, Australia, United States and Mexico there was absolutely no shortage of fresh talent that I had yet to get a chance to see this season.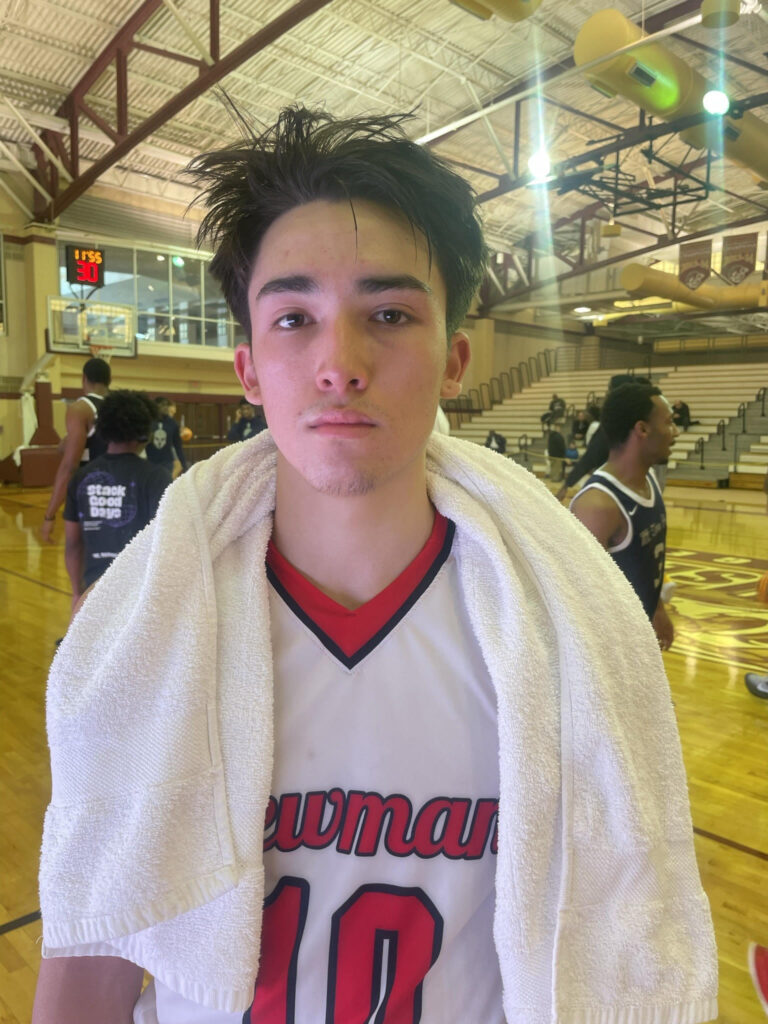 Luka Toews, a point guard from The Newman School in Boston, Massachusetts, has quickly established himself as one of the top prospects in the class of 2024 in the Northeast. Born in Tokyo, Japan to a Canadian father, Toews has a unique blend of international flair and North American toughness.
At the National Prep School Invitational in Rhode Island College, Toews stood out as one of the top shooters in the tournament. His calm and controlled demeanor on the court combined with his deadly accuracy from beyond the arc make him a dangerous weapon for any team.
Toews' poise and polish are a testament to his advanced skill set and mature approach to the game. He has the ability to take over a game with his shooting and has a solid understanding of the point guard position, consistently making smart decisions with the ball in his hands, reminded me of a Kevin Pangos.
It's no surprise that Toews has already received offers from several Division I programs, including Rhode Island, Pennsylvania, Fairfield, Columbia, Holy Cross, Loyola Chicago, Colgate, UMass, and Boston University. With his combination of shooting ability and leadership on the court, Toews has the potential to be a major contributor at the next level.
In conclusion, Luka Toews is a rising star in the class of 2024 and a player to keep an eye on in the coming years. His unique background, exceptional shooting touch, and mature approach to the game make him a player that coaches will want on their rosters.
Churchill Abass | 6'8 | 2023
Scouting Report: Churchill Abass, 6'8 Nigerian native, Class of 2023 at NBA Academy Africa.
Abass is an incredible athlete with a powerful presence on the court. He almost ripped the rim off the backboard with a thunderous dunk at the National Prep School Invitational, showcasing his explosive jumping ability. He also has impressive body control, as he was able to acrobatically avoid a defender in mid-air and still complete the dunk.
On the boards, Abass is a force, rebounding like a young Dwight Howard. He has a non-stop motor, running the court like the Energizer Bunny. On defense, he is extremely tough, making it difficult for opponents to score.
In conclusion, Churchill Abass would be an immediate impact player for any college roster. With his size, athleticism, and defensive tenacity, and motor he has the potential to develop into a dominant force at the next level.
Watching how different parts of the world play the sport of basketball always fascinated me. @nbaacademy Africa product — '23 6'8 Churchill Abass from Nigeria 🇳🇬 plays the game differently then any HS prospect I've seen this season. No one has his motor, legit HM prospect. #NPSI pic.twitter.com/9b4ETK2lgK

— Josh Millican (@Josh_NPH) February 5, 2023
Junjie Wang | 6'10 | 2023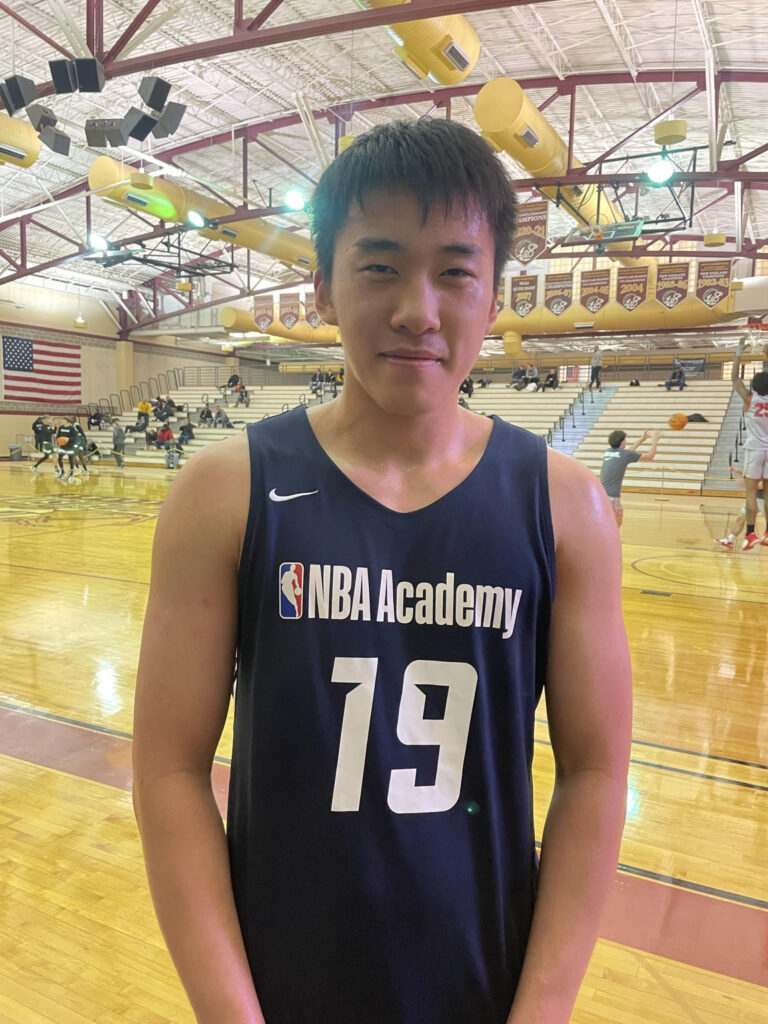 Junjie Wang is a highly skilled prospect from China who is a member of NBA Academy Global based out of Canberra, Australia. Standing at 6'10, Wang has the unique ability to handle the ball like a small forward and rebound like a center. This makes him a versatile player on the court and a valuable asset to any team.
Wang's impressive performance at the National Prep School Invitational caught the attention of many scouts and fans alike. His eye-catching skills on the court, combined with his hustle and drive, make him a force to be reckoned with. Off the court, Wang is known to be a friendly and approachable person, but on the court, he transforms into a monster, determined to win.
Wang's size and agility give him an advantage on both ends of the court. He can maneuver his way past defenders and get to the basket, while also providing a formidable presence in the paint on defense. His rebounding abilities are also noteworthy, as he can grab boards with ease and quickly transition into offense.
Wang's ability to handle the ball like a small forward gives him an edge in fast-break situations and allows him to create opportunities for his teammates. He has the potential to develop into a well-rounded player who can contribute to his team in multiple ways.
In conclusion, Junjie Wang is a prospect to keep an eye on as he continues to develop and refine his skills. With his impressive size, agility, and versatility, he has the potential to become a dominant player at the next level.
Brandon Sinclair | 6'11 | St. Thomas More
Brandon Sinclair is a underrated sleeper big man, playing for the legendary coach Jere Quinn at St. Thomas More. Standing at a towering 6'11", Sinclair has a unique combination of size and athleticism that sets him apart from his peers. He runs the court like a gazelle and with speed, making him a threat in transition and on the fast break.
One of the most impressive aspects of Sinclair's game is his passing ability. He proved to be the best passing big man at the National Prep School Invitational at Rhode Island College over the weekend, showing off his excellent vision and unselfishness. With his size, he can see over the defense and find the open man, making him a valuable asset on the court. Dropped off a beautiful pair of passes out of the high post which seemed like he had eyes in the back of his head.
In addition to his skills on the court, Sinclair is also a respectful and polite young man off the court. He has a great attitude and is willing to work hard to improve his game. He has the potential to put on muscle and become even more dominant in the post, making him a force to be reckoned with in the future.
One of the biggest surprises about Sinclair is that he currently has no offers from colleges or universities. Given his impressive skills and physical attributes, it's only a matter of time before he starts to receive attention from top programs. He plays with a lot of energy and is very vocal on the bench, inspiring his teammates and showing his passion for the game.
In conclusion, Brandon Sinclair is a player to keep an eye on in the coming years. With his size, athleticism, and passing ability, he has all the tools to be a star at the next level. If he continues to work hard and improve, he could become one of the top players in his class in the Northeast.
Don't usually like to dabble into the 🇺🇸 prospects but I was really impressed w/ '23 7'0 Brandon Sinclair of St. Thomas More, was dishing out dimes, great motor, runs like a gazelle & hammers dunks. Super underrated prospect who's recruitment is sure to heat up soon. @NphScouting pic.twitter.com/YLtltxF3Y3

— Josh Millican (@Josh_NPH) February 2, 2023
Kaspar Martensen | 6'9 | 2024
Kaspar Martensen is a prospect I liked instantly as he was in the opening game of the NPSI. Hailing from Stockholm, the 6'9″ power forward is a standout prospect in the class of 2024. Currently playing for RIG Academy, Martensen is a kid with an impressive all-around game.
One of Martensen's standout traits is his defensive prowess. He is clearly very active on defense, always keeping his head on a swivel and effectively anticipating the movements of his opponents. This level of awareness and dedication to his defensive responsibilities is a rare and valuable quality in young players, and sets Martensen apart from many of his peers.
In addition to his defensive abilities, Martensen is also a highly communicative and team-oriented player. He can be seen regularly conferring with his teammates both on and off the court. This level of collaboration is key to success in any team sport, and Martensen's ability to effectively communicate with his teammates is sure to make him an invaluable asset to any squad.
Despite his impressive skills, Martensen is not content to rest on his laurels. Instead, he takes pride in doing the "dirty work" and the little things that are often overlooked but are essential to success. Whether it's hustling for loose balls, boxing out for rebounds, or simply putting in extra effort on the court, Martensen is always willing to put in the extra effort necessary to help his team win.
This attitude was on full display at the recent National Prep School Invitational, where Martensen and his RIG Academy teammates faced some of the toughest competition in the country. Despite the high stakes, Martensen was a standout performer, exhibiting the same level of intensity and focus that he brings to every game.
In conclusion, Kaspar Martensen is a true power forward prospect who was seen by a gym full of college coaches for 3 days in a row. With his impressive defensive skills, communicative and team-oriented approach, and dedication to the "little things" that make a difference on the court, he is sure to be a valuable asset to any program. Keep an eye on this young player in the coming years – he's one to watch!
Eric Dailey Jr. | 6'8 | 2023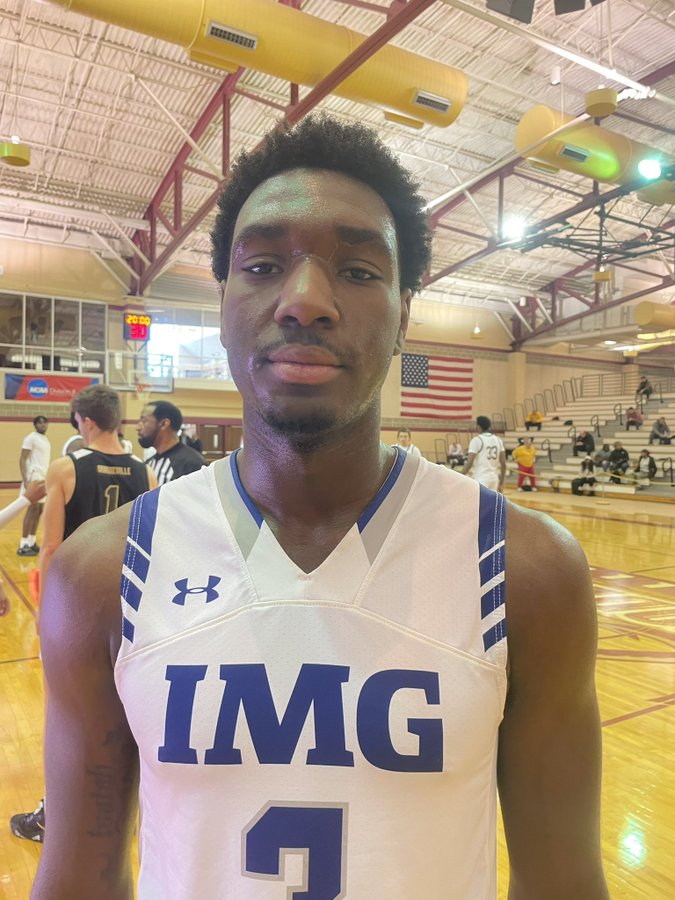 Eric Dailey Jr. is a highly-touted basketball prospect from Palmetto, Florida. Standing at 6'8, he plays as a wing for IMG Academy and has quickly gained attention for his athletic dunks that have gone viral on social media. Dailey's exceptional athletic abilities have placed him as the 51st-ranked player on ESPN's top 100 list.
Recently, Dailey was on display at the National Prep School Invitational where he faced off against Orangeville Prep. His future assistant coach, Larry Blunt, who previously coached at Orangeville, was in attendance to see Dailey in action. It was clear to see why Dailey is considered a top 60 prospect, as he dominated on the court with powerful slams and an impressive showing of athleticism.
This upcoming season, Dailey will be taking his talents to Oklahoma State University where he will play alongside Canadian Thomas Ndong of NBA Academy Latin America. The Big 12 Conference is about to get a lot more exciting with Dailey's arrival, and fans can expect him to be a force on the court.
In conclusion, Eric Dailey Jr. is a player to keep an eye on. With his impressive athletic abilities, he has proven to be a dominant force on the court and his future in the Big 12 Conference looks bright. Whether it's through social media highlights or in-person games, Dailey is sure to continue to turn heads and make a name for himself in the world of college basketball.