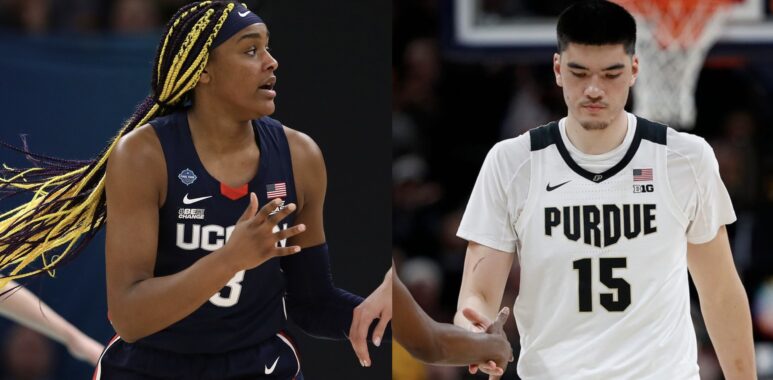 250+ Canadian Men & Women playing NCAA D1 2022-2023
With the NCAA season well underway, there is more Canadian representation than ever. Big names like Ryan Nembhard, Zach Edey, Elijah Fisher, Shayeann Day-Wilson, Aaliyah Edwards, Laeticia Amihere & many more with Pro careers on the horizon. Everything from potential player of the year candidates & national championship contenders. Real impact players contributing to their programs. There is no shortage of talent coming from The North.
As we continue to see these numbers rise year after year, we are reminded that Canadian Basketball is on an exponential incline in terms of talent, infrastructure, and opportunity. See full list of players below.
| | | | | | | | | |
| --- | --- | --- | --- | --- | --- | --- | --- | --- |
| Name | Height | Class | Position | City | Province | School | Conference | Gender |
| Fahim Jenneto | 6'7 | JR | F | Ajax | Ontario | Delaware St | MEAC | Men |
| Joshua Nkwo | 6'3 | JR | G | Hamilton | Ontario | Houston Baptist | Southland | Men |
| Tegra Izay | 6'10 | JR | C | Montreal | Quebec | Lasalle | Atlantic-10 | Men |
| Marko Milivojevic | 6'10 | SO | F | Oakville | Ontario | MD-Eastern Shore | MEAC | Men |
| Marsei Caston | 6'3 | JR | G | Windsor | Ontario | New Mexico St | WAC | Men |
| Muon Reath | 6'8 | SO | G/F | Ottawa | Ontario | San Diego | WCC | Men |
| Michael Matas | 6'8 | SO | F | Oakville | Ontario | SIUE | OVC | Men |
| Emmanuel Bonsu | 6'2 | JR | G | Montreal | Quebec | Stonehill | Northeast | Men |
| Cam Slaymaker | 6'3 | FR | G | Coquitlam | British Columbia | Cal-Northridge | Big West | Men |
| Joel Brown | 6'2 | SR | G | Brampton | Ontario | California | PAC-12 | Men |
| Jalen Celestine | 6'7 | JR | G | Ajax | Ontario | California | PAC-12 | Men |
| Emmanuel Tshimanga | 7'0 | JR | C | Montreal | Quebec | UC Irvine | Big West | Men |
| Arian Dehnavi | 6'10 | JR | C | Montreal | Quebec | Central Connecticut St | Northeast | Men |
| Markus Harding | 6'9 | SO | F | Toronto | Ontario | Central Michigan | MAC | Men |
| Teshaundre Cole | 6'5 | FR | F | Toronto | Ontario | Chicago St. | Independent | Men |
| Shakur Daniel | 6'6 | GR | G | Toronto | Ontario | Tarleton | WAC | Men |
| Malcolm Bailey | 6'10 | SR | F | Stratford | Ontario | Colgate | Patriot | Men |
| Sam Thomson | 6'9 | JR | F | Waterloo | Ontario | Colgate | Patriot | Men |
| Kobe Elvis | 6'2 | SO | G | Brampton | Ontario | Dayton | Atlantic-10 | Men |
| Okay Djamgouz | 6'5 | JR | G | Toronto | Ontario | Drake | MVC | Men |
| Kordell Charles | 6'8 | SO | F | Ajax | Ontario | ETSU | SoCon | Men |
| Pier-Olivier Racine | 6'8 | JR | F | Gatineau | Quebec | Fairleigh Dickinson | Northeast | Men |
| Tarig Eisa | 6'8 | JR | F | Toronto | Ontario | Florida A&M | SWAC | Men |
| Cyril Martynov | 7'0 | FR | F | Barrie | Ontario | Georgia Tech | ACC | Men |
| Matthew-Alexander Moncrieffe | 6'7 | JR | F | Toronto | Ontario | Georgia | SEC | Men |
| Jasman Sangha | 6'8 | SR | F/C | Brampton | Ontario | Texas A&M-CC | Southland | Men |
| DJ Jackson | 6'4 | FR | G | Mississauga | Ontario | IUPUI | Horizon League | Men |
| Luc Therrien | 6'8 | SO | F | Vancouver | British Columbia | Hampton | Colonial | Men |
| Josh Morgan | 6'3 | JR | G | Toronto | Ontario | Incarnate Word | Southland | Men |
| Luka Sakota | 6'6 | SR | G | Toronto | Ontario | Harvard | Ivy | Men |
| Josh Hemmings | 6'9 | JR | F | Toronto | Ontario | Harvard | Ivy | Men |
| Louth-M Coulibaly | 6'8 | JR | F | Ottawa | Ontario | Holy Cross | Patriot | Men |
| Jaden Kirkwood | 6'5 | FR | G | Ottawa | Ontario | Holy Cross | Patriot | Men |
| Ose Okojie | 6'5 | FR | G | Brampton | Ontario | Howard | MEAC | Men |
| Kyler Filewich | 6'8 | JR | F | Winnipeg | Manitoba | Wofford | SoCon | Men |
| Miguel Tomley | 6'3 | JR | G | Surrey | British Columbia | Idaho St | Big Sky | Men |
| Liam McChesney | 6'10 | JR | C | Prince Rupert | British Columbia | Illinois St | MVC | Men |
| Julian Lual | 6'6 | SO | F | Calgary | Alberta | Arkansas St | Sun Belt | Men |
| Blondeau Tchoukuiegno | 6'2 | SO | G | Montreal | Quebec | Cal Baptist | WAC | Men |
| Dylan O'Hearn | 6'4 | SR | G | Windsor | Ontario | Jacksonville | ASUN | Men |
| Dominic Parolin | 6'9 | JR | F/C | Coquitlam | British Columbia | Lehigh | Patriot | Men |
| Marko Maletic | 6'6 | SO | G | London | Ontario | LIU | Northeast | Men |
| Brayden O'Connor | 6'4 | FR | G/F | Ottawa | Ontario | Umass – Lowell | America East | Men |
| Stephane Ingo | 6'9 | SR | F | Mississauga | Ontario | Marist | MAAC | Men |
| Olivier-Maxence Prosper | 6'8 | SO | F | Montreal | Quebec | Marquette | Big East | Men |
| Yaw Obeng-Mensah | 6'7 | SR | F | Toronto | Ontario | UMBC | America East | Men |
| Patrick Emillien | 6'7 | GR | F | Toronto | Ontario | Maryland | Big Ten | Men |
| Caelum Swanton-Rodger | 6'11 | FR | C | Calgary | Alberta | Maryland | Big Ten | Men |
| Jaelin Llewellyn | 6'2 | GR | G | Mississauga | Ontario | Michigan | Big Ten | Men |
| Marlon Lestin | 6'9 | SO | F | Montreal | Quebec | Murray St | OVC | Men |
| Emmanuel Bandoumel | 6'4 | SR | G | Quebec City | Quebec | Nebraska | Big Ten | Men |
| Kevin Osawe | 6'6 | SR | F | Toronto | Ontario | Arkansas-Little Rock | Sun Belt | Men |
| Raheim Sullivan | 6'1 | GR | G | Toronto | Ontario | NJIT | America East | Men |
| Emmanuel Kuac | 6'7 | SR | G | Calgary | Alberta | New Mexico | Mountain West | Men |
| Daniel Sackey | 5'9 | SR | G | Winnipeg | Manitoba | New Orleans | Southland | Men |
| Kyle Duke | 6'4 | SO | G | Toronto | Ontario | NC A&T | Big South | Men |
| Alexander Nwagha | 6'8 | JR | F | Milton | Ontario | Northeastern | Colonial | Men |
| Jahmyl Telfort | 6'7 | JR | G | Boucherville | Quebec | Northeastern | Colonial | Men |
| Coleman Stucke | 6'7 | JR | F | Oakville | Ontario | Northeastern | Colonial | Men |
| To Randriasalama | 6'3 | SO | G | Montreal | Quebec | Northeastern | Colonial | Men |
| Luke Hunger | 6'10 | FR | F | Montreal | Quebec | Northwestern | Big Ten | Men |
| Olumide Adelodun | 6'6 | SO | G | Calgary | Alberta | Ohio | MAC | Men |
| Xaivian Lee | 6'3 | FR | G | Toronto | Ontario | Princeton | Ivy | Men |
| Zach Edey | 7'4 | JR | C | Toronto | Ontario | Purdue | Big Ten | Men |
| Rory Stewart | 6'8 | FR | F | Toronto | Ontario | Rhode Island | Atlantic-10 | Men |
| Matt Grace | 6'9 | SR | F | Hamilton | Ontario | Richmond | Colonial | Men |
| Lorenzo Downey | 6'5 | SO | G/F | Dartmouth | Nova Scotia | Alabama A&M | SWAC | Men |
| Anthony Wrzeszcz | 6'3 | FR | G | Mississauga | Ontario | Sam Houston | WAC | Men |
| Jaden Bediako | 6'10 | SR | F | Brampton | Ontario | Santa Clara | WCC | Men |
| Jacob Holt | 6'9 | SO | F | Delta | British Columbia | Santa Clara | WCC | Men |
| Tyrese Samuel | 6'10 | SR | F | Montreal | Quebec | Seton Hall | Big East | Men |
| Steven Lazar | 6'8 | JR | F | Toronto | Ontario | Siena | MAAC | Men |
| Jefferson Koulibaly | 6'3 | SO | G | Montreal | Quebec | SMU | AAC | Men |
| Keon Ambrose-Hylton | 6'8 | JR | F | Toronto | Ontario | SMU | AAC | Men |
| Armani Mighty | 6'10 | FR | C | Toronto | Ontario | Boston College | ACC | Men |
| Wheza Panzo | 6'7 | SR | F | Brampton | Ontario | Stetson | Atlantic Sun | Men |
| Sabry Philip | 6'4 | SR | G | Edmonton | Alberta | Stony Brook | Colonial | Men |
| Kur Jongkuch | 6'9 | SR | C | London | Ontario | Temple | AAC | Men |
| Adong Makuoi | 6'9 | SR | C | Edmonton | Alberta | Tennessee St. | OVC | Men |
| Javonte Brown | 7'0 | SO | F | Toronto | Ontario | Texas A&M | SEC | Men |
| Emanuel Miller | 6'7 | SR | F | Toronto | Ontario | Texas Christian | Big 12 | Men |
| Elijah Fisher | 6'6 | FR | G | Toronto | Ontario | Texas Tech | Big 12 | Men |
| Brandyn Talbot | 6'5 | SO | G | Newmarket | Ontario | Boise St | Mountain West | Men |
| Marcus Carr | 6'2 | GR | G | Toronto | Ontario | Texas | Big 12 | Men |
| Shamar Givance | 6'4 | GR | G | Toronto | Ontario | UTEP | Conference USA | Men |
| Nate Tshimanga | 6'10 | SO | F | Montreal | Quebec | Troy | Sun Belt | Men |
| Bryant Selebangue | 6'9 | JR | F | Montreal | Quebec | Tulsa | AAC | Men |
| Ja'Shon Henry | 6'6 | GR | F | Saskatoon | Saskatchewan | Bradley | OVC | Men |
| Ben Krikke | 6'9 | SR | F | Edmonton | Alberta | Valparaiso | MVC | Men |
| Darius DeAveiro | 6'0 | SO | G | Kanata | Ontario | Valparaiso | MVC | Men |
| Trey Thomas | 5'11 | JR | G | Durham | Ontario | Vanderbilt | SEC | Men |
| Sam Alamutu | 6'5 | FR | G | Ajax | Ontario | Vermont | America East | Men |
| TJ Hurley | 6'5 | FR | G | Pelham | Ontario | Vermont | America East | Men |
| Jahbril Price-Noel | 6'7 | GR | F | Toronto | Ontario | Wagner | America East | Men |
| Josiah Davis | 6'3 | FR | G | Kitchener | Ontario | West Virginia | Big 12 | Men |
| Rudi Williams | 6'2 | GR | G | Hamilton | Ontario | BYU | PAC-12 | Men |
| Emmanuel Akot | 6'8 | GR | G | Winnipeg | Manitoba | Western Kentucky | Conference USA | Men |
| Tafari Simms | 6'7 | SR | F | Toronto | Ontario | Western Michigan | MAC | Men |
| Jefferson Monegro | 6'4 | FR | G | Montreal | Quebec | Western Michigan | MAC | Men |
| Matteus Case | 6'5 | SO | G | Pickering | Ontario | William & Mary | Colonial | Men |
| Jahcobi Neath | 6'4 | SR | G | Toronto | Ontario | Wisconsin | Big Ten | Men |
| Charles Bediako | 7'0 | SO | C | Brampton | Ontario | Alabama | SEC | Men |
| Shemar Rathan-Mayes | 5'11 | JR | G | Toronto | Ontario | Youngstown St | Horizon League | Men |
| Josh Bascoe | 6'0 | SO | G | Milton | Ontario | Bucknell | Patriot | Men |
| Isaac Jack | 6'11 | FR | F | Port Alberni | British Columbia | Buffalo | MAC | Men |
| Fardas Aimaq | 6'11 | SR | C | Vancouver | British Columbia | Texas Tech | Big 12 | Men |
| Ethan Butler | 6'6 | SO | F | Toronto | Ontario | Oregon | PAC-12 | Men |
| Atiki Ally Atiki | 6'10 | FR | C | London | Ontario | BYU | PAC-12 | Men |
| Scott Morozov | 6'6 | FR | F | Toronto | Ontario | Providence | Big East | Men |
| Frank Mitchell | 6'9 | SO | F | Toronto | Ontario | Canisius | MAAC | Men |
| Caleb Atewe | 6'9 | FR | F | Brampton | Ontario | Central Michigan | MAC | Men |
| Jeremy Foumena | 6'11 | FR | C | Montreal | Quebec | Rhode Island | Atlantic-10 | Men |
| Ryan Nembhard | 6'0 | SO | G | Aurora | Ontario | Creighton | Big East | Men |
| Nick Ongenda | 6'11 | SR | C | Mississauga | Ontario | DePaul | Big East | Men |
| Ryan Young | 6'10 | SR | C | Montreal | Quebec | Duke | ACC | Men |
| Sebastien Lamaute | 6'2 | JR | G | St-Bruno-de-Montarville | Quebec | Fairleigh Dickinson | Northeast | Men |
| Enoch Boakye | 6'10 | SO | C | Brampton | Ontario | Arizona St | PAC-12 | Men |
| Ja'Shonte Wright-McLeish | 6'4 | SR | G | Montreal | Quebec | Maine | America East | Men |
| Kellen Tynes | 6'3 | SO | G | Dartmouth | Nova Scotia | Maine | America East | Men |
| Adefolarin Adetogun | 6'1 | JR | G | Regina | Saskatchewan | Maine | America East | Men |
| Milos Nenadic | 6'10 | SO | F | Mississauga | Ontario | Maine | America East | Men |
| Jaden Clayton | 6'1 | FR | G | Whitby | Ontario | Maine | America East | Men |
| Keelan Steele | 6'10 | FR | F | Alton | Ontario | Maine | America East | Men |
| Tre Edwards | 6'7 | JR | G/F | Hamilton | Ontario | UMBC | America East | Men |
| Ben Hendriks | 6'10 | SR | F | Mississauga | Ontario | Ball St | MAC | Men |
| KC Ibekwe | 7'2 | FR | C | Coquitlam | British Columbia | Oregon St | PAC-12 | Men |
| Quincy Guerrier | 6'7 | SR | F | Montreal | Quebec | Oregon | PAC-12 | Men |
| Keeshawn Barthelemy | 6'2 | JR | G | Montreal | Quebec | Oregon | PAC-12 | Men |
| Keshaun Saunders | 6'5 | GR | G | Brampton | Ontario | Portland St | MAC | Men |
| Justin Ndjock-Tadjore | 6'7 | SO | G | Gatineau | Quebec | St Bonaventure | Atlantic-10 | Men |
| Kaosi Ezeagu | 6'10 | SR | F | Brampton | Ontario | Sam Houston | WAC | Men |
| Jaden Campbell | 6'5 | JR | G | Brampton | Ontario | Samford | SoCon | Men |
| Tre-Vaughn Minott | 6'9 | JR | C | Montreal | Quebec | South Carolina | SEC | Men |
| JD Muila | 6'8 | SR | F | Ottawa | Ontario | Southern Illinois | MVC | Men |
| Chris Beikeu | 6'7 | JR | F | Montreal | Quebec | Towson | Colonial | Men |
| Wilguens Jr. Exacte | 6'6 | FR | G | Montreal | Quebec | Utah | PAC-12 | Men |
| Malachi Ndur | 6'8 | JR | F | St. Thomas | Ontario | Brown | Ivy | Men |
| Nana Owusu-Anane | 6'9 | SO | F | Burlington | Ontario | Brown | Ivy | Men |
| Elijah Ifejeh | 6'8 | GR | F | Montreal | Quebec | Prairie View | SWAC | Men |
| Jevonnie Scott | 6'7 | SR | F | Prep | | Penn St | Big Ten | Men |
| Aliyah Lawson | 5'7 | SR | G | Whitby | Ontario | Coppin St | MEAC | Women |
| Shanese Miller | 5'10 | SR | G | Brampton | Ontario | Jacksonville | Atlantic Sun | Women |
| Kenya Cote-Lysius | 5'7 | SO | G | Saint-Constant | Quebec | Lasalle | Atlantic-10 | Women |
| Sammie Martin | 6'1 | JR | F | Sudbury | Ontario | Northeastern | Colonial | Women |
| Donna Ntambue | 5'9 | JR | G | Montreal | Quebec | Northeastern | Colonial | Women |
| Shanice Simpson-Whiteley | 6'1 | SO | F | Toronto | Ontario | Tennessee-Martin | OVC | Women |
| Brynn Masikewich | 6'3 | SR | F | Calgary | Alberta | UCLA | PAC-12 | Women |
| India Aikins | 5'11 | JR | G | Vancouver | British Columbia | UC Riverside | Big West | Women |
| Izzy Forsyth | 6'0 | SO | F | Vancouver | British Columbia | UC SAN Diego | Big West | Women |
| Erika Joseph | 5'8 | GR | G | Toronto | Ontario | Campbell | Big South | Women |
| Sisi Eleko | 6'2 | FR | F | Montreal | Quebec | Canisius | MAAC | Women |
| Anika Weekes | 6'2 | SR | F | Toronto | Ontario | Central Michigan | MAC | Women |
| Jenna Dick | 5'8 | JR | G | Langley | British Columbia | Tarleton | Western Athletic Conference | Women |
| Angie Juste-Jean | 5'8 | SO | G | Montreal | Quebec | Coastal Carolina | Sun Belt | Women |
| Lara Cook | 5'10 | FR | G | St. Catherines | Ontario | Colgate | Patriot | Women |
| Brianna McLeod | 6'3 | FR | F | Brampton | Ontario | Colorado | PAC-12 | Women |
| Aaliyah Edwards | 6'2 | JR | F | Kingston | Ontario | Connecticut | Big East | Women |
| Rebecca Demeke | 6'0 | JR | G/F | Toronto | Ontario | Delaware | Colonial | Women |
| Jadaia Reid | 5'9 | JR | G | Brampton | Ontario | Delaware | Colonial | Women |
| Sophia Zulich | 5'11 | JR | F | Toronto | Ontario | Denver | Summit League | Women |
| Sira Ba | 5'11 | SO | F | Montreal | Quebec | Drexel | Colonial | Women |
| Shayeann Day-Wilson | 5'6 | SO | G | Toronto | Ontario | Duke | ACC | Women |
| Emma Koabel | 5'11 | FR | G | Port Colborne | Ontario | Duke | ACC | Women |
| Micah Dennis | 5'9 | SR | G | Toronto | Ontario | East Carolina | AAC | Women |
| Xianna Josephs | 6'0 | SR | F | Brampton | Ontario | East Carolina | AAC | Women |
| Dahomee Forgues | 5'8 | SR | G | Saint-Jean-Sur-Richelieu | Quebec | Fairleigh Dickinson | Northeast | Women |
| Paulla Weekes | 5'10 | JR | F | Toronto | Ontario | Florida A&M | SWAC | Women |
| Ahriahna Grizzle | 5'9 | SR | G | Toronto | Ontario | Florida A&M | SWAC | Women |
| Mide Oriyomi | 6'0 | SR | G/F | Hamilton | Ontario | Florida A&M | SWAC | Women |
| Faith Dut | 6'4 | SR | F | Surrey | British Columbia | Florida | SEC | Women |
| Yvonne Ejim | 6'1 | JR | F | Calgary | Alberta | Gonzaga | West Coast | Women |
| Brianna Livingston | 5'9 | GR | G | Ajax | Ontario | North Florida | A-Sun | Women |
| Brianna Williams | 6'1" | SO | F | Brampton | Ontario | Hartford | America East | Women |
| Maggie Besselink | 6'3 | SO | G/F | Kingston | Ontario | Arizona St | PAC-12 | Women |
| Sorelle Ineza | 5'7 | SR | G | Longeuil | Quebec | Hostra | Colonial | Women |
| Alarice Gooden | 5'7 | FR | G | Brampton | Ontario | Hofstra | Colonial | Women |
| Callie Wright | 6'1 | JR | F | Markham | Ontario | Holy Cross | Patriot | Women |
| Shaina Pellington | 5'8 | SR | G | Pickering | Ontario | Arizona | PAC-12 | Women |
| Lemyah Hylton | 5'11 | FR | G | London | Ontario | Arizona | PAC-12 | Women |
| Saige Gibb | 5'10 | SO | G | Raymond | Alberta | Utah Valley | Western Athletic Conference | Women |
| Tiena Neale | 5'11 | SR | G/F | Toronto | Ontario | Cal Baptist | Western Athletic Conference | Women |
| Kiandra Brown | 6'2 | JR | F | Montreal | Quebec | Indiana | Big Ten | Women |
| Klea Kaci | 5'11 | FR | G | Mississauga | Ontario | Purdue-Fort Wayne | Horizon League | Women |
| Izzi Zingaro | 6'4 | SO | C | Bolton | Ontario | Iowa St | Big 12 | Women |
| Shantavia Dawkins | 5'7 | FR | G | Brampton | Ontario | Iowa St | Big 12 | Women |
| Cheyenne Rowe | 6'2 | FR | F | Ajax | Ontario | James Madison | AAC | Women |
| Adebola Adeyeye | 6'2 | GR | F | Brampton | Ontario | Kentucky | SEC | Women |
| Kayla Drummond | 6'3 | JR | F | Toronto | Ontario | Lafayette | Patriot | Women |
| Sauda Ntaconayigize | 5'11 | FR | G | Quebec City | Quebec | Lafayette | Patriot | Women |
| Emily Howard | 6'5 | FR | C | Vancouver | British Columbia | Liberty | Atlantic Sun | Women |
| Maryama Turkstra | 6'2 | JR | F | Dundas | Ontario | UMBC | America East | Women |
| Hannah Riddick | 6'0 | SO | F | Calgary | Alberta | Memphis | AAC | Women |
| Latasha Lattimore | 6'4 | SO | F | Toronto | Ontario | Miami (FL) | ACC | Women |
| Lashae Dwyer | 5'8 | SO | G | Toronto | Ontario | Miami (FL) | ACC | Women |
| Isaline Alexander | 6'3 | SO | F | Kewsick | Ontario | Michigan St | Big Ten | Women |
| Jada Grannum | 6'3 | JR | F | Mississauga | Ontario | Middle Tennessee | Conference USA | Women |
| Ella Farrelly | 6'1 | FR | F | Oakville | Ontario | Monmouth | Colonial | Women |
| Marah Dykstra | 6'2 | FR | F | Vancouver | British Columbia | Montana St | Big Sky | Women |
| Mack Konig | 5'9 | FR | G | Milton | Ontario | Montana | Big Sky | Women |
| Hennessey Luu-Brown | 5'7 | JR | G | Toronto | Ontario | New Orleans | Southland | Women |
| Miranda VanderWal | 6'6 | FR | C | Strathroy | Ontario | North Dakota | Summit League | Women |
| Allie McCarthy | 6'0 | SO | G | Grand Falls | New Brunswick | North Dakota | Summit League | Women |
| Alexis Stewart | 5'10 | JR | G | Hamilton | Ontario | Akron | MAC | Women |
| Tahmala Thorpe | 5'2 | JR | G | Mississauga | Ontario | Akron | MAC | Women |
| Gabby Forde | 6'2 | SO | F | Brampton | Ontario | Northwestern St | Southland | Women |
| Aicha Dia | 6'1 | FR | F | Montreal | Quebec | Penn St | Big Ten | Women |
| Helena Lasic | 6'4 | FR | F | Brampton | Ontario | Penn St | Big Ten | Women |
| Sandrine Clesca | 5'9 | JR | G | Laval | Quebec | Pitt | ACC | Women |
| Taisha Exanor | 6'0 | JR | G | Chateauguay,QC | Quebec | Pitt | ACC | Women |
| Dominique Ennis | 6'1 | FR | G | Niagara Falls | Ontario | Rice | Conference USA | Women |
| Phoenix Gedeon | 6'0 | SO | F | Montreal | Quebec | Robert Morris | Horizon League | Women |
| Paris Kirk | 6'2 | FR | F | Kelowna | British Columbia | Robert Morris | Horizon League | Women |
| Louella Allana | 5'4 | FR | G | Laval | Quebec | Robert Morris | Horizon League | Women |
| Mackenzie Smith | 5'10 | SO | G | East Jordan | Nova Scotia | Saint Joseph's | Atlantic-10 | Women |
| Jadyn Weltz | 5'7" | SO | G | Ottawa | Ontario | Binghamton | America East | Women |
| Ella Okubasu | 6'2 | FR | F | Toronto | Ontario | Binghamton | America East | Women |
| Kennedy Dickie | 6'0 | JR | F | Kelowna | British Columbia | San Francisco | West Coast | Women |
| Sammy Shields | 5'8 | SO | G | Port Coquitlam | British Columbia | San Jose St | Mountain West | Women |
| Laeticia Amihere | 6'4 | SR | F | Mississauga | Ontario | South Carolina | SEC | Women |
| Aerial Wilson | 5'10 | JR | G | Dundas | Ontario | South Florida | AAC | Women |
| T'Yana Todd | 6'0 | FR | G | Vaughan | Ontario | Boston College | ACC | Women |
| Haley Stinebrickner | 5'7 | SO | G | London | Ontario | Stetson | Atlantic Sun | Women |
| Tineya Hylton | 5'7 | SO | G | Toronto | Ontario | Texas A&M | Big 12 | Women |
| Justina King | 5'8 | SR | G | Toronto | Ontario | Toledo | MAC | Women |
| Janika Griffith-Wallace | 5'9 | SR | G | Brampton | Ontario | Virginia Commonwealth | Atlantic-10 | Women |
| Keowa Walters | 6'2 | SR | F | Toronto | Ontario | Virginia Commonwealth | Atlantic-10 | Women |
| Samantha Robinson | 6'1 | SR | F | Bradford | Ontario | Virginia Commonwealth | Atlantic-10 | Women |
| Sarah Te-Biasu | 5'5 | JR | G | Montreal | Quebec | Virginia Commonwealth | Atlantic-10 | Women |
| Brittney-Shania Etuka | 6'1" | SO | G/F | Brampton | Ontario | Hartford | America East | Women |
| Angelie Ricard | 5'10 | FR | G | Orford | Quebec | Wagner | Northeast | Women |
| Niyah Becker | 6'2 | SR | F | Winnipeg | Manitoba | Wake Forest | ACC | Women |
| Jessica Clarke | 6'3 | JR | F | North Vancouver | British Columbia | Washington St | PAC-12 | Women |
| Tara Wallack | 6'2 | SO | G | Surrey | British Columbia | Washington St | PAC-12 | Women |
| Lauren Audino | 6'2 | JR | F | Welland | Ontario | Western Michigan | MAC | Women |
| Ornella Niankan | 6'1 | SO | F | Montreal | Quebec | Wichita St | AAC | Women |
| Rosemarie Dumont | 6'3 | JR | F | Quebec City | Quebec | Butler | Big East | Women |
| Shaunae Brown | 5'5 | SR | G | Toronto | Ontario | Canisius | MAAC | Women |
| Lisa Tesson | 5'7 | SO | G | Montreal | Quebec | Central Michigan | MAC | Women |
| Arene Iyekekpolor | 6'0 | FR | F | Edmonton | Alberta | Alcorn St | SWAC | Women |
| Raissa Nsabua | 5'10 | SO | G | Ottawa | Ontario | Wichita St | AAC | Women |
| Milana Nenadic | 6'3 | FR | F | Kitchener | Ontario | Maine | America East | Women |
| Abigail Jegede | 5'10 | FR | G | Toronto | Ontario | Villanova | Big East | Women |
| Lydia Melashenko | 5'7 | FR | G | Ottawa | Ontario | Merrimack | Northeast | Women |
| Deja Lee | 5'9 | SO | G | Surrey,BC | British Columbia | UC Irvine | Big West | Women |
| Florence Tshimanga | 6'3 | GR | F | Montreal | Quebec | Indiana St | OVC | Women |
| Merissah Russell | 5'11 | JR | G | Ottawa | Ontario | Louisville | ACC | Women |
| Phillipina Kyei | 6'8 | SO | C | Calgary | Alberta | Oregon | PAC-12 | Women |
| Chantelle Blagrove | 5'9 | FR | G | Ajax | Ontario | Rhode Island | Atlantic-10 | Women |
| Raphaela Toussaint | 6'0 | JR | F | Kingston | Ontario | Rider | Northeast | Women |
| Keishana Washington | 5'7 | GR | G | Pickering | Ontario | Drexel | Colonial | Women |
| Ariel Wilson | 5'10 | JR | G | Dundas | Ontario | Central Florida | AAC | Women |
| Penelope Matthieu-Castillo | 5'11 | SO | F | Montreal | Quebec | Maine | America East | Women |
| Roxanne Mokolo | 5'10 | SR | G | St-Hubert,QC | Quebec | Purdue | Big Ten | Women |
| Jenny Alexis | 6'0 | SO | F | Montreal | Quebec | Indiana St | MVC | Women |
| Talia Sereni | 5'9 | SR | G | Surrey | British Columbia | Denver | Western Athletic Conference | Women |
| Ally Sentence | 5'9 | FR | G | Thorold | Ontario | Central Connecticut St | Northeast | Women |