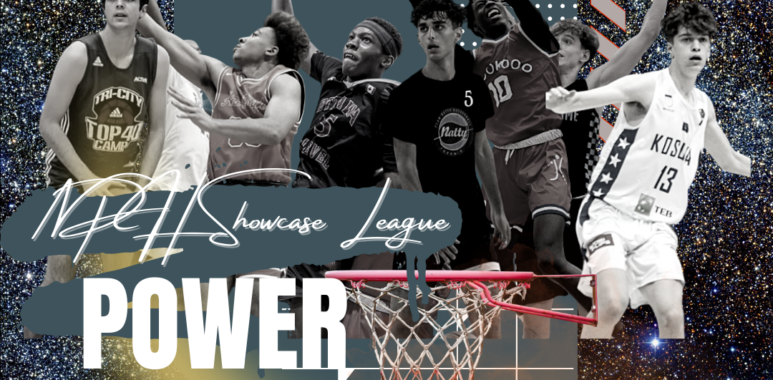 AAU
Announcements
High school
NPH Showcase Circuit
Showcase
Team Rankings
NPH Showcase League Power Rankings: Does Ottawa, ON have the most underrated prospects?
The North Pole Hoops Showcase League is off to the races. We currently sit about ⅓ of the way through the regular season and I am going to use this article to break down my top 8 programs that I have seen in the 12th grade division so far. With teams from across Ontario & Quebec participating in this division you really get to see how differently basketball is played from town to town, region to region, province to province. It's always been fascinating to see how different a team from Guelph plays as opposed to a team from Brampton or how Ottawa plays in comparison to a team from Windsor. There's 20 teams in this division in particular, so the variety of styles of play is plentiful.
#1) Ottawa Next Level X — Ottawa,ON
Starting off with possibly the strongest team in the Grade 12 Division – Ottawa Next Level X. This program from the capital city is incredibly deep. They carry 17 players on this team, and they can sub guys in and out without any loss of momentum. ONLX is 7-1 in regular season action thus far, sitting firmly at #2 in the division. These guys lost one game because they were in a different tournament in the morning in the GTA and with a scheduling overlap they had to split their team in half and play both games. With not one prospect under 6 feet tall on their roster and 9 players over 6'3 it is tough to match up with this team's size. Seeing these guys play eight games this season I can safely say they could compete with and defeat a lot of the prep programs I have seen this year.  At full strength I believe this club will be a serious contender to win the title this year. 
Players to watch: 6'3 Jason Sache (2023), 6'5 Yann Aphely (2025), 6'0 Ribensly Boisette (2023).
Checking out one of the deepest programs in the @NPHShowcase League - Ottawa Next Level. The team probably has the biggest bench in the league both skill wise and by sheer numbers. Foul trouble is not an issue for this program as they play with a next man up mentality.

— Josh Millican (@Josh_NPH) October 22, 2022
#2) 613 Believe — Ottawa, ON
Another club from Ottawa, ON – 613 Believe is currently #1 in the 12th Grade division with a 4-0 record. This team is loaded with post secondary talent up and down their roster. 613 Believe came to Burlington to do one thing, take care of business, and that is exactly how they played. Undefeated thus far and I only see a few potential candidates who could take these boys down. They play with the perfect combination of swagger and toughness. It's early yet but we could easily be seeing an Ottawa final here in Burlington between 613 Believe and ONLX. I would not be shocked.
Players to watch: 6'4 Mat Virc (2023), 6'0 Jacob Ngoyi (2023), 6'8 David Rutarindwa (2024).
#3) Top Notch Prep — Toronto, ON
After the top three programs I do personally believe there is a tier break, the final team in my 1st tier of teams is Top Notch Prep. TNP is currently 6-1 in the 12th Grade division and boasts a very talented and young roster. With over half of their program being a class of 2024 recruit, you would think they would be at a disadvantage in terms of guys being one year younger, one year less developed and possibly less mature. But on the contrary, this team is full of absolute dogs. They are hungry and extremely talented. Establishing a 6-1 record thus far gives them a bit of a cushion heading into the rest of the season. I like these guys to go deep into the playoffs when it's all said and done.
Players to watch: Kendal Connor (2025), Xavion Als (2024), Aiden Clarke (2024).
Next game on the docket we have Top Notch Prep going up against Blessed Elite in the 12th Grade division of the @NPHShowcase League. So far some standouts are:
6'6 Damion Als
6'7 Kendall Connor
6'1 Aiden Clarke

Top Notch will be a contender this season. @NphScouting

— Josh Millican (@Josh_NPH) October 22, 2022
#4) Blessed Elite Panthers — Hamilton, ON
Now here is where things get interesting, the top 3 programs have established themselves early on here in the season but the teams 4 through 8 are virtually interchangeable. As I write this article my 4th best team that I have seen this season in the NPH Showcase League, is Blessed Elite Panthers. This Hamilton based program has a chip on their shoulder, the roster isn't the most talented but they have enough talent to match up with any program in this league & I mean that. Starting with Momin Loffelmann who plays the game with a ton of grit and heart. When you watch Momin in action you are watching the epitome of effort, he gives it his all on every single play, on both ends of the court. Another player who brings a lot to this team is 6'3 Roham Hosseini, a 2023 guard who can knock down shots from all three levels. Roham has a great slashing ability and brings a ton of leadership to this mature hard nosed club. I like them to give every program problems throughout the season.
Players to watch: Momin Loffelmann (2023), Roham Hosseini (2023), Joshua Taylor (2024).
Talking here with Coach Tom of Blessed Elite — he tells me about the chip on his team's shoulders, he isn't worried about the standings or the hype.

Coach Tom says "if we lose it's on me, if we win that's on our team. If any team wants to beat us it'll be a dog fight."

— Josh Millican (@Josh_NPH) November 20, 2022
#5) STAC Basketball — Hamilton, ON
    STAC Basketball comes in at number 5 in my power rankings so far in the early portion of the season. Another Hamilton, ON program who is on brand with the rest of the Hamilton prospects I have seen, tough & loud. There are three outstanding guards on this team between Kibrom Kefte, TJ Osmann & Shamari Zion-Bell. All three of these guys can give you the business from anywhere on the court and you will hear about it afterward. The press they run really gives teams fits trying to get into their half court sets. The special part about STAC is how much energy they have from their bench to their traveling fans and especially their head coach, Faisal Mohamed. Coach F sits in the middle of the bench for the better half of the game, when he's not marching up and down the sidelines he's engaged with his players on the bench. Whether it be reviewing plays or leading the 'D-What' chat with the guys, he's got the boys fully bought in. This will be a dangerous team to play early on in the playoffs and wouldn't be shocked to see them upset someone in the early rounds.
Players to watch: Shamari Zion-Bell (2023), Kibrom Kefte (2023), TJ Osmann (2024)
#6) Stoney Creek NYB — Stoney Creek, ON
The 6th seed in the 12th grade division of the NPH Showcase League goes to Stoney Creek NYB. There is a recurring theme in the league of strong backcourt tandems & NYB follows suit, perhaps with the best pairing of PG and SG in the entire league. Between highflying Anthony Ragonetti and floor general Alex DiFrancesco these guys are lethal when they share the court. Posting a 4-1 record thus far with three games of 20+ point margins of victory these Stoney Creek boys aren't messing around. The one downfall I think this Stoney Creek program may have is size down low as their tallest prospect is listed as 6'2. However most of these boys play football for the highschool as well, with Alex DiFrancesco being one of those guys. The toughness translates to his basketball play style, the entire team plays a lot bigger than they are & they aren't afraid to mix it up in the paint.
Players to watch: Anthony Ragonetti (2023), Alex DiFrancesco (2024).
CKaTT comes in at #7 in the power rankings posting a big time win over ONLX this year and being one of the most cohesive units in the league. Not the tallest team in the gym but they definitely are one of the most skilled, I also think chemistry is extremely undervalued these days and this program has a lot of it. Sitting at 4-1 through 6 weeks of NPH Showcase League CKaTT is led by a very polished backcourt in RJ Palaraca and Shawn Del Rosario. These boys know how to put the ball in the net in a hurry, RJ easily has one of the softest touches around the rim for a combo guard that I've seen in Burlington so far. The way he can put just the right amount of mustard on the ball to kiss it off the glass and make tough shot after tough shot for CKaTT. I also have quickly become a fan of Sean Del Rosario who is currently averaging 14 PPG and helping to get his team W's each session. I like what Coach Byron has done with this team, a very tight knit squad.
Players to watch: RJ Palaraca (2024), Shawn Del Rosario (2024).
Talk about touch around the net, CKATT's RJ Palarca has one of the best finishing touches I've seen all day. Not the tallest player on the court by any means but most definitely one of the strongest. The stocky combo guard knows how to put the ball in the net, I'll tell you that.

— Josh Millican (@Josh_NPH) October 22, 2022
#8) Guelph Jr. Gryphons — Guelph, ON
Rounding out the top 8 programs on my early season Power Rankings is the Guelph Jr. Gryphons who find themselves sitting at 4-2 and 7th in the standings. There is a lot to like about this team including the big man in the middle Robert Vosper who plays with his heart on his sleeve. Pairing him with Landon Hart, a 6'6 wing who can shoot the ball at a high clip & Albin Gashi, a 6'4 prospect who played some FIBA this past summer for his home country of Kosovo, you have a very solid big 3. What I find these guys are lacking at the moment is a true floor general type point guard, a guy who can really set the table for all the high powered scoring on this roster. If one of their PG's can turn the corner in the latter half of the season that would be very beneficial for their success. They won't have any trouble matching up with teams size wise or defensively & I believe there's a chance these guys could make a push for top 4 by the end of the regular season if everything clicks right.
 Players to watch: Robert Vosper (2023), Albin Gashi (2023), Landon Hart (2023)
Honourable Mention | JoooKooo Sports Academy — Ajax, ON
Honourable mention for the top 8 programs would have to go to JoooKooo, only playing 2 games thus far, on a weekend I wasn't there — I definitely need to see some more from these guys, but judging off of last season this JoooKooo program could be competing for a title in the February and I wouldn't be the slightest bit surprised. They lost to ONLX by 3 points and then won by 30 points vs. International Assist Prep. These boys are legit, just need to see more in person.
Players to watch: Kal-El McNeily (2025), Amari N'Daw (2024).