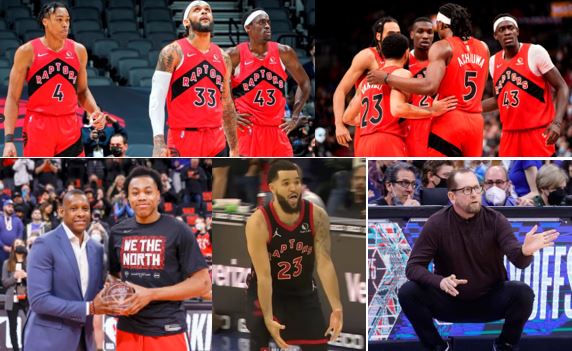 Proud in Defeat – Toronto's season comes to a close, but the future is full of potential
The High 5 – Week in Review – Week 28
The High 5 is where I review the last week of Toronto Raptors basketball including how the team did, who were the impact players as well as some news and notes from around the league.
The Thumb – How was the week?
Although it has only been a few days, the Raptors playoff elimination already feels like a long time ago. Despite their loss, it was all smiles as the players cleaned out their lockers and said their goodbyes. The consensus feeling was that this was a season that surpassed expectations by anyone's account. Players marvelled at the class of the organization with renewed motivation to excel in their off-season workouts.
The Sixers series was a trial by fire. With everything stacked against them, the Raptors learned how difficult the post season could be. Of course, everyone would have loved a series win, but these lessons were invaluable for a team that has only been made hungrier.
The Raptors had a strong Game 5, easily their best effort. But the wheels came off in Game 6 when their inexperience, injuries and insecurities gave Philly a door to barrel through. It was somewhat deflating, but that did not stop the Toronto faithful from staying, cheering, and showing their appreciation until the final moments.
Aside from a few ancillary players, Toronto's core will remain largely in tack heading into next season. Young will be a welcomed return, but Toronto has other areas that need to be addressed first. One of their largest questions will be what to do with Chris Boucher. He is a Free Agent and will command attention in the market after his best season.
As for the rest, there are certain areas that could be improved upon. Expect Siakam to work on his shot, particularly his 3 pointer. VanVleet needs to develop a floater, OG's handles could use work and Trent Jr. should build on his lay up package. Precious needs to watch film to help with decision making while Barnes should prioritize his jumper while adding to everything else.
The future is incredibly bright for this team. Their unique style, in its infancy and incomplete, still made it within 2 games of the 2nd round. An additional year or two together will make this core that much more competitive.
It was a fantastic ride, lightyears better than their time in Tampa. Though it's hard to say goodbye, next season will be here before you know it.
The Raptors will be ready. We the North.
Season Series – Philadelphia wins series 4 – 2
Toronto Raptors v Philadelphia 76ers – Game 5                 W           103 – 88
Toronto, galvanized after a big game 4 win and without VanVleet, looked confident and showed no fear in Philadelphia. After a few games, Toronto learned about Philly's tendencies and started to pick apart their D. They were all over Embiid, often targeting him on offense. They unleashed their 6'9" army to swarm Philly and broke out in transition for multiple crowd silencing ally oops. Eventually the fans turned on the home team and booed them mercilessly with over a half of game time still left to play. Midway through the 4th, they were headed for the door.
Philadelphia 76ers v Toronto Raptors – Game 6                 L              132 – 97
With pressure squarely on the shoulders of the Sixers, Toronto came into the game with nothing to lose. Philly needed a strong showing from Harden, and he responded with his best game of the series. Toronto countered off a big boost from Boucher. His infectious energy raised the collective ceiling of the team. However, aside from Siakam, no one else could sustain it. After a close first half that saw the teams separated by a point, Philly exploded in the 3rd.  They built a blink-and-you-missed-it lead that Toronto could not come back from. Tough way to go out, but Philly deserved it.
The Index – The Leader – Player of the Week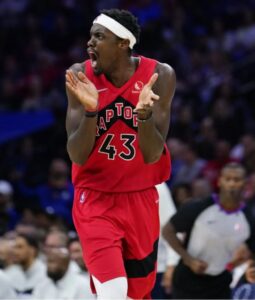 Pascal Siakam
Pascal's year with the Raptors may have ended in disappointment, but his individual season was spectacular. He made believers out of doubters and put-up numbers rarely seen before in Raptor land. His ability to score and defend has always been his bread and butter but this year we saw significant growth in his rebounding, assist, on ball defense, leadership, and basketball IQ. Yes, the man is still Spicy, but one could suggest that he has outgrown his nickname. Pascal is much more than a little heat; he is a complete meal. The tasty apps, the spicy dish the main course and dessert. He has all the tools and is well on his way to becoming a complete player. Siakam gave us a season full of highlights and moments where Toronto could proudly proclaim that 'our best player outplayed theirs'.
| | | | | | | | | |
| --- | --- | --- | --- | --- | --- | --- | --- | --- |
|   | Points | Rebounds | Assists | Steals | Blocks | FG | 3PT | FT |
| Game 5 | 23 | 10 | 7 | 0 | 0 | 10/17 | 2/4 | 1/2 |
| Game 6 | 24 | 7 | 7 | 3 | 0 | 9/17 | 0/4 | 6/7 |
| | | | | | | | | |
| Weekly Avg | 23.5 | 8.5 | 7 | 1.5 | 0 | 19/34 | 2/8 | 7/9 |
| 2 Games |   |   |   |   |   | 56% | 25% | 78% |
| Season Avg | 22.8 | 8.5 | 5.3 | 1.3 | 0.6 | 49% | 34% | 75% |
| | | | | | | | | |
| Playoff Avg | 22.8 | 7.2 | 5.8 | 1.2 | 1 | 48% | 34% | 75% |
Honourable Mention: Fred VanVleet, OG Anunoby
The Middle – The Enemy – Best Opposing Player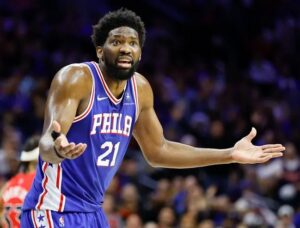 Joel Embiid
The softest giant in the league finished the season with back-to-back Best Opposing Player awards. He is slowly evolving into one of the Raptors most storied rivals. If his battles throughout Toronto's championship run was Chapter 1 in the book of "How to be a Villain", this season he wrote Chapter 2. In the two games this week, he was expectedly dominant. His demonstrative tricks were all on display from the easy falls, the palms to the ceiling, the outstretched armed airplane, to the cup of the ear. However, mixed in with the Tom Foolery was a supremely talented player with the size, skill and mobility that hasn't been seen since Olajuwon. Embiid gives you what you paid for and then some and though he may be annoying, you can't say he isn't entertaining.
| | | | | | | | | |
| --- | --- | --- | --- | --- | --- | --- | --- | --- |
|   | Points | Rebounds | Assists | Steals | Blocks | FG | 3PT | FT |
| Game 5 | 20 | 11 | 4 | 0 | 0 | 7/15 | 0/4 | 6/6 |
| Game 6 | 33 | 10 | 1 | 2 | 3 | 12/18 | 0/4 | 9/10 |
Honourable Mention: T. Maxey, J. Harden
The Ring – The X Factor – Standout Performance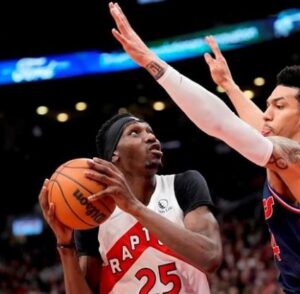 Chris Boucher
Time and time again Chris appeared in the High 5 this season, often because he outplayed the starters. He had an exceptional year and should be commended for his growth and development especially with respect to his maturity. He completely understood his role and by embracing it he excelled to marvelous results. Considering his pending contract status, if this was his last game for the Raptors, Chris went out in a blaze of glory. In Toronto's most important game, he was the one player that brought the necessary energy and sense of urgency needed. Boucher gave 110%, hustled on every possession, left it all on the floor and never quit. He put an exclamation point on his season with one final double double after he led the team in points and rebounds. Boucher has earned the pay day that is undoubtably coming his way.
| | | | | | | | | |
| --- | --- | --- | --- | --- | --- | --- | --- | --- |
|   | Points | Rebounds | Assists | Steals | Blocks | FG | 3PT | FT |
| Game 6 | 25 | 10 | 0 | 0 | 1 | 7/13 | 2/6 | 9/10 |
Honourable Mention: G. Trent Jr., P. Achiuwa
The Pinky – The Unsung Hero – Key Contributor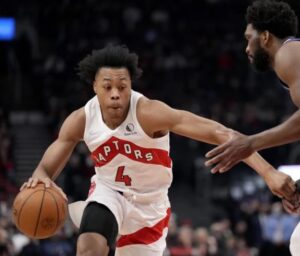 Scottie Barnes
If Siakam is bringing the skills and Boucher is bringing the energy, then Barnes should be credited for bringing the heart. Barnes is a superstar in the making, a bubbling supernova of potential. In just 1 season, he accomplished what others would do in 4. His trajectory is such that we may see him surpass Freddy and Pascal as Toronto's number 1 option in a few years or sooner. Barnes does everything well with poise and polish. Even as the 4th, sometimes 5th option, he was surreal enough to win Rookie of the Year while earning praise and respect from the league's elite. Toronto has never had a player like this before. He has the poise of Damon, the skill of Chris, the presence of Leonard, the charisma of Vince, the determination of DeMar and the passion of Kyle.
Honourable Mention: P. Achiuwa, OG Anunoby                    
Around the League
Shame of a Nation – Netflix has announced that they will be releasing a documentary on Tim Donaghy, a former NBA official that was caught in a gambling scandal which included games he officiated.
Ja Right – Congrats to Memphis superstar Ja Morant for earning this years Most Improved Player award. He took a definitive leap into superstardom this season. As an added gesture of class, Ja then gifted the award to teammate Desmond Bane who also took a big jump this year. Ja is also the first player in NBA history to win both the Rookie of the Year and Most Improved Player awards.

Photo Courtesy: @espn/twitter

Fines Galore – The filters are off this post season as it feels like fines are being handed out like candy. $25000 for Utah's Rudy Gobert (language), $15000 for Philadelphia's Joel Embiid (criticism), $15000 for Memphis head coach Taylor Jenkins (criticism), $15000 for Phoenix coach Monty Williams (criticism), $15000 for Miami's Jimmy Butler (obscene gyrating gestures) and another $15000 for the Miami Heat as a team for making gif out of said gesture.
Up Next
I wish I could say that I look forward to sharing my stories next season but in truth, I do now know where the High 5 will be. As an avid fan myself, I can guarantee that I will be following the team every and anyway I can and as a writer at heart, I cannot and will not dismiss my inner storyteller. I hope that the High 5 will continue in one way or another but if not, it has been a wonderful journey and I thank those that gave me this platform to share my unique perspective on the game. Those of you that stayed loyal and especially to those that supported me throughout this season and those that came before, I appreciate you more than you know.
Peace and Love. We The North.