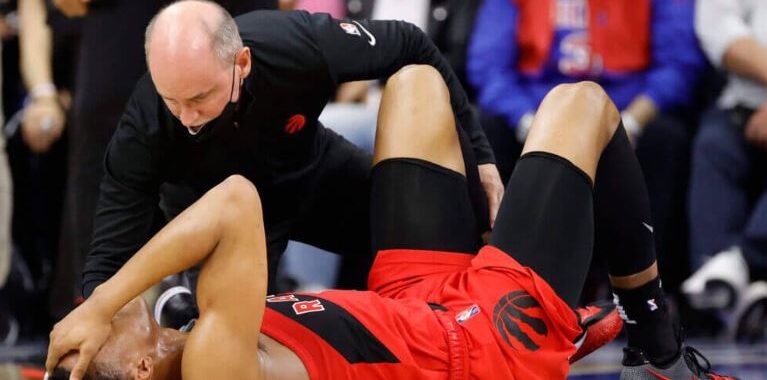 Punched Up – The Raptors figuratively and literally take it on the chin in a bruising series opener
The High 5 – Week in Review – Week 26
The High 5 is where I review the last week of Toronto Raptors basketball including how the team did, who were the impact players as well as some news and notes from around the league.
The Thumb – How was the week?
Podcasters, bloggers, pundits and personalities have debated every aspect of this matchup. From coaching to defense, half court sets to rebounding, x factors to pressure players, its all been scrutinized to the nth degree. The consensus conclusion was that Philadelphia was the clear favourites, but Toronto just might have the recipe to upset. The only thing remaining were the actual games.
All the pressure was on the 76ers. If they won, well, then they did what they were supposed to do. But if they lost…. Oh, if they lost…
Since there was only one game this week, the High 5 will do a deeper dive into the action. The regular format will continue in next weeks edition.
Playoff Series (0 – 1)
Toronto Raptors v Philadelphia 76ers – Game 1                 L              131 – 111
In the Matrix, there is one scene where nothing goes according to plan for our heroes and chaos breaks loose. The team was betrayed and one by one, unfairly fell; their contributions halted in an instant. The scene culminated when Switch, a member of Morpheus' faction, looked desperately into the faces of her friends while saying, "not like this" before suffering the same fate. This must have been how Coach Nurse felt as he saw how one by one, his flank of athletic specimens, were injured, hurt or off their game. And when Scottie Barnes rolled his ankle late in the 2nd half, the Raptors faithful collectively sighed while pleading, "not like this".
That was the story of Game 1. The 76ers physically imposed their will on the Raptors, beating them off the dribble, beating them to rebounds, beating them with their fists. They were excellent at protecting the glass and limiting Toronto's second chance opportunities.
With their ability to draw fouls, Philly methodically grew their lead and slowed the game to a crawl. Philly's role players stepped up and hit their looks while Toronto's supporting cast struggled to find their range. Aside from Barnes and Siakam late, the Raptors felt stuck in 2nd gear. Along with the Barnes injury, they also took some hits with Trent Jr. holding his ribs, Anunoby losing a tooth, Young spraining his thumb and Birch's face being used as a punching bag (as has been the norm all season).
Toronto started to put things together in the 2nd half, but James Harden, the good version, stepped up and in a matter of minutes, re-established Philly's strangle hold on the game. To make matters worse, with the Raptors so preoccupied with Embiid and Harden, Maxey went off for the game of his life. All this came together in a perfect storm for Philadelphia leading to an easy win.
The Index – The Leader – Player of the Game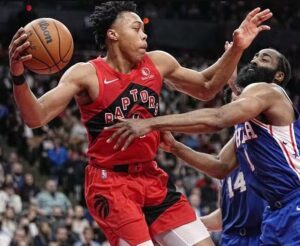 Scottie Barnes
Before Scottie's injury, he was working on an impressive playoff debut. He was one of the only bright spots on a team bereft of brilliance. It took some time for him to adjust to the increased level of physicality and playoff officiating. At one point, he was baited into a flagrant foul in a moment of lapsed focus. However, he fought through it and started to make an impact. Barnes was one of the few Raptors that reflected the type of intensity needed to keep up with the 6ixers. He put up his usual points and boards and he was only 2 assists shy of a triple double when his ankle flattened like a pancake under the weight of Joel Embiid's elephant stomp. Hopefully, his teammates were inspired by his example and galvanized by his injury to double their efforts and to "do it for Scottie" in Game 2. The 20-year-old could bounce back in a few days, but the Raptors will probably be without his services for the foreseeable future.
| | | | | | | | | |
| --- | --- | --- | --- | --- | --- | --- | --- | --- |
|   | Points | Rebounds | Assists | Steals | Blocks | FG | 3PT | FT |
| v PHI | 15 | 10 | 8 | 0 | 1 | 4/6 | 0/0 | 7/9 |
Honourable Mention: OG Anunoby, P. Siakam
The Middle – The Enemy – Best Opposing Player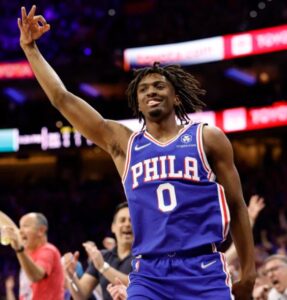 Tyrese Maxey
The 76ers are largely built around the gravity of Harden and Embiid and their propensity to draw fouls. When this happens, the usual speed of NBA action gets traded in for a slow parade to the foul line. However, in their midst of protracted pace lies the speedy Tyrese Maxey. As one of the fastest players in the league, he takes advantage of passivity by accelerating past flat footed defenders. This was something he did all game against Toronto as he repeatedly blasted by defenders at the first point of attack. He made his way to the rim with ease and when space was given, he nailed triples at an All-Star rate. He had 21 points in the 3rd quarter alone, screeching past his previous playoff career high of 16. Maxey was absolutely the difference maker, he gave the 6ixers an advantage Toronto was not prepared for.
| | | | | | | | | |
| --- | --- | --- | --- | --- | --- | --- | --- | --- |
|   | Points | Rebounds | Assists | Steals | Blocks | FG | 3PT | FT |
| v TOR | 38 | 4 | 2 | 0 | 0 | 14/21 | 5/8 | 5/5 |
Honourable Mention: J. Embiid, T. Harris
The Ring – The X Factor – Standout Performance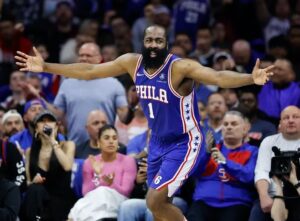 James Harden
The much-maligned Harden drips with confidence, however, his motivation wavers like the changing of seasons leaving Philly fans unsure of what version of Harden they would get. On this night, they got the All-World version. The Harden that makes the game look so easy. He had a big 3rd quarter where he stepped up to snuff out the embers of momentum that the Raptors were building. A quick stretch that included a triple, a lay up and a transition cross court bounce pass was all the 6ixers needed to re-affirm control of the game. Harden played excellent from the guard position, he got his and elevated others. If Philly gets this version of Harden the rest of the way, the series may be over sooner than expected.
| | | | | | | | | |
| --- | --- | --- | --- | --- | --- | --- | --- | --- |
|   | Points | Rebounds | Assists | Steals | Blocks | FG | 3PT | FT |
| v TOR | 22 | 5 | 14 | 1 | 1 | 6/17 | 4/7 | 6/7 |
Honourable Mention: J. Embiid, T. Maxey
The Pinky – The Unsung Hero – Key Contributor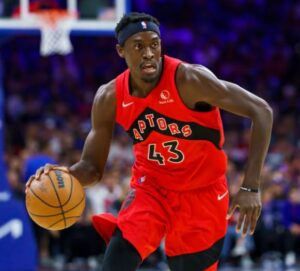 Pascal Siakam
People may question if Siakam did enough in this game and, granted, this was not Pascal's spiciest performance, but it was still hotter than you would think. Siakam finished with a perfectly acceptable line. He led his team in scoring and blocks, chipped in other ways where he could and shot at an efficient clip. He was ineffective early, but he adjusted and as the game wore on, he started to regain his form. The unfortunate part is by then, Philly built a mountain of a lead and Siakam did not have enough time to scale it. The positive is that Pascal was able to get a long look at how he would be defended, and will hopefully, carry those lessons into next game. Even though this was an excellent performance from Pascal, by anyone's standards, there is undoubtedly another level that he can reach. Toronto needs him at his spiciest going forward.
| | | | | | | | | |
| --- | --- | --- | --- | --- | --- | --- | --- | --- |
|   | Points | Rebounds | Assists | Steals | Blocks | FG | 3PT | FT |
| v PHI | 24 | 3 | 7 | 0 | 3 | 9/18 | 1/2 | 5/5 |
Honourable Mention: F. VanVleet                                               
News and Notes
Strong Finish – Scottie Barnes picked up another Rookie of the Month award after a strong March/April. It was the perfect way to conclude his Rookie of the Year resume and it gave Scottie a ton of motivation heading into the post season.
Is There Anything He Can't do? – Barnes has done it all this season, but did you know he could also act? He appeared in a recent ESPN commercial with Richard Jefferson, Kareem Abdul-Jabbar and the incomparable Jeff Goldblum. A star is born.
Around the League
Celebrating Divisions – The NBA unveiled 6 new trophies to commemorate each of the division winners. The trophies share the same design and are in honour of 6 legendary African American NBA pioneers. The honoured includes Nat Clifton, Earl Lloyd, Willis Reed, Sam Jones, Chuck Cooper and Toronto's very own, Wayne Embry.

Photo Courtesy: nba.com

Sweet Luol – The Lakers signed Luol Deng to a 4 year 72-million-dollar contract back in 2016. They just finished paying him. After injuries derailed his career, the Lakers stretched his contract, mitigating its impact on their salary cap. What's more surprising is that despite being stretched, Deng was still the 5th highest paid player on the roster.
Pre-Game Fit – Garrett Temple, a name never written before around these parts, gifted his Pelican teammates with brand new suits for their post season run. If you want to be the best, you got to look the part, and the Pelican's looked fresh. That confidence may have been the boost they needed to escape the play in tournament.

Photo Courtesy: @nickdepaula/Twitter

Beverly, My Old Friend – Patrick Beverly has injected some much-needed life and swagger to the Minnesota franchise, and he had not been shy of letting everyone know about it. After a big win, he professed his confidence in the most colourful way to the media and on his socials. The league fined him $30000 but I am sure Beverly would say it was worth it.
Protested – There were two random incidents of protest this week. First, in the play in game between the Clippers and Timberwolves, a woman ran onto the court and glued her hand to the baseline. Then in Game 1 between the Timberwolves and Grizzlies, another protester ran onto the court and chained herself to the basket. Though these actions were both relatively harmless, it does set a dangerous precedent.

Photo Courtesy: @bleacherReport/Twitter

Charlotte's Web – In the play in tournament, the Hornets were eliminated by the Hawks in Atlanta. Before the game, a train coincidentally stalled which prevented Charlotte's team bus from dropping the Hornets off at the arena. As a result, the players had to walk from their bus the rest of the way. This is the type of slight usually reserved for Soccer. It felt deliberate and did not go unnoticed by the team.
Burned Bridges – Charlotte's Miles Bridges lost his cool during that game and was subsequently ejected. However, on his way out, he had words with fans which escalated to him throwing his mouth guard into the crowd. The mouth guard then hit a young fan in the face. To Bridges' credit, he was immediately apologetic and recognized the error of his ways. He was fined $50000 by the league.

Photo Courtesy: @MilesBridges/Twitter
Up Next
Toronto will tend to their wounds, both physically and emotionally, as best they can on their day off but by Monday, they will be battling once again. Barnes may bounce back soon, however unless he has the healing powers of Wolverine, he will likely miss Game 2. This could suggest that Coach Nurse will go back to a traditional starting lineup with Birch at the 5. There were a lot of areas that the Raptors can tighten up. Expect a sharper version of the team that will be locked in and mentally focused. The only hope is that they can withstand the physical punishment.