The Whole is Better than the Sum of its Parts – Raptors get slayed by the Cavs, losing streak extends to 3
The High 5 – Week in Review – Week 20
The High 5 is where I review the last week of Toronto Raptors basketball including how the team did, who were the impact players as well as some news and notes from around the league.
The Thumb – How was the week?
The Raptors have shown resilience in the face of all sorts of opposition. Whether it is against other teams, or to unexpected injuries, or to adhering to government regulations, Toronto continues to find ways to endure.
However, this week, their resolve was tested. The VanVleet and Anunoby injuries along with the sudden cold spell from Trent Jr. has taken a lot of firepower from Toronto's perimeter attack. Teams are picking up on this and are employing zone defenses more often than not, welcoming Toronto's remaining shooters to try their luck. Without capable zone busters, Toronto was left to grind and scrap for any advantage.
As expected, they handled the Nets in back-to-back games. These were crucial wins, but the Nets were missing key pieces, so any victory against them at this time should be taken with a grain of salt. Toronto then dropped back-to-back games to two very beatable opponents. These losses took the wind out of their sails.
To make matters worse, they lost to the Cavs on Sunday who now stretch their lead ahead of Toronto in the standings to 3 games.
A silver lining from the VanVleet injury is the emergence of Malachi Flynn. He may have done just enough to prove to Nurse that he is a serviceable point guard that is deserving of minutes even when VanVleet returns.
It is clear that Toronto is better as an ensemble. With the games coming fast and furiously, the sooner they can have all their pieces back the better. Until then, expect each game to be an adventure.
Week Record (2 – 3)                       Season Record (34 – 30)
Toronto Raptors v Brooklyn Nets                             W           133 – 97
Toronto started their busy week in Brooklyn against the polarizing Nets. Along with missing their big 3, Brooklyn was also without their head coach, Steve Nash. Toronto sat Fred's creaky knees, but Flynn was excellent in the surprise start. Barnes was immediately engaged on both ends of the floor; he was monstrous all night. His infectious energy woke up the defense of a motivated Raptors team. Together they forced enough turnovers to fill a bakery. Their lead ballooned to over 35 by the 4th. The Raptors took this in a laugher.
Brooklyn Nets v Toronto Raptors                              W           109 – 108
24 hours later and the Raptors were back home to take on the Nets once again. However, there was one significant difference for this matchup, the Raps finally had fans back in the arena. The Nets, still wounded from the night before, looked immediately better. Flynn earned another start and played well, his counterpart, former Raptor Goran Dragic, was booed every time he touched the ball. Barnes was beasting again, Siakam showed his versatility and Trent Jr. sparked the offense.
Detroit Pistons v Toronto Raptors                            L              108 – 106
The Raptors took on the Pistons on Thursday to try and break the Casey Curse. Detroit spends all season in the gutter of the East but for some reason, whenever they play Toronto, they suddenly become the '04 championship Pistons squad. Cade Cunningham led with poise, Jerimiah Grant was excellent and Isaiah Stewart brought formidable size. Together, the trio gave Toronto fits. The Raptors got a boost when Nurse was ejected but they were living and, more often, dying off of Achiwua's free throws down the stretch. Detroit kept the curse alive in the most frustrating way.
Orlando Magic v Toronto Raptors                            L              103 – 97
Toronto had no time to dwell on their dismal loss as they were in action on Friday against the Orlando Magic. Siakam got the superstar call early; he took 6 free throws in the first quarter which is often more than he takes for an entire game. Orlando used their zone defense and without a lot of shooters, the Raps struggled to break it. Siakam carried his weight and then some, while everyone else struggled to say the least. The fans were desperate for something to cheer about but the Raptors couldn't answer the call.
Toronto Raptors v Cleveland Cavaliers                  L              104 – 96              
The Raptors rolled out a supersized line up with Trent Jr. as their only starting guard. This was due to injuries but also because the last time these teams met, Toronto had difficulty with Cleveland's height. It was the same story for this one as Cleveland's frontcourt caused havoc in the paint. They used the drive and kick game to exploit holes in Toronto's leaky defense. The Raps struggled to make shots, aside from Boucher, they were ice cold from deep. Toronto simply did not have the firepower to keep up, the Cavs ran away with it in the 4th.
The Index – The Leader – Player of the Week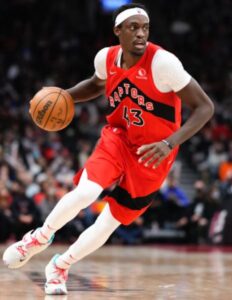 Pascal Siakam
Much like VanVleet earlier in the season, Pascal has taken the Raptors and placed them on his shoulders. Granted his scoring took a dip, but that is only because he was asked to do so much more. From facilitating for others to anchoring the defense, he has not shied from added responsibility. With Anunoby out, Pascal has strengthened his chemistry with Barnes in the front court. Siakam's gravity gives guys like Barnes and, to a lesser extent, Boucher and Achiuwa space to attack. His assist numbers would be much higher if anyone could hit shots. Siakam only got better as the week went on, but he was somewhat let down by his teammates as his better performances came in losses.
| | | | | | | | | |
| --- | --- | --- | --- | --- | --- | --- | --- | --- |
|   | Points | Rebounds | Assists | Steals | Blocks | FG | 3PT | FT |
| v BKN | 8 | 3 | 6 | 3 | 2 | 2/14 | 1/5 | 3/3 |
| v BKN | 18 | 8 | 6 | 2 | 0 | 7/19 | 0/2 | 4/4 |
| v DET | 28 | 5 | 2 | 1 | 0 | 10/15 | 0/0 | 8/10 |
| v ORL | 34 | 14 | 2 | 0 | 0 | 13/20 | 2/3 | 6/8 |
| v CLE | 24 | 4 | 4 | 1 | 1 | 8/22 | 1/4 | 7/13 |
| | | | | | | | | |
| Weekly Avg | 22.4 | 6.8 | 4 | 1.4 | 0.6 | 40/90 | 4/14 | 28/38 |
|  Games |   |   |   |   |   | 44% | 29% | 74% |
| Season Avg | 21.5 | 8.5 | 5 | 1.3 | 0.7 | 49% | 34% | 75% |
| | | | | | | | | |
Honourable Mention: S. Barnes
The Middle – The Enemy – Best Opposing Player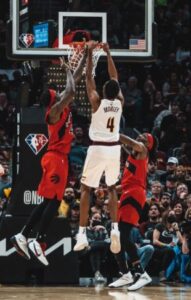 Evan Mobley – Cleveland Cavaliers
Mobley led his team with an excellent all around game. He played at a pace he was comfortable with and never looked pressured or bothered by Toronto's usually tight defense. His rebounding was especially impressive. He was equally as effective on the offensive and defensive glass. He showed surprising agility and nimble footwork with quick post moves and explosive dunks. In the end, he narrowly outdueled his rookie counterpart in Barnes. It's easy to see why he is so coveted. Mobley is an excellent cornerstone for the franchise and the frontrunner for the rookie of year.
| | | | | | | | | |
| --- | --- | --- | --- | --- | --- | --- | --- | --- |
|   | Points | Rebounds | Assists | Steals | Blocks | FG | 3PT | FT |
| v TOR | 20 | 17 | 4 | 0 | 3 | 9/15 | 1/1 | 1/5 |
Honourable Mention: J. Grant (DET), C. Cunningham (DET), C. Anthony (ORL), L. Markkanen (CLE)
The Ring – The X Factor – Standout Performance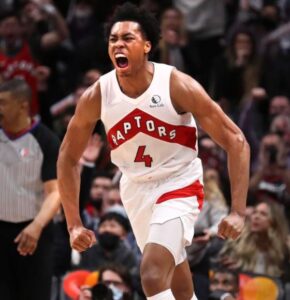 Scottie Barnes v Brooklyn Nets – Game 1
Toronto's rookie gave a salivating taste of his full potential when he went God Mode against the Brooklyn Nets. He only missed 2 shots in a near perfect performance and notched new career highs in points and boards. Incredibly, 9 of his rebounds were offensive which speaks to his determination, while his 5 steals were a testament to his hustle. Scottie was a load in the paint, his post game was beyond his years. He had a soft touch with both hands, he was light on his feet, and he understood how to use his size to carve out space amongst the trees. Every time he let out that visceral roar, with his muscles at full flex, it felt like he was going Super Saiyan. At any minute he could have burst into a ball of energy with spikey blond hair and glowing eyes.
| | | | | | | | | |
| --- | --- | --- | --- | --- | --- | --- | --- | --- |
|   | Points | Rebounds | Assists | Steals | Blocks | FG | 3PT | FT |
| v BKN | 28 | 16 | 4 | 5 | 1 | 12/14 | 1/1 | 3/4 |
Honourable Mention: P. Achiuwa v BKN (GM1), S. Barnes v BKN (GM2), Trent Jr. v BKN (GM2), P. Siakam v DET, Barnes v DET, P. Siakam v ORL, S. Barnes v CLE
The Pinky – The Unsung Hero – Key Contributor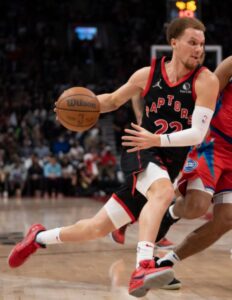 Malachi Flynn
Asking a back up point guard to manage primary responsibilities in a pivotal part of the season is one thing, doing it after barely playing for months is an entirely different challenge. However, Flynn embraced the old adage, 'Be Ready, so you don't need to get ready' and when his number was called, Malachi knew exactly what was expected. His 3-point shot has been a godsend in the absence of VanVleet and compared to an ice-cold Trent Jr. His spacing helped spread the floor and when he was in attack mode, Flynn had great explosion to the rim. His hesitation move on Aldridge early in the week was replayed all over the highlight reels and served as a perfect example of how savvy and quick Flynn can be.
Honourable Mention: P. Achiuwa, C. Boucher                        
News and Notes
Showing Love – In their first game back, Toronto fans got the opportunity to give Freddy his flowers for his first All Star appearance. It was a feel-good moment between the players and fans that has been missed.
Raise a Glass – A toast to Scottie Barnes for earning Rookie of the Month honours for February.

Photo Courtesy: Nathan Denette/CP
Around the League
Expansion on the Horizon – There are rumours circulating around over the NBA's ambition to expand the size of their league. Unfortunately, as much as Canadians would love to see a team return to Vancouver, it looks like Seattle and Las Vegas are being heavily considered.
Spurred – San Antonio star Dejounte Murray was hit with a $20000 fine after innocuously tossing the ball off the legs of a game official.
Russian Conflict – WNBA star Brittney Griner has been detained in Russia after she was arrested at the airport in Moscow. A search of her luggage revealed a number of vape cartridges containing cannabis. Many of the details are unclear, but what's especially interesting is that this story is only getting real attention now although this arrest apparently happened sometime last month.
Game Speaks – Shout out to Canadian and NPH favourite Nik Stauskas who earned himself a 2-year contract with the Boston Celtics. He got their attention after exploding for 100 points over 2 games in the G-league.
Fashionista – Indiana's Myles Turner does not like his arms getting cold. He made waves online when he debuted this Inspector Gadget inspired fit.

Photo Courtesy: @BleacherReport/Twitter
Up Next
After a loaded week, Toronto gets a breather before traveling to San Antonio for a Wednesday game against the Spurs. From there, it is a difficult back-to-back against two of the better Western Conference teams. On Friday, they will face the vaulted Suns in Phoenix. Then, on Saturday, they will travel to Denver to take on the Nuggets.