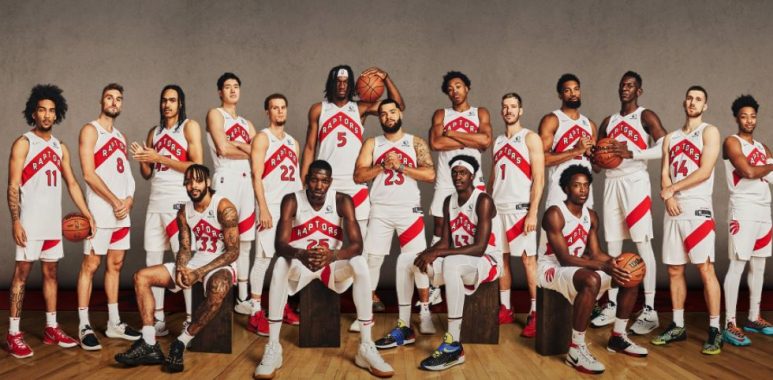 Tempering Expectations – Toronto shows promise on defense but it's still a long road ahead
The High 5 – Week in Review – Week 1
The High 5 is where I review the last week of Toronto Raptors basketball including how the team did, who were the impact players as well as some news and notes from around the league.
The Thumb – How was the week?
There was a renewed sense of optimism as Scotiabank arena was packed to the brim on opening night. The players received warm ovations while Kardi Offishall ushered them in with an ode to the city.  A lot of the faces were new, but the culture remains the same. Play hard, defend, and outwork everyone.
This is a Raptors team with an incredibly narrow margin of error. To be effective, they need to play defense on a string, communicate in the half court, be aggressive with opportunities and maintain their frenetic energy. On the one hand, they are essentially brand new, and it will take weeks to develop chemistry. On the other, this is a team with remnants of championship pedigree and Coach Nurse will expect nothing less than a championship effort.
Despite a down week, there were notable positives. The play of Barnes and Achiuwa. Toronto's stubborn switching defense. Their transition attack and their relentless work on the glass (51 offensive rebounds for, 30 against).
The Raptors need to bring it every game. At least for this first part of the season, they will earn more wins off of their energy rather than execution.
Week Record (1 – 2) Season Record (1 – 2)
Washington Wizards v Toronto Raptors L 98 – 83
Scotiabank arena was rocking on Wednesday as the refreshed Wizards took on the new look Raptors. Anunoby and VanVleet were the only starters from last year joining Achiuwa, Dragic and Barnes. The Raps leaned on their defense while they figured out who would take shots. Washington had a clearer picture of their pecking order, Beal and Harrell reminded everyone of that. Toronto was vulnerable in the paint and Washington took advantage, racking up a 20-point lead before halftime. The unlikely lineup of Banton, Birch, Trent Jr., Barnes, and Boucher found a spark that crackled into a late run, but time ran out before it could get interesting.
Toronto Raptors v Boston Celtics W 115 – 83
Toronto showed up in Boston looking like a different team. Trent Jr. made his way into the starting lineup, and the Raps came out energized. They were more organized out the gate. The Raps looked like a hurricane on defense; an onslaught of limbs, athleticism, and hustle. It was a sight to behold. That defense combined with the creativity of Trent Jr., had Toronto up 20 heading into the 4th. Boston could never crack Toronto's D. Trent Jr. and the rook looked good in the victory.
Dallas Mavericks v Toronto Raptors L 103 – 95
The Raps were back home Saturday for the second half of a back-to-back to take on Luka Doncic and the Mavericks. The Raptors forced a handful of turnovers early which helped them go on a big opening run. Dallas expectedly chipped into the deficit, though Toronto showed enough poise to manage a 5-point halftime lead. After the break, the Mavericks did a great job slowing down the pace and challenging the Raptors to execute in the halfcourt. Toronto's inexperience showed as they struggled to find offensive cohesion the rest of the way. Growing pains.
The Index – The Leader – Player of the Week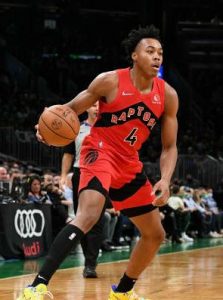 Scottie Barnes
In just a few games, Barnes has made quite an impression on his team. He has fit in seamlessly with the starters and has shown no reluctancy to make an impact. Barnes is a wonderful combination of speed, size, and basketball IQ. In all three outings, he impressed with second efforts, confident shooting, and responsible defense while dazzling with jumpers, big slams and the occasional one-handed open floor no look pass. It is easy to see why he is so highly rated; Barnes has star written all over him.
| | | | | | | | | |
| --- | --- | --- | --- | --- | --- | --- | --- | --- |
|   | Points | Rebounds | Assists | Steals | Blocks | FG | 3PT | FT |
| v WASH | 12 | 9 | 1 | 1 | 0 | 5/13 | 0/1 | 2/3 |
| v BOS | 25 | 13 | 2 | 0 | 0 | 11/17 | 1/2 | 2/2 |
| v DAL | 17 | 8 | 2 | 0 | 0 | 6/12 | 0/2 | 5/7 |
| | | | | | | | | |
| Weekly Avg | 18 | 10 | 1.6 | 0.33 | 0 | 22/41 | 1/5 | 9/12 |
|  Games |   |   |   |   |   | 54% | 20% | 75% |
| Season Avg | 18 | 10 | 1.6 | 0.33 | 0 | 54% | 20% | 75% |
| | | | | | | | | |
Honourable Mention: P. Achiuwa
The Middle – The Enemy – Best Opposing Player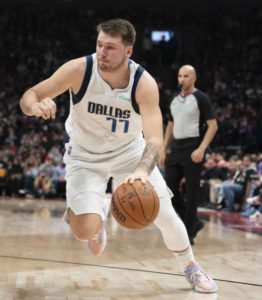 Luka Doncic – Dallas Mavericks
As an undisputed top 5 player, Luka was already penciled into this spot before this article was written. He came alive in the second half of Saturday's game showing why his MVP projections are so accurate. Doncic skillfully picked apart Toronto's defense and guided his team to a comfortable win, nearly earning a triple double. There may be questions about his supporting cast, but Doncic is enough to keep the Mavericks dangerous.
| | | | | | | | | |
| --- | --- | --- | --- | --- | --- | --- | --- | --- |
|   | Points | Rebounds | Assists | Steals | Blocks | FG | 3PT | FT |
| v TOR | 27 | 9 | 12 | 0 | 1 | 11/24 | 2/10 | 3/5 |
Honourable Mention: B. Beal (WASH), T. Hardaway Jr. (DAL)
The Ring – The X Factor – Standout Performance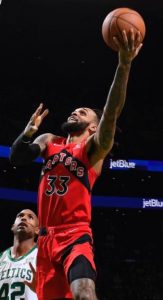 Gary Trent Jr. v Boston Celtics
Coach Nurse pulled the old 'Bait and Switch' before Toronto's win in Boston. Nurse told reporters that Dragic would start but at the time of tip, Gary Trent Jr. was on the floor. The move paid immediate dividends as the young guard contributed with scoring, creativity, and surprising defense. Trent was instrumental in a 3rd quarter run where he picked up the majority of his 20 points. He also added 4 steals which undoubtably brought a smile to his Coach.
| | | | | | | | | |
| --- | --- | --- | --- | --- | --- | --- | --- | --- |
|   | Points | Rebounds | Assists | Steals | Blocks | FG | 3PT | FT |
| v BOS | 20 | 3 | 1 | 4 | 0 | 7/13 | 2/6 | 4/4 |
 Honourable Mention: P. Achiuwa v BOS, S. Barnes v BOS
The Pinky – The Unsung Hero – Key Contributor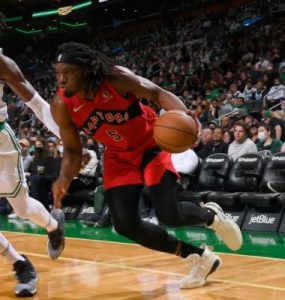 Precious Achiuwa
Precious earned some traction after a strong preseason and looks to be in no hurry to give up his starters spot. Achiuwa put in work on the glass to lead the Raps in total rebounds. He was in attack mode all week which complimented Toronto's defensive approach and transition game. Achiuwa has no issues getting his hands dirty and can be counted on to manufacture opportunities off his hustle alone.
Honourable Mention: F. VanVleet                                               
News and Notes
Support System – Former Pacer head coach Nate Bjorkgren rejoined the Raptors after an unsuccessful stint in Indiana. He re-assumes a familiar role as Coach Nurses' right-hand man.
Pearl of Wisdom – An understated move by Toronto's front office was the addition of Earl Watson to their coaching ranks. Earl is respected around the NBA and is largely credited for the accelerated development of Phoenix guard Devin Booker. I can see him taking Gary Trent Jr. under his wing.
Let's Boogie – Former Raptor Alvin 'Boogie' Williams made his regular season television debut at Toronto's win in Boston. It's refreshing to hear a new voice and perspective from the commentary booth.
Kick, Push – The Toronto faithful was treated to another surprise on opening day as rapper Lupe Fiasco performed at halftime. This should not be understated; Lupe is one of the greats.

Photo Courtesy: @Raptors/Twitter
Around the League
A Class of 1 – Chris Paul earned a notable achievement on Friday night when he became the first player to score over 20 000 points and rack up over 10 000 assists. Easily a first ballot Hall of Famer.
Simmons Situation – It's bad in Philly. Trust me.
Diamond Mine – As anticipated, the league announced its top 75 players of all time. The list seems mostly accurate but with some notable omissions that will stir debates for months to come.

Photo Courtesy: nba.com

Climbing – Lebron James and Kyle Lowry both made jumps on the All-Time 3 pointers list this week. Lebron hopped Dirk Nowitzki for 12th spot with Jason Kidd only a handful away in 11th. Lowry passed the late, great Kobe Bryant for 18th and he will pass his mentor Chauncy Billups for the 17th spot by his next game.
Milwaukee Shine – The Bucks received their Championship rings and boy do they look fancy. The ring is adorned with diamonds in the colours of the team and looks to cover an entire fist if worn by the average person. However, what's really chic is that the ring can be taken apart and converted into a pendant. This is a clever fashion forward approach that I can see being emulated by every team in the years to come. The ring has 4.14 karats of emeralds (Milwaukee's area code), 360 diamonds (win total under current management), 50 round stones (50 years since their last championship) and a QR code that can be scanned which leads fans to a compilation of their championship highlights.

Photo Courtesy: @espn/Twitter
Up Next
Toronto has a loaded week starting with a home game against the hot Chicago Bulls on Monday. The Bulls are yet to lose and boast a flank of deadly wings including former Raptor, the beloved DeMar DeRozan. Toronto will stay in town to host the Indiana Pacers on Wednesday and the Orlando Magic on Friday night. Saturday serves up Toronto's second back-to-back of the season when they play a revenge game against the Pacers in Indiana.