Why the Raptors 905 will win the G League Championship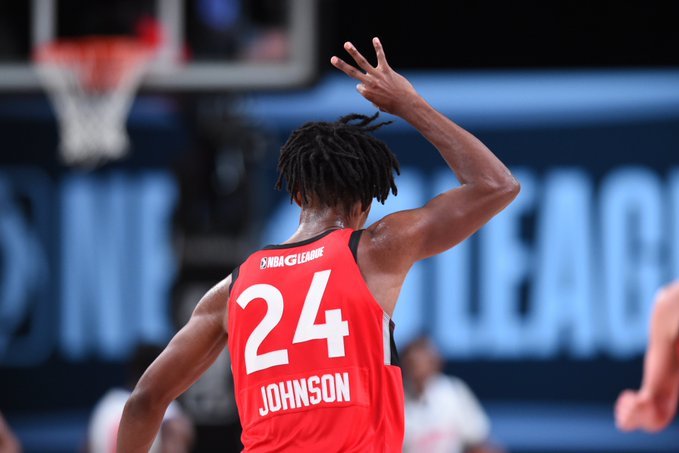 Photo Courtesy: @Raptors905
I'm not much a writer but what I've witnessed from the Raptors 905 through 12 games in the G League bubble has trumped the natural urge to stop myself before I start.
The gravitational pull of this franchise reaches far beyond the Walt Disney Land Resort where the bubble resides.
Here I am, in a basement, on Zoom in my role as the analyst for the team's radio coverage on Sauga960 but still feeling completely connected to what is happening over 2,000 kilometers away.
It's not because this team overcame a 15-point deficit to win back-to-back games in a single 18-hour stretch.
It's not because they followed that up by coming from 21-points down to win a game where they spent most of the game on the wrong end of a full-length professional basketball level high school mixtape.
And it's not even because this 9-3 team has faced the roster turnover you would expect from this league (one player called up, one traded, one season-ending injury and two more missing multiple games).
It's the culture formed that most would think was unfathomable to create in the span of a month.
Right from the start Head Coach Patrick Mutombo talked about selflessness being the core to what his staff was preaching to his players.
In the stat-chasing G-League?  How would they get the buy in?
Well, it became apparent very early.  By doing the little things.
In the first game, a 905 player went tumbling into the bench spilling drinks on the floor.
Mutombo was the first person on it.  Picking up a towel and wiping the spilled beverage so that by the time the designated floor attendant was on scene it was obvious the job had been done.
In his post-game comments I asked Mutombo about the moment and he answered simply:
"That is the way I have always lived my life, with servant leadership," said the Head Coach.  Who, like most of the media facing members of the franchise, always try to answer questions by using the interviewers first name in their answers.  "And getting the team to buy into that has been easy because a player like Malachi (Flynn, who was with the team at that point) was the first one to help carry the team bags."
Then in the next game, at halftime, there was new 905 Vice President Courtney Charles tidying up the 905 bench by picking up wayward stat sheets and drink containers so that when the team returned everything looked as though it did at the beginning of the game.
Through it all, Media Manager and Media Relations maven Stefano Toniutti has been on time with every pregame and postgame media availability via Zoom while also ensuring the team laundry is done and accounted for.
He is also sure to capture the team celebrating the first professional scout victory of two of the team's assistant coaches and get it out for consumption on social media.
DJ Khalid voice: ANOTHA ONE!

Congrats Coach Britt on your professional scout victory! #RoadToTheSix pic.twitter.com/L6IOhQjQKu

— Raptors 905 (@Raptors905) February 18, 2021
The moment feels great for Brittni Donaldson and John Bennett but getting that celebration out to the masses shows what this team is about.
It also keeps the team accountable for what that video shows: value and celebration for someone else's successes.  Sure, it's a team win, but it's also an individual resume builder that will help that person continue their individual success whether it be with this organization or another.
Always good to win your first professional scout, congrats Coach JB! #RoadToTheSix pic.twitter.com/Mii3AQlLRD

— Raptors 905 (@Raptors905) February 17, 2021
At it's core that is what the G League is all about.  Opportunity for success for individual careers based off of the success of a team…right here, right now.
Whether that be for Nik Stauskas, looking to get another real opportunity at the NBA by showing he can defend the perimeter with the same zest he has for cashing a three.
Or for Gary Payton II to show that his energy and intangible skill set can overshadow any question about his shooting ability.
Maybe it's Henry Ellenson showing he can be a stretch 4/5 pick and pop threat while also playing fundamentally strong defence and bang on the glass with guys that look and play meaner than he does.
How about Matt Morgan, one of the most prolific scorers in Ivy League history, proving his real skill at the pro level is how he can run a team at the point guard spot and sacrifice his body while still maintaining his threat as a clutch shooter.
Or maybe the most obvious one.  Walking double-double Alize Johnson showing the world that he can also grab a defensive rebound and headman a fast break with skill and precision.  Making it obvious that he should be the next JUCO product to sign and stay in the NBA.
The 905 are showing all of those things can happen simultaneously and the best part is that it trickles down to the players who previously weren't in the rotation but who are now pressed into action out of necessity.
You see, it's much easier to stay ready when it feels like you are a part of something bigger.
That, is the special sauce. And it's much easier said than done.
But it starts from the top…the TOP-TOP.
Masai Ujiri has implemented this game plan and has put the right people in place to pull it off.  Servant leadership and selflessness is not really something that can be taught, you either have it or you don't.  Sometimes, you don't know you have it until you are around those who can help reveal it.
Those who live it.
Those who have seen what it can do.
Those who understand they need to be patient, before it will bear fruit.
The Raptors would never have won an NBA Championship without it.
This is what a championship culture is and franchises in every sport all over the world strive for it.
But it has to be nurtured.  You have to build the village so that anyone who arrives understands that if you want to be here, this is what you have to do.
And you want to do it.
It's the reason why the Raptors can lose Kawhi Leonard and still be a contender.
It's why if Kyle Lowry has to be dealt for the betterment of the franchise, the heart of the Raptors will not go with him.
And it's why the Raptors 905 will go through the toughest tournament-like schedule any professional basketball team in North America has ever gone through and emerge victorious.
Because at this point the franchise, it's players and its staff, have already won.