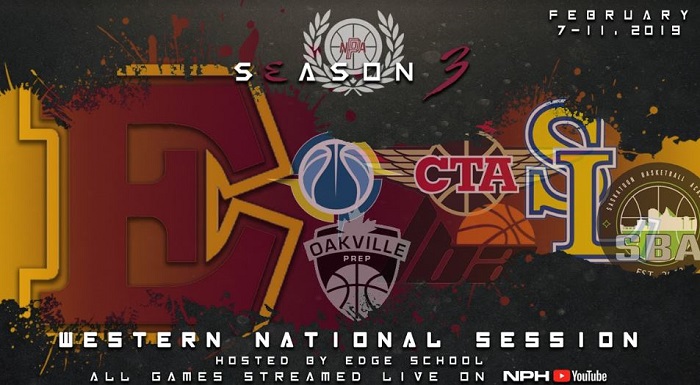 NPA Western Canada Session – Top Prospects, Teaser, Schedule
Edge School in Calgary, Alberta will host the NPA's Western National Session the first ever Prep basketball session west of Ontario in Canadian history. Teams from Quebec, Ontario, Manitoba and Saskatchewan will play a total of 14-games over 5-days with all games Live Streamed on the North Pole Hoops YouTube channel.
For the full schedule of games click on this link to the take you to the home for the NPA.
Some may argue that the stars of this session can take their team all the way to the finals.
Edge School is the host team for this session and their stat leader Fofo Adetogun has picked up some strong interest from Colorado and medium interest from Vanderbilt as well as some IVY League programs who have him on their radar. He has Ryerson and Carleton on the Canadian side who would be happy to see him suit up. Fofo, Manyang Tong and the supporting cast will look to make up for a slow start to the season.
The number one Canadian prospect in the 2021 class according to North Pole Hoops is Muon Reath and he plays on the number one team in the country, Canada Topflight. He makes his return out west after being sidelined with a shoulder injury for the last two months. Coaches who will be at the NPSI in Rhode Island will also have an opportunity to see this stud 6'8 prospect there with Canada Topflight.
CTA's potency is in the ability to go deep into the bench and keep the heat on the opposition without losing production. This is a very under-recruited roster of straight up gamers. Tesloch Luk, a 2020 guard is the X-Factor on this squad, or one of them at least. Not many teams have more than one X-Factor, again speaking on the potency.
Okay Djamgouz, of London Basketball Academy is playing with supreme confidence after picking up an offer from Kansas State, he has been filling up stat sheets. Most recently, the Turkish Delight went off for 41 points against Olivet College at an event in Michigan.
41 points is impressive on any night, but this performance was on 18/23 from the field (13/13 from 2pt range and 5/10 from 3pt line). All threes were taken in the first half.
Drake has been going extra hard to show him how needed he is yet he holds offers from Kansas St, Tulane and North Carolina A&T.
LBA has come closer to solidifying role definition of teammates to ensure team success. The league welcomes 6'10 Atiki Ally Atiki from . He is there biggest player and will allow Mike Matas to step away from the low post into the four man position. Denzel Cummins as we know from previous years can get hot in a hurry like Djamgouz.
New comers to the NPA, Saskatoon Basketball Academy will play the strongest competition yet against CTA, LBA, plus a rematch again Oakville and battle with St-Laurent Express who have one win under the belt.
Saskatoon has a formidable unit that wears their hat on the defensive side of the ball. Aliou Sesay can burst for scoring sprees and Cole Newkirk has the ability to be a momentum swinger.
Oakville Prep, led by Jordan Persad, is sixth overall scorer in the NPA averaging 21 points, 5.8 rebounds and 7.5 assists per game. The team as a whole is in their first year and still coming together. This session will determine their standing leading into Nationals.
Under the radar for Oakville is Anelka Palmer, 6'9, long and a very active buddy. He is a big piece to how well Oakville can potentially do in this session.
Another first year program, again led by a PG is Northstar Prep Institute. Malachi Alexander has been a consistent producer for his squad and has seen spurts from the supporting cast in; Kwinton Cochrane, Emmanuel Ugbah and Tevin McCallum. They'll attempt to improve from their 1-7 record.
St-Laurent will be the first match up in Calgary and it will be a gritty game to say the least.
The Express, out of Montreal are the NPA's youngest team. Their only disadvantage is their size and physical maturity. One thing crowds can appreciate about their game is their clean, unselfish style of play and their relentless attack and refusal to roll over.
Many from this roster will end up playing in college. Roosevelt August (2021) and Junior Mercy (2021) carry a lot of the load with help from Yanis Bamba (2022). The return of their 6'8 forward Arnaud Ngamije is sure to add an interior presence in this session.
USports and NCAA coaches have began to confirm attendance for the event, so there will be no shortage of exposure and recruitment.
Join us for the Live Stream if you can't be in attendance by clicking this link at game time.