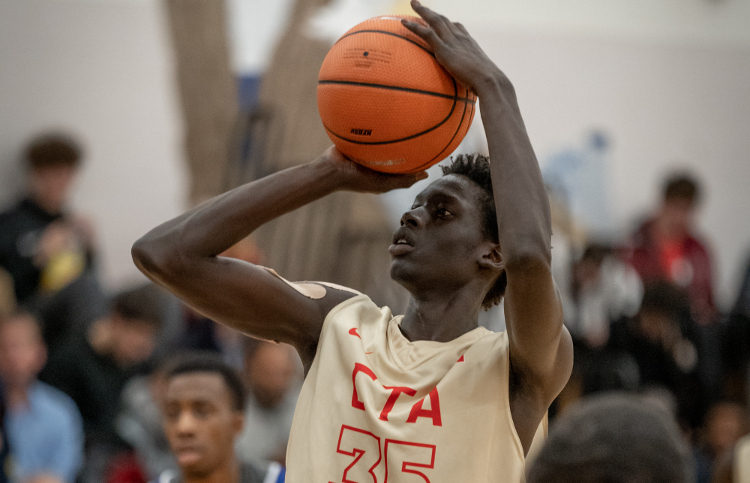 CTA Goes Undefeated & Other Takeaways From the Central Session
With the NPA Central Session now wrapped up over this past weekend, it is time to look back on some key performances from the largest gathering of prep schools in the history of Canadian basketball.
Host CTA Goes Undefeated
Topflight Academy was loving some home cooking in Ottawa over this past week, as they managed to go 4-0 in session play, even without some of their top players not present for a few games. After an impressive 99-91 win over Crestwood Academy on the Friday night, CTA had another tough test against Toronto Basketball Academy that resulted in an 84-80 W. Teslok Luk had 27 points in the win over Crestwood, and led CTA with 21 against TBA. Enoch Kalambay also had an impressive performance with 18 in the win over TBA.
With their length, size, and most importantly, depth, CTA was looking like the toughest matchup for anyone to face in Canada at this moment. At this point they can easily be considered the favourites to 3-peat as NPA National champions.
Welcome to the party Rothesay Netherwood.
No one expected a 4-0 performance from Rothesay Netherwood out of the Central Session, but here we are and it feels great to say it. First was a master class of teamwork in a 87-57 win over London Basketball Academy, followed by a 95-71 win over Beast Prep.
Kellen Tynes continued with his all-star play helping his squad improve to a 6-3 record on the season. Tynes is still the league leader in scoring at 30 points per game and a leader in steals with 5.5 per game.
It wouldn't be until their game against Edge School where everyone around the NPA was seemingly put on notice by this upstart program out of New Brunswick. From start to finish, Rothesay did a tremendous job of controlling the tempo, and had counter runs to everything the top western team in the country threw at them. With a 95-85 win over a top ten nationally ranked team under their belts, it was only logical that they handled business against Oakville Prep to secure the perfect 4-0 record from their road trip to Ottawa.
Shyheim Malcom was the top performer for Rothesay, and after getting courted by almost all of the major prep programs in the GTA, he has shown he made the right decision by heading out to Atlantic Canada. After Rothesay's performance this weekend, it will be interesting to see who else may be looking all across Canada, as opposed to just major metropolitan areas, to get the most out of their basketball exposure at the high school level.
Make no mistake, CTA might have had the best wins on paper after this weekend, but the rep for basketball talent in all of the maritimes were the biggest winners from an overall perspective of recruiting and quality of programs. They have Rothesay, and their roster of players from all over Atlantic Canada, to thank for that.
Saint Laurent earned every bucket this weekend.
Despite a 1-3 finish to the weekend, Saint Laurant had one of the highest levels of compete than any other team on the floor these past 5 days in Ottawa. Headed up by coach Marc Chenier, the Express always seemed composed no matter the score, and were by far the best team at breaking the press out of any squad in Ottawa. They will definitely have some work to do on making their open looks, but the youngest team in the NPA, led by their highlight reel point guard Junior Mercy, will definitely be a team to watch as a dark horse come March once their roster is back to full strength.