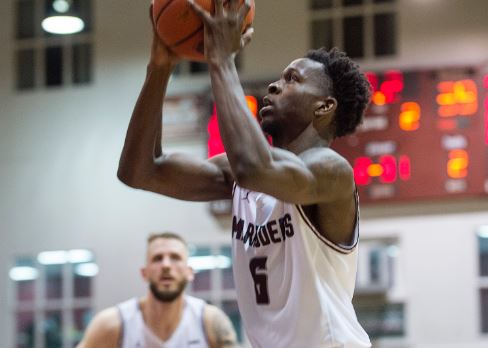 Lindo Making His Mark On The Marauders
Things are starting to come full circle for Canadian basketball.
It wasn't too long ago that our country's elite players faced immense challenges in pursuing their basketball goals. And this wasn't because of a lack of skill, but rather, because the opportunities simply didn't exist. Rather than heading south and playing in the NCAA, and in some cases, the NBA, the options were mostly limited to local colleges and universities. Slowly but surely, this changed. And now, with the advent of social media, wide-reaching recruiting platforms, and established amateur circuits, the number of Canadians playing Division-1 basketball is increasing each year. However, as the opportunities to play abroad continue to present themselves, some elite players are starting to see that the path to a professional basketball career doesn't always require a pit-stop in the United States, and are opting to stay local and play collegiate basketball at home.
Tristan Lindo is a walking testament to this. Fresh off a silver medal finish with GTA Prep in last year's National Preparatory Association's (NPA) season, the 6'3 Guard from Ajax, ON had no shortage of options when it came to choosing where to continue his basketball career. GTA Prep had two coveted recruits on the team with AJ Lawson (The University of South Carolina) and Kaosi Ezeagu (The University of Texas – El Paso) receiving recognition from all across the continent, but Lindo was quickly able to separate himself as the consummate glue-guy.
In addition to his sheer athleticism, Lindo's understanding of the game and his role within the team separated him from the pack. His intensity, ability to draw charges, and consistent willingness to do the little things required to win made him an attractive recruit at all levels. However, when it was time to commit, Tristan saw the benefits of staying local – ultimately committing to McMaster University in Hamilton, ON.
So far, it looks like his decision has been paying off. Just 3 games into his rookie season with the Marauders, Lindo is averaging a solid 9 points, 5 rebounds and 2 steals per game in USports play. His hard-nosed, high-energy style of play was developed at GTA Prep and is being cemented at McMaster.
Patrick Tatham, the Head Coach for McMaster's Men's Program immediately felt that Lindo's game would translate well to the collegiate level.
"When I recruit I look at things that a player is doing and see if he will be able to replicate it at the next level", says Tatham. "Tristan did a little bit of everything. He dove on the ground for loose balls, took charges as a guard, was fast in transition, and ignited the crowd with his dunks. And this has all translated well so far.
Lindo gives much of the credit to his experience with GTA Prep.
"Right from the get-go at GTA Prep Coach David Cooper had us on the track, doing sprints and runs. On top of our fitness, Coach was a great skills trainer and really helped develop our individual skills. We were allowed to play to our game, as long as it fit within our system. I was called on to do the little things."
Lindo embraced his role at GTA Prep and has carried it through to this year. And as much of an impact Lindo's play is having on the Marauders, his experience at McMaster is having similar impacts on him.
NPA Commissioner Jason Thom Talks Tristan Lindo on TSN1150
It started with recruiting. Originally enamored by the dream of playing Division 1 and all of the experiences that came with being an NCAA player, Tristan wasn't sure what the recruiting experience would entail in Canada. But his experience with Mac exceeded all expectations.
"McMaster just clicked," says Lindo. "I practiced with the team, went to see a Raptors game, got to know the program and it just felt right. At the end, Coach Tatham came over to my house and shared a presentation on where I was at then, my biggest areas for improvement, the role I would play on the Marauders, and what I needed to do to make it professionally. It was easy to see that he was serious and it was easy to commit."
Coach Tatham acknowledges that recruiting Lindo wasn't as easy as expected.
"With guys like AJ Lawson on your team, the States becomes a real possibility", says Tatham. "It took some time to convince Tristan to stay home and play in Canada. I sat in his living room and broke down the pros and cons to show the benefits of staying home and how we could get to the next level."
If history is any indication of the future, Lindo's dream of playing professionally once finished at McMaster is very much attainable. Former USports athletes have made their impact not only overseas, but with the NBA. And Lindo is on the right path. As a starter averaging 26 minutes a game on the  Marauders, Lindo is a focal point on defense and is extremely efficient on the offensive end, shooting 42% to start the season.
And it's bigger than just Lindo. Given the academic prestige, proximity to home, and the ever-increasing level of competition in University competition across Canada, there are more and more reasons to stay at home.
"There is a large upward trend for basketball in general in Canada," states Tatham. Players and coaches are getting pro contracts. It's definitely on the rise and it's fun to be a part of."
Tatham also acknowledges that recruiting elite players, on a holistic level, has become much easier over the past few years.
"The NPA has done a great job of putting prep school kids on a platform to be seen. Whether they end up going south or staying home, they're on a platform. For coaches, it makes our job much simpler – in a lot of cases we don't even need to leave our office to identify talent."
A combination of growing talent, increased exposure, and better opportunities will continue to fuel Canada's growth as a basketball powerhouse. And with how much the sport has grown, who knows? In the future, players from across the globe may one day strive to pursue their careers in Canada.